Posted June 13, 2012 on AP on Fox
There's a 14-year-old playing in the U.S. Open, as if Phil Mickelson needs a reminder about youth, time and wasted chances. He's had more than his share of the latter in the 21 times he has played this tournament, and all he can hope when he turns 42 on Saturday is that his birthday present is a late tee time among the leaders. It's not that Mickelson hasn't won major championships. He's got three green jackets and his name on the PGA Championship trophy, enough to satisfy most golfers in an era dominated by one golfer. He's done having to explain why he was the best player never to win a major. No longer does he have to wonder privately if he was ever going to get his breakthrough win in one of the tournaments that matter most. That unpleasant task now belongs to players like No. 1-ranked Luke Donald or Lee Westwood, who once held that ranking himself. Both great players, both short of the one win that will stamp them forever as great players. ''Maybe I'll never win one. Maybe I will,'' Westwood said. ''I've got no answer to that. Keep working hard and trying to get myself into the position. If it happens, it happens. If it doesn't, it doesn't.'' Winning majors is never easy, if only because there are only four of them a year and they tend to bring out a strong field. Winning the brutal test that is the U.S. Open is even harder. Someone will emerge Sunday with the trophy, though getting there may not be pretty. The Lake course at Olympic Club, with its sloping fairways, slippery greens and thick rough, penalizes every wayward shot, every mistake. Perched on the side of a sand dune, it might be called a thinking man's course, though some of the thoughts won't necessarily be for public consumption. History suggests almost anyone - save for the qualifiers like teenager Andy Zhang or club pro Dennis Miller - can win the Open here. Jack Fleck did it in 1955, beating the great Ben Hogan, and Scott Simpson beat Tom Watson to win his only major championship at Olympic in 1987. Whether for career or psychological reasons, though, some need a win this week more than others. Mickelson would be near the top of that list, simply because he's getting to an age where winning such a penal tournament becomes problematic. Unlike the last time the Open was played on the West Coast, Lefty brought his driver along this time, proof that for once he may not be overthinking this one. Not that he would entertain the idea that he's a favorite. He's been down that path too many times, at too many majors where he was supposed to win. He might have won the Masters this year if he hadn't aimed for a bunker instead of the green on the fourth hole of the final round. He could have won a few Opens by now had he not missed some short putts or pulled out his driver at the wrong time, most notably on the 18th hole of his epic collapse in 2006 at Winged Foot. So many near misses, so few Opens left to finally correct them. ''I feel like I've developed a good game plan as to how I want to play the golf course,'' Mickelson said. ''I feel that I should be able to play to that game plan and post a number that I feel will be competitive. I don't know if it will win.'' Perhaps no one needs this Open more than Tiger Woods. He's coming in off a high, winning the Memorial two weeks ago with a chip-in that took its rightful place among his more iconic shots. After a debacle at the Masters, where he screamed at shots, kicked clubs and generally acted like a spoiled brat, he seems to have gotten his game and his act together in time for the official start of the summer major season. He was once thought of as a lock to break the record of 18 majors won by Jack Nicklaus, but he's been stuck at 14 since winning the Open four years ago at Torrey Pines in what now seems like a lifetime ago. But he's yet to prove he can win again in the only place it has ever mattered for Woods - in the majors. ''I think even if I do win a major championship, it will still be, `You're not to 18 yet' or `When will you get to 19?' `' Woods said. ''It's always something with you guys.'' As if Woods needed a reminder, Nicklaus was in the media room Wednesday reminiscing about his four Open titles and how he won them. He was introduced as the greatest player of all time and he will always be, until someone wins more of the tournaments that really count than he did. Woods once talked about finishing his career early and moving on, but the harder winning has become for him, the longer his sights are set. ''Well, Jack did it at 46, right? So I've got 10 (years),'' Woods said. ''Watson almost pulled it off at 59. It can be done. We can play for a very long time.'' With each passing major, though, that time becomes shorter. There have been 15 majors since Woods last won at Torrey Pines, and he's no closer to his career goal of passing Nicklaus than he was the day he beat Rocco Mediate on one leg in a playoff. Unlike Mickelson, Donald and Westwood he's got three Open titles in the record books. That doesn't mean he's not just as desperate to win this one as he was his first. ---- Tim Dahlberg is a national sports columnist for The Associated Press. Write to him at tdahlberg(at)ap.org or http://twitter.com/timdahlberg
Original Story:
http://msn.foxsports.com/golf/story/C...
THE BACKYARD
BEST OF MAXIM
RELATED ARTICLES
FILET MIGNON?
If you aren't sick of "you da man!" and "get in the hole!" then you don't watch enough golf. Every shot from off the green on every hole of every tournament, some jerkwad has to be the guy to yell "get in the hole!" It doesn't work. It never has worked. And it never will work. You friends won't recognize that it was you on television and the players probably...
Tiger Woods can't stop talking about how the U.S. Open presents the toughest test of the year. If that's the case, then how he fares at The Olympic Club could go a long way in helping him learn how close he is to returning to the top of golf. Woods is coming off his second win of the year at the Memorial, where he rallied from a four-shot deficit in the final round. That...
Phil Mickelson hasn't been playing well. This afternoon his play has only worsened. It's been a rough day. On the opposite end of the spectrum is the USGA's online video for this US Open event. It's crisp. The video actually streams with good quality. Is it Hi-Def? No, but that's not the goal at this point. Beyond the actual video, the presentation is quite good. You can easily pull...
The last time the world saw Tiger Woods win a major championship, he beat Rocco Mediate in the summer of 2008 in the U.S. Open at Torrey Pines on essentially one leg for his 14th major, just four shy of Jack Nicklaus' record of 18. Plenty has happened on and off the course in Tiger's life since then, but once again Woods is the favorite to America's golf championship...
Phil Mickelson lost a ball in the trees on his first swing, hit a spectator on another and spent more time in the rough than the fairway at the U.S. Open on Thursday. Playing partner Bubba Watson looked even more lost at The Olympic Club, nearly shooting the 80 he feared he might put up early in the week. Such lack of precision cost both dearly in the first round. Five-time Open...
SAN FRANCISCO Not even Tiger Woods is immune from losing the U.S. Open lead. Nor is a teenager incapable of holding it. Amateur Beau Hossler who just completed his year in high school used two birdies around the Olympic Clubs turn to reach 2-under par and stand alone atop an anything-goes leaderboard. The 17-year-old Californian broke a tie with former Open champion Jim Furyk...
Driving around The Olympic Club brought back memories for Casey Martin that stretched beyond the last U.S. Open here and to his playing days with Tiger Woods down the road at Stanford. Martin, Woods and the rest of the Cardinal often played each other for friendly cash wagers. Once, Martin said, he and teammate Notah Begay III beat Woods and Conrad Ray - now the Stanford men'...
Tiger Woods is in the clubhouse with a share of the U.S. Open lead. Woods had three birdies in a five-hole stretch in the middle of his second round Friday, shooting an even-par 70 to match Jim Furyk at 1 under. Furyk shot a 69. David Toms also was 1 under with two holes left. No other player even had a par score for the tournament on another day The Olympic Club clobbered some...
As Tiger Woods gears us for the US Open, trying to win his first major since being caught with a couple (alright, a lot more than a couple) affairs, his ex-wife Elin Nordegren is out vacationing in the Bahamas and looking amazing in a blue bikini. I guess if Tiger is feeling lonely or sad this weekend he can snuggle up into Phil Mickelson man-boob chest.  I heard its quite cozy...
As fans, I think we all presume that college football coaches have no lives, and spend their off-season's huddled up in dark film rooms, breaking down tape of future opponents, and ignoring their wives as effortlessly in June as they do in October. At least that's the vision I have anyway. And for some (yeah, we're looking at you Nick Saban), it's probably true, but for...
With a 14-year-old making the field for The Olympic Club, 17-year-old Beau Hossler is almost old news at the U.S. Open. That's what happens when all Hossler has done is qualify two straight years as a high school amateur. Even Hossler's father said all the media attention on Andy Zhang this week was warranted. ''I understand the crowds around a 14-year-old getting...
A quick look at the first round of the U.S. Open at The Olympic Club: Leading: Michael Thompson, playing in his first U.S. Open, shot a 4-under 66 and was three shots ahead of the field. Just behind: Tiger Woods shot 69, as did David Toms, Nick Watney, Justin Rose and Graeme McDowell. Tiger watch: Woods played in the featured pairing, beating Phil Mickelson by seven shots and...
Golf News

Delivered to your inbox

You'll also receive Yardbarker's daily Top 10, featuring the best sports stories from around the web. Customize your newsletter to get articles on your favorite sports and teams. And the best part? It's free!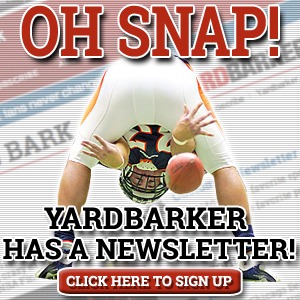 Latest Rumors
The Backyard

Today's Best Stuff

For Bloggers

Join the Yardbarker Network for more promotion, traffic, and money.

Company Info

Help

What is Yardbarker?

Yardbarker is the largest network of sports blogs and pro athlete blogs on the web. This site is the hub of the Yardbarker Network, where our editors and algorithms curate the best sports content from our network and beyond.