Found April 07, 2012 on Fox Sports:
(Eds: With AP Photos.) By TIM DAHLBERG AP Sports Columnist The Masters began for Phil Mickelson earlier than anyone else, while most were wolfing down scrambled eggs in the clubhouse or still fast asleep in their beds. Slipping on a green jacket in the harsh early morning light, he headed to the first hole to cheer on the ceremonial tee shots of players whose names are etched into the very fabric of the game. His tee time wasn't for another six hours, but the thought of watching Arnold Palmer, Jack Nicklaus and Gary Player together again lured him out of a warm bed. Standing on the tee with his heroes from the past was a place he wanted to be. Perhaps it's only fitting, then, that he's in the place he's in now: a shot off the lead in the Masters after a brilliant back nine as good as any the Big Three played in their prime; 18 holes away from making a little history of his own with a fourth green jacket in a tournament that means so much. The Masters that began so early for Mickelson will end late, in the soft evening light Sunday as the shadows from the giant pines spread across Augusta National. It's a special time that Mickelson relishes, a time when all the senses are sharpened and the hardest thing to do is to control the surging adrenaline. A time when champions are crowned. ''I love it here and I love nothing more than being in the last group on Sunday at the Masters,'' Mickelson said. ''It's the greatest thing in professional golf.'' How he got there this time around could become part of golf lore one day, just like the exploits of Palmer, Nicklaus and Co. This was a tournament where a resurgent Tiger Woods and rising superstar Rory McIlroy were supposed to duel it out on the weekend, a Masters where Woods would either cement his claim to greatness or McIlroy would be acclaimed the next great one. Mickelson was an afterthought, mostly overlooked despite his history of success here. But now they're the ones with the early tee times, playing for nothing but pride unless half the field ahead of them pulls out with food poisoning. Mickelson, meanwhile, goes out in the final group with Peter Hanson with the green jacket squarely in his sights. ''You have a chance, and that's what we all want, is that opportunity,'' he said. ''Sometimes it works out and that's great, and sometimes it doesn't. But you still had that opportunity, and that's what we play and practice for.'' If it does work out, it will take plenty of patience, the kind Mickelson showed on Thursday when he stood at 4-over-par after spending several minutes tromping through the woods left of the 10th fairway looking for a ball that may remain lost forever. He had to force himself to resist getting it back in big chunks, knowing that there was still a lot of golf to be played and still a lot of birdies to be had on a soft Augusta National course. He shot 74 the first day, then followed it with a 68 on Friday. On Saturday he was trying to patiently string together par after par before a birdie on the same 10th hole seemed to spark something inside. He would go on to eagle the 13th hole and make three more birdies, including a final one on the 18th hole to get to 8-under, a shot behind Hanson. For good measure, he threw in a shot that only Mickelson could hit - a flopper with a full swing of a 64-degree wedge from behind the 15th green with the green sloping away and water in play. Somehow, some way, it trickled to rest just 5 feet from the hole for birdie. Nothing out of the ordinary. Phil being Phil. ''It wasn't the safest shot,'' he admitted afterward. Though Hanson - a Swede whom Mickelson thrashed in a 2010 Ryder Cup singles match - is largely unheralded, he managed to beat Mickelson's 66 by a shot Saturday. And even without Woods and McIlroy there are a lot of names within striking distance, including Bubba Watson, Hunter Mahan and Lee Westwood. Mickelson will have to earn this one, as he did in 2010 when a signature shot - an iron off the pine straw between two trees to within a few feet on No. 13 - helped him win his third Masters. His career still lacks the pedigree of a U.S. or British Open title, but another green jacket would give him five major championships, the most of any active player other than Woods. More importantly, it would tie him with Woods and Palmer with four Masters wins, two behind Nicklaus. That's not what was on Mickelson's mind when he got up early Thursday to watch the ceremonial tee shot that opens the Masters each year. He has played in 19 of these - the first as an amateur in 1991 - but has never seen the opening that helps make the Masters so different from other tournaments. With the next-to-last tee time of the day, he figured it was the perfect time to get up early and watch the former greats try to hit the fairway. Yes, he probably threw off his first-day schedule, may have lost a few hours of sleep. Not many players would do it, but Mickelson steps to his own beat. It's the kind of thing that endears him to fans as a kind of anti-Woods, always ready to sign an autograph and almost always with a grin. Who knows, there may come a day many years in the future when Lefty is one of those starters himself. Knowing Mickelson, he's probably already pictured himself doing just that. Right now, though, there's another Masters to win. ---- Tim Dahlberg is a national sports columnist for The Associated Press. Write to him at tdahlberg(at)ap.org or twitter.com/timdahlberg
Original Story:
http://msn.foxsports.com/golf/story/C...
THE BACKYARD
BEST OF MAXIM
RELATED ARTICLES
Lee Westwood joked earlier this week that Augusta National Golf Club, home of the 76th Masters, is "Disneyland for adults." If that's the case, expect Phil Mickelson to be first in line at every ride. Don't miss these images of the players as they get underway in the second round of the 2012 Masters at Augusta National. Fred Couples says his pal Phil walks around...
(Also sent previously. With AP Photos.) By TIM DAHLBERG AP Sports Columnist The hugs with his family took place on the clubhouse lawn, not the 18th green. That was occupied, and by this time there was nothing Phil Mickelson could do about it. He had celebrated there before, most famously eight years ago when he won his first green jacket and took his young daughter in his arms,...
Peter Hanson made back-to-back birdies to close out a round of 7-under 65 and take the lead after three rounds at the Masters. He'll have a final-round pairing with Phil Mickelson, who shot 30 on the back Saturday and finished 8-under par, one shot behind Hanson. Another shot behind, at 7 under, is 2010 British Open champion Louis Oosthuizen, who made five birdies in a round...
In the PGA Tour it's all about playing bogie free golf. If players can add some birdies they can make a real run at winning tournaments. That's exactly what Phil Mickelson was able to do today during his 6-under, 66 round which helped him grab a hold of the #2 spot at Masters. He started out solid shooting a 1-under 35 on the front and then went on fire on the back shooting a...
Standing in what appeared to be an "Apocalypse Now" scene Sunday at Augusta National, Phil Mickelson looked exactly as one might expect after landing knee deep into avoidable trouble of his own making. A little flustered, and a lot determined. "I'm going to fix this," he seemed to be thinking to himself as he lined up to play it as it lay. What happened...
Golf News

Delivered to your inbox

You'll also receive Yardbarker's daily Top 10, featuring the best sports stories from around the web. Customize your newsletter to get articles on your favorite sports and teams. And the best part? It's free!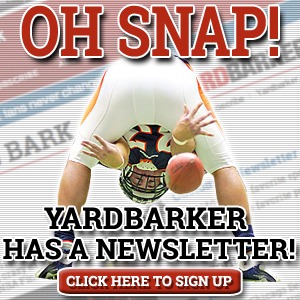 Latest Rumors
The Backyard

Today's Best Stuff

For Bloggers

Join the Yardbarker Network for more promotion, traffic, and money.

Company Info

Help

What is Yardbarker?

Yardbarker is the largest network of sports blogs and pro athlete blogs on the web. This site is the hub of the Yardbarker Network, where our editors and algorithms curate the best sports content from our network and beyond.