Found February 06, 2013 on Fox Sports:
Tiger Woods isn't in the field this week at the AT&T Pebble Beach National Pro-Am. And it isn't because last year he was embarrassed by eventual champion Phil Mickelson in a final-round showdown. The reasons for Woods' absence are many -- he usually plays only once in California to start his season, and this year it was Torrey Pines, where he won -- but what doesn't help the tournament is that it's regarded as the slowest on the PGA Tour's calendar. Of course, much of the reason for that is because the professionals play with an amateur partner -- men whose golf balls don't seem to care that they're rich or famous -- and the weather's not usually cooperative. But, either way, six-hour rounds of golf -- not uncommon at the Pebble Beach Pro-Am -- are no fun for anybody, even with Bill Murray clowning around to kill time. Which is why United States Golf Association president Glen Nager should be applauded for elevating the issue of slow play to the top of his to-do list. "Pace of play has been an issue for decades; but it has now become one of the most significant threats to the game's health," Nager said in his state-of-golf speech last weekend. "Five-hour-plus rounds of golf are incompatible with life in modern society, where there are many alternative forms of entertainment and sport that fit more comfortably into the compressed time that we have available for recreation and relaxation. "Poor place of play saps the fun from the game, frustrates players and discourages future play." Nager is working on a laundry list of ideas to help -- from encouraging golfers to play different formats, such as Stableford, that allows players to pick up once they've exceeded two shots over par, to setting up courses for a faster pace of play -- but I've got one that will be guaranteed to work. Penalizing professionals who play at turtle speed is the quickest way to change the culture of golf. Not long ago in Scotland, the home of the game, it was considered rude to take more than three hours -- while walking -- to play 18 holes. How did golf go from that to a place where it's somehow acceptable for hacks to plumb-bob their 2-footers for triple bogey with two groups waiting behind them? I've long believed it's because they're emulating what they see their role models doing on television. If Tiger bends down to look at a 20 footer from three different angles, then all those who aspire to be like him feel it's acceptable to do the same. Never do they factor in that he's taking 20 shots less per round than they are. Young amateurs are told by their "mind coaches" not to pull the trigger on a shot until they're completely ready. That sounds like sage advice until you see the carnage it creates at college events. The PGA Tour, of course, should be setting the pace -- excuse the pun -- on this issue, but it doesn't have the will. The tour hasn't handed out a penalty stroke for slow play since the 1995 Honda Classic, to Glen Day, a man universally known as "All Day". The tour does hand out fines -- unpublicized -- for players who accumulate "bad times" but given the size of purses, these are a relative pittance. For a player who's making a few million dollars a year, paying $10,000 in slow-play penalties is basically a cost of doing business. Some slow players argue that they play at their natural pace, but fast tour pros note that their slower competitors quickly pick up their speed when they're first put on the clock, which begs the question: Why not play at that pace the whole time? Should it really take 3 hours, 51 minutes to play 11 holes of golf, as it did for Woods' group in the Monday finish at Torrey Pines? "Slow play has been around since I started playing professionally, and no doubt before me as well," Greg Norman said. "And nothing will change regarding penalizing the culprits, either." Norman called the situation "appalling" and said everyone -- from slow players themselves to the governing bodies, including the PGA Tour -- "should be ashamed" of allowing the situation to continue. "Just like the drug policy, unless you implement and police the rules that are in place, then nothing will stop individuals being themselves," he said. Even though the tour won't start penalizing slow players strokes, it could easily start shaming them into playing faster by releasing statistics for pace of play, as it does for other categories. Players won't want to be at the bottom of that kind of list because it won't go over well with sponsors or fans. But, ultimately, the fastest way to speed up play is to hand out stroke penalties. And if Nager's serious about tackling slow play, that's what he'll do this year at the US Open.
Original Story:
http://msn.foxsports.com/golf/story/u...
THE BACKYARD
BEST OF MAXIM
RELATED ARTICLES
Tiger Woods' latest commercial brings a little flavor to the average Joe golfers of the world. After Woods and Rory McIlroy's appearance together was a hit, Woods is making a new pitch for his Nike VR_S Covert driver. In the commercial, Wood's followers take a whack and test out the new club, which brings heavy distance and may cause conflicts for players leading the way on...
Nike Golf dropped a new commercial today to market their latest driver – the Nike VR_S Covert. Of course, it wouldn't be a Nike Golf commercial without their marquee athlete Tiger Woods. The commercial depicts a bunch of average guys hitting their tee shots further than they ever have because of the Nike VR_S Covert driver. They continually hit it into the groups ahead of...
What should be happy times for golf is being overshadowed by off-course controversy. Tiger Woods won for the 75th time on the PGA Tour and set a record with his eighth win at Torrey Pines. It was a command performance, the kind that made people think more about where he is going than where he went. The next week, Phil Mickelson had a chance at 59 until his 25-foot birdie putt on...
Tiger Woods and Lindsey Vonn have reportedly been dating since November.  Poor Lindsay was just involved in a serious skiing accident where she tore ligaments in her knee when she fell in the super-G of the Alpine world championships (whatever that is).  Here's hoping Lindsey Vonn makes a speedy recovery.  In the meantime, check out Tiger's new dimepiece in this week's edition...
(Eds: With AP Photos.) By DOUG FERGUSON AP Golf Writer What should be happy times for golf is being overshadowed by off-course controversy. Tiger Woods won for the 75th time on the PGA Tour and set a record with his eighth win at Torrey Pines. It was a command performance, the kind that made people think more about where he is going than where he went. The next week, Phil Mickelson...
Lee Westwood still doesn't know why his father took him to the golf course. He played just about every other sport in England when he was 12, such as football, cricket and rugby. He used to go fishing with his father, but the fish weren't biting, mainly because Westwood kept throwing stones into the water. So off they went to a golf course called Kilton Forest, neither of...
Phil Mickelson may not move the needle like Tiger Woods, but he is a better TV draw than any other golfer on the PGA Tour. Final round coverage of the PGA Tour Phoenix Open, won [...]
Golf News

Delivered to your inbox

You'll also receive Yardbarker's daily Top 10, featuring the best sports stories from around the web. Customize your newsletter to get articles on your favorite sports and teams. And the best part? It's free!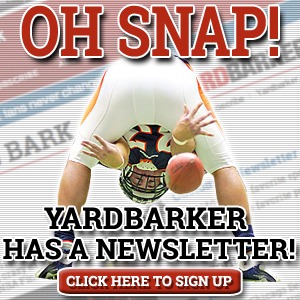 Latest Rumors
The Backyard

Today's Best Stuff

For Bloggers

Join the Yardbarker Network for more promotion, traffic, and money.

Company Info

Help

What is Yardbarker?

Yardbarker is the largest network of sports blogs and pro athlete blogs on the web. This site is the hub of the Yardbarker Network, where our editors and algorithms curate the best sports content from our network and beyond.