Found April 15, 2013 on Fox Sports:
PLAYERS:
Angel Cabrera
,
Tiger Woods
,
Lindsey Vonn
,
Caroline Wozniacki
,
Rory Mcilroy
,
Ana Ivanovic
,
Brandt Snedeker
,
Kevin Na
,
Bubba Watson
,
Phil Mickelson
,
David Toms
Adam Scott outlasted Angel Cabrera in a playoff Sunday to win the Masters. Scott became Australia's first Masters champion while Cabrera came up just short in his bid for a second green jacket. Recap every shot of the playoff with our shot-by-shot blog , check out the best from the final day right here and see the final scores with our leaderboard . Tiger leaves empty-handed again A Masters that began so swimmingly for Tiger Woods effectively ended late in the second round, when his near-perfect wedge struck the flagstick at No. 15 and ricocheted into the water. He left the grounds late Sunday afternoon in a steady drizzle, empty-handed once again. His 2-under 70 left him at 283, four strokes behind the number that sent Scott and Cabrera to a playoff won by the Australian, whose caddie, Stevie Williams, once used to work for Woods. After slipping into a tie for fourth, Woods put much of the blame on a familiar nemesis: his putting. Watch Woods explain his putting problems in the video above. Just before he left the clubhouse, Woods was asked whether hitting the flag was as bad a break as he's had in his career? He reflected for a moment. ''I've had a few,'' he said finally, ''but that's certainly up there.'' Read more ... They're hot, you're not So much for having a famous WAG on your bag. While Lindsey Vonn (Woods), Caroline Wozniacki (Rory McIlroy) and Paulina Gretzky (Dustin Johnson) all showed up at Augusta to cheer on their men, they brought nothing in the way of luck. Woods tied for fourth, Johnson tied for 13th and McIlroy tied for 25th. Maybe they need to lose that famous female baggage. Like Scott, who broke up with tennis star Ana Ivanovic ... and now is the Master of his domain. Adam Scott is 1 for 1 in majors since breaking up with Ana Ivanovic - news.com.au/entertainment/... -- Kyle Porter (@KylePorterCBS) April 15, 2013 Scott beats Cabrera in crazy Masters finish Whew. We're still trying to catch our breath after that Masters finish. Adam Scott beat Angel Cabrera in a two-hole playoff to become the first ever Australian to win the Masters. Scott and Cabrera both parred the 18th in the first playoff hole, then Scott hit a clinching birdie putt on the 10th to win the green jacket. It sure looked like Scott had it wrapped up on the 18th hole in regulation. On a slow, rain-soaked green, Scott nailed a long birdie putt on the final hole to break a tie with Cabrera as the latter watched from the fairway behind. The putt put the Australian at 9-under for the tournament and heaped pressure on Cabrera, who handled it just fine, thank you very much. Cabrera striped his approach to within a few feet of the cup. He hit the putt for birdie and forced the playoff. The leaders went back and forth all day, with Cabrera and Jason Day, another Aussie, each taking earlier turns as sole leaders. Day led by two shots after the 15th hole, but the Australian -- who eagled out of the sand earlier Sunday -- bogeyed the 16th and 17th holes and finished in third place at 7-under. Cabrera had led by two shots earlier in the day before a bogey on the 13th. But he kept his poise then and again on the 18th to force the playoff. Yet another Australian, Marc Leishman, finished at 5-under, tied with Tiger Woods for fourth place. Brandt Snedeker, a co-leader entering the day, trailed off on the back nine and finished at 4-under. . . . Scott win rubs a little salt on Tiger's tough day Tiger Woods just never got it rolling Sunday. After a struggle over the first seven holes, Woods finally got his game together on the ninth hole, sinking a long, twisting birdie putt for his first good mark of the day. He followed it up with another lengthy birdie on the 10th. After pars at 11 and 12, he went all out to hit the green in two on the par-5 13th, converting the chance into another birdie. That put him 4-under on the day and four shots off the lead at the time. He then missed a birdie chance at 16, which also served as his last gasp. He finished the round 5-under overall, 2-under for the day, four shots behind the leaders' final scores. We won't have to worry about that pesky controversy that would have come up had Tiger won after all the hubbub over his penalty (or lack thereof, depending on your viewpoint) from Friday. But we'd be remiss not to point out how much different things might have turned out had he not incurred the two-stroke penalty for his bad drop during Friday's round ... or if the original shot hadn't caromed off the flagstick. He also couldn't have enjoyed watching Scott win too much. Scott's caddy is Steve Williams, Tiger's former longtime caddy before a contentious end to their relationship. Recap Tiger's every move from the final round with Golfweek's Tiger Tracker . . . . Good efforts from Sergio, "Thunderbear" Two players were lingering most of the afternoon just behind the leaders mentioned above -- Sergio Garcia and 2013 best name champion Thorbjorn (translation: "Thunderbear") Olesen. Olesen had a great round, shooting a 4-under 68 despite a bogey on 18. He finished 4-under for the tournament. Sergio Garcia also bogeyed the 18th and finished at 3-under. Can't wait to see you again, Thunderbear. . . . Rainy weather a factor all day long They played through it all day long, but players and fans alike had their umbrellas out as the rain picked up pace in Augusta. The steady rain was a visible nuisance and appeared to have a real effect on speed of the greens, but play was never halted. . . . Jason Day eagles out of the sand If you're going to take the lead on the final round of the Masters, an eagle out of a bunker is a heck of a way to go. Australia's Jason Day hit that shot of the day on the second hole Sunday, following up a birdie on the first. The run moved him into first place at 8-under at the time. Snedeker birdied the first minutes later to tie him at the top. Cabrera got to 8-under shortly after too with a birdie on the second. . . . Bernhard Langer cools off after early charge Bernhard Langer -- 55 years young -- crushed it to start the final round. He went birdie-birdie-birdie in the first three holes to get to 5-under. Things got much worse afterward for Langer. He made a routine par at the fourth, then saved par with a beautiful putt at the fifth. But the magic left him at the sixth hole, where he bogeyed to fall back to 4-under. He also bogeyed the seventh and 10th, then double bogeyed the 12th and 13th and finished 2-over for the tournament, 4-over for the day. . . . Bubba, Kevin Na both get a 10 on a par-3 A very rough 12th hole for Kevin Na, who tallied a 10 on the par-3. He sent his first three tee shots into the drink, then just crushed his fourth safely over the green to be sure it stayed dry. He was a good sport about it all, tipping his cap to the gallery after mercifully wrapping it up. The gaffe put him at 16-over for the tournament. If this name sounds familiar in a nightmare-hole sort of context, it should . Here's a valuable lesson for Kevin: Here's Kevin Na not understanding that "It's all in the hips" -> ow.ly/k3e9E -- Happy Gilmore (@_Happy_Gilmore) April 14, 2013 UPDATE: Later in the day, Bubba Watson suffered the same fate on the same hole, also plunking three balls in the pond. . . . Guan gives us one last smile Our man Tianlang Guan, the juice box-drinking 14-year-old phenom, didn't materialize as a contender over the weekend after barely making the cut following a dubious slow play penalty/controversy , but he gave us one last hurrah on the 17th hole Sunday: Funny moment at 17. Tianlang Guan hit tee-shot short and right and it ended in a patron's plastic bag of Masters goodies. -- Sky Sports Golf (@SkySportsGolf) April 14, 2013 Guan was 3-over for the day, ending at 12-over for the tournament. . . . No miracles for the morning players Phil Mickelson bogeyed the 18th and finished 1-over on the day, 9-over for the tournament. Rory McIlroy finished 3-under on the day but only 2-over for the tournament. David Toms and Michael Thompson posted the best rounds of the day, each shooting a 5-under 67, but no one from the morning groups made enough of a run to be a factor. The best part of the morning was probably the New York Post's take on the Tiger situation . It would have taken a great feat for any of the morning players to get in the mix, as the odds were certainly not with them: Only #Masters champion not inside top 10 after 54 holes was Art Wall Jr. in 1959. 19 of past 22 champions come from final group. -- Robert Lusetich (@RobertLusetich) April 13, 2013 . . . Think Tiger should be DQed? Shut up It was the talk of Saturday at the Masters. Should Tiger Woods be disqualified after his bad drop controversy during Friday's second round? Some in the golf community said yes, even going so far as to call for Tiger to withdraw. Let our own Robert Lusetich tell you why you're nuts to think that way . Turns out, it didn't matter, as Tiger never fully got himself into contention Sunday. But if that ball on the 15th hole Friday had never hit the flagstick ... hmmm ...
Original Story:
http://msn.foxsports.com/golf/story/a...
THE BACKYARD
BEST OF MAXIM
RELATED ARTICLES
It was down to Adam Scott and Angel Cabrera in the Masters playoff. Scott was trying to become Australia's first Masters champion while Cabrera was seeking his second green jacket. Recap every shot of the action here, check out our live blog from the rest of the final round and see scores with our leaderboard . Second playoff hole The 10th serves as the second playoff hole...
AUGUSTA, Ga. -- Adam Scott finished the job this time, and put an end to more than a half-century of Australian misery at the Masters.With the two biggest putts of his career, Scott holed a 20-footer for birdie on the 18th hole of regulation that put him into a playoff with Angel Cabrera, and then won his first major championship Sunday with a 12-footer for birdie on the second extra...
AUGUSTA, Ga.-- This Masters had so many firsts it was hard to keep track. Tianlang Guan won low amateur honors after becoming the first 14-year-old ever to play in the tournament and the first player in recent memory of any age to receive a slow-play penalty at the Masters. Tiger Woods became the first to play from a wrong place and sign an incorrect scorecard who wasnt disqualified...
Angel Cabrera obviously thought this fan had had enough to drink when he knocked a beer out of his hands on this shot at the 2013 Masters.
Sometimes art does imitate life, and on Sunday there were a couple of golfers that tried their best to do their best Tin Cup impersonations at the Masters--Bubba Watson and Kevin Na. If you are not familiar with the movie (go rent it; hilarious) Kevin Costner plays Roy McAvoy, better known as Tin Cup. With the green jacket on the line he has a professional meltdown on the last...
Brandt Snedeker and Angel Cabrera are tied for the lead after the third round of the Masters, a day that will remembered for Tiger Woods' penalty. Woods is four shots back and still in contention despite being docked two strokes for an improper drop in the second round. He actually caught a bit of a break, because he could have been disqualified for an erroneous scorecard. ...
Adam Scott has become the first Australian to win the Masters, beating Angel Cabrera on the second hole of a playoff on a rainy day at Augusta National.
You can remember the 2013 Masters for Adam Scott's thrilling playoff victory over Angel Cabrera, the slow-play penalty leveled against a 14-year-old kid from China, or the two-stroke penalty a television viewer called on Tiger Woods for an illegal drop. The 2013 Masters was as memorable, strange, controversial and dramatic as any sporting event I can remember. It was Mike Tyson...
Here's your April 15th Pin Sheet: C'Mon Aussie, Adam Scott wins Green Jacket. If you read only one column today, make it this one from Sydney Morning Herald sports columnist Richard Hinds:  "In clubhouses and lounge rooms, they will play the putt with which Adam Scott clinched the Masters - his Masters, and Australia's Masters - forever. Then they will play...
Golf News

Delivered to your inbox

You'll also receive Yardbarker's daily Top 10, featuring the best sports stories from around the web. Customize your newsletter to get articles on your favorite sports and teams. And the best part? It's free!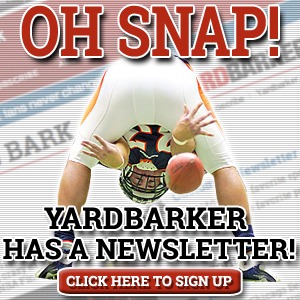 Latest Rumors
The Backyard

Today's Best Stuff

For Bloggers

Join the Yardbarker Network for more promotion, traffic, and money.

Company Info

Help

What is Yardbarker?

Yardbarker is the largest network of sports blogs and pro athlete blogs on the web. This site is the hub of the Yardbarker Network, where our editors and algorithms curate the best sports content from our network and beyond.