Found March 30, 2013 on Sports Blog Net:
[caption id="attachment_99" align="alignright" width="150"] Tiger Woods[/caption] Even though the 2013 PGA tour season has only been around for a few months, the real start of the season begins in a couple of weeks down in Augusta,GA  a.k.a  the Masters. The Masters is not only the first major of the year, it starts the major season and this is when most people, like me, pay more attention to the golf world and wonder which players could make an impact in the majors this year.  The biggest question going into the major season this year will be the same question as usual,"How many Majors will Tiger Woods win this year?" Based on what he has done so far this year and what he did last year, there's alot of reasons to believe that this could be the year that Woods finally wins a major again and lots of golf experts agree. Woods had a great 2012 season.  He won a few times and was in contention in 3 out of the 4 majors, U.S Open, British Open, and PGA championship. Although there was some significant progress made by Tiger last year and he was close to winning a major, there was one negative thing about the season and that was how he finished. In both last years U.S Open and PGA championship, Woods either had the share or was the overall leader after the second round and then, all of a sudden, would struggle and collapse in the third round and wasn't able to do much afterwards. Then, in the British Open, Woods was once again in the hunt to win a major and was in contention in the final round, but sadly, he wasn't able to get anything going and couldn't make a tiger charge. Despite his up and down moments in the majors last season, Woods was pretty productive and had several close opportunities to win  and he did show us two things, he can still contend in the majors and can still be a threat to win it all on final round Sunday. Since the Masters are coming up in a few weeks and with that starting the major season, I felt this was a good time to look ahead and talk about Wood's 2013 major season and tell you how I think he'll do in the majors and let you know if I think he'll win any of them this year. It's been a great 2013 season so far for Woods, he already has won three times and his game is better than it has been in years. I feel that Tiger is not only ready for the major season, I think he would love to dominate in the majors again and win a few of them this year. With his game getting more better and consistent and based on the progress he made in last year's majors, I think that Woods will not only have a great major season and will be in contention in all of the majors, I think he can win one of them this season. I like how Woods is playing right now, he seems more confident and more control of not only his game, his personal life also and that's good for him and his mind. Even though I feel that Woods can have a good major season and maybe win a major this year, It wouldn't surprise me if he went winless in the majors again, the competition is better than it was a few years ago and the majors are tougher than ever to win these days. For the last couple of years, I''ve been saying that the competition on the PGA tour hasn't been at it's best and was inconsistent, you couldn't tell who was going to win each week and there wasn't anyone or a specific group that was dominating the tour. I've also been saying for awhile now that the next generation of PGA players like Bubba Watson, Rickie Fowler, and Rory McIlroy, may be talented and had bright futures on the tour, but they've haven't been dominant nor done much on the tour. Then, 2012 came and not only the next generation of the PGA stepped up and proved they were for real, they also won a lot, including a couple of majors. Some of the highlights included Fowler winning his first tour event, Watson winning the Masters, and McIlroy not only won the PGA Championship in dominant fashion, he solidified himself as the next Tiger Woods. Besides the younger generation stepping up, some of the veterans players have also been approving and getting their game back and some of those players include Vijay Singh, Phil Mickelson, and Ernie Els, who won last years British open. Although the feild may not be as strong as it once was, it's better than it was not too long ago and there are some players that can and will give Tiger a challege in not only tour events, but also in the majors. It seems like the majors, for awhile now, have been not only more difficult to win, they've been more tougher to predict and these are some of the other reasons why I wouldn't be surprised if Woods didn't win a major this year. If  Tiger wants to win a  major or two this year, he can't afford to play, like he did in last year's majors, where he played well in the first two rounds, but then fall apart drastically afterwards. I believe that if Tiger can play a consistent four rounds and stay close or be on top of the leaderboard, entering the final round of a major, he can win one this season. Since I believe that Tiger will be a contender in all of the majors and has a good chance of winning one of them this year, the next question I have to answer is, "which major does Tiger have the best shot of winning," and my response is, "I don't know", but I'll take a good guess. Lets start with the Masters, since it's the first major of the year. The Masters has definitely been a major that Woods has dominated in the past, since he has won it 4 times, and has a chance of winning it a fifth time this year. Woods will once again be the favorite to win it and even though it would be nice to see him win the Masters and get back into the major winning circle, I don't know if he can play well and have a consistent four rounds at Augusta National. Augusta is longer and more difficult than ever and it hasn't done Tiger any favors for the last couple of years. I think he'll be a contender for sure and I wouldn't be surprise he won it, I just don't know if he can win it, since he has been performining horribly at Augusta recently and hasn't won it since 05. The U.S. Open is probably the hardest major to win and even though its another major that Tiger has dominated in the past, like the Masters, it's tougher than ever to win it and he has had recent struggles at the major. If Tiger wants to win the U.S. Open, he's needs to do two things, have a great putting week and keep the ball in the fairway, even though he's not known as the best putter of all-time and can sometimes be inconsistent in hitting fairways. Although Tiger's game has been improving and it looks better than it has been recently, the U.S open will still give him a challenge and I'm not sure if he can have a consistant week in putting or hitting the fairways, so this may not be the major that Tiger wins this year.  Even though the British open may not be the hardest major to win, it may be the most unpredictable major and it's one of the reasons why Tiger could win it this year. Tiger came close of winning it last year and I think he'll be in contention once again, the only thing though, the British weather will once again be a factor and like the U.S open, you have to keep the ball in the fairway and out of those weird bunkers. The British Open could be the major that Tiger wins this year, but with the unpredictably of the weather and him being inconsistent in keeping the ball in the fairway, he may come up short again. I believe that the major that Tiger has the best chance of winning this year is the PGA Championship, he played well in it last year, til he completely fell apart in the third round and couldn't recover from it. The PGA championship is not the hardest, nor the easiest major to win, it can give any golfer a challenge and this could give Tiger an advantage. The PGA championship have become an high scoring affair in the last couple of years and it's the major where you can prodcue lots of birdies and go low and Woods is capable of doing both and that could help him win the tournament.  I'm looking forward to the start of the major season and can't wait to see how Tiger does in the majors this year. The two things that I'm going to be keeping an eye on throughout the major season will be if Tiger leads in a major or plays well in one, can he play consistently in all four rounds and not struggle in the later parts of it. If Tiger can play well and just be consistent throughout the major season, he can win one or multiple majors this year and if that happens, not only it would make Tiger fans happy and proud, it would be great for the PGA tour and their t.v ratings. Even though I think that Tiger can do well in the majors this year, it won't be easy.  He'll have a challenge on his hands and with the field being better, it could make Tiger's journey back to major dominance a little more interesting.  If Tiger was able to win a major this year, not only it would officially mark the return of Tiger, it would restart the talks of his quest to break the record for most majors wins of all-time, which is owned by a legendary golfer name Jack.     
Original Story:
http://jrs86.sportsblognet.com/2013/0...
THE BACKYARD
BEST OF MAXIM
RELATED ARTICLES
US Weekly decided — wisely, I might add — to plaster Lindsey Vonn and Tiger Woods all over the cover of the periodical's latest issue. Woods and Vonn, who awkwardly made their relationship public last week, have stressed that they crave privacy as the two pursue their budding romance, so I'm sure US Weekly will respect their wishes after this issue. On the other hand, maybe...
Nike Skateboarding released a new commercial for Nike SB athlete Eric Koston's new shoe, the Eric Koston 2, and it is a star-studded feature. The spot, entitled The Legend Grows, is about a epic trick Koston does that becomes legend after some big-time Nike athletes hear about it. From Nike Inc.: It's a trick so revered that the gossip goes global, starting with Nike Skateboarding...
HUMBLE, Texas (AP) — Maybe it was that he wanted to go into the Master's with some momentum or he wanted to clear up his swing or maybe he wanted to make sure everyone knew before the first major of the year – he's back…..really back…scary back! But Hunter Mahan doesn't believe Tiger Woods has to win a major to validate his return to No. 1 in the world. Woods fell to...
Lindsey Vonn and Tiger Woods recently confirmed they are dating, though they have not revealed many details about their relationship. Vonn chose not to elaborate on her relationship with Woods, but she did tell The Denver Post she was "very happy." "You can just say that I'm very happy, but we really want to keep things as private as possible," Vonn said of Woods in an...
Former PGA Championship winner Y.E. Yang shot a 5-under 67 for a share of fourth place in the Chiangmai Classic after the third round Saturday, six strokes behind leader Prayad Marksaeng of Thailand. The South Korean, who came from behind to beat Tiger Woods in the 2009 PGA Championship, eagled No. 14 and birdied two of his last three holes at Alpine Golf Resort. Prayad (66) leads...
This man is not wearing pants. He is playing golf. The catch? It's not at the local country club, where these things tend to happen once in a while. The incident actually took place in Morocco at the Trophee Hassan II tournament on the European Tour, where Danish golfer Andreas Harto decided he'd rather bare his legs than chip in from the water and incur soggy pants. He did just...
Poor little tink tink. It seems Kris Humphries can't find a woman to stay with him longer than a few months, before running to the arms of a wealthier more popular man. According to Gossip Extra, before Tiger Woods publicly announced he was in a relationship with Lindsey Vonn, it appears Humphries was close in the second place. "Woods wasn't Vonn's only suitor," a source...
It seems Kris Humphries can't find a woman to stay with him longer than a few months, before running to the arms of a wealthier more popular man. According to [...]
Golf News

Delivered to your inbox

You'll also receive Yardbarker's daily Top 10, featuring the best sports stories from around the web. Customize your newsletter to get articles on your favorite sports and teams. And the best part? It's free!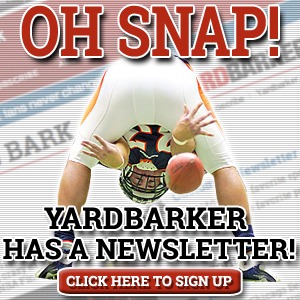 Latest Rumors
The Backyard

Today's Best Stuff

For Bloggers

Join the Yardbarker Network for more promotion, traffic, and money.

Company Info

Help

What is Yardbarker?

Yardbarker is the largest network of sports blogs and pro athlete blogs on the web. This site is the hub of the Yardbarker Network, where our editors and algorithms curate the best sports content from our network and beyond.