Found April 23, 2013 on Run the Floor:
I'll admit that I'm not the most open minded person. For example, I hate cats. In my neighborhood they **** in my yard when they're not too busy slaughtering wildlife that is native to the area. If someone has cats in their house, then I can't even eat there. Who allows animals in their houses that track little white pissed-soaked pellets into every room, or jump onto cooking surfaces with their little crap-rimmed buttholes? I hate the Democrat and Republican parties. You only live once. If you're going to get completely absorbed by politics, than at least pick a way in that doesn't involve supporting one of the two parties who have a handshake agreement to drive this little thing we call our country into complete and utter ruination. Have a sack.  Support people and groups that actually care about things more than their own money and power. I hate crowds. I don't like when people I don't know get too close to me.  I can't go to concerts which don't have assigned seats because otherwise I spend the entire show making sure that me and mine have enough room around us. I hate that people root for Tiger Woods.  Out of all of the golfers who have incredible and uplifting back-stories, who do amazing things for causes they care about, who have overcome frightful adversity – we choose to root for a guy who thinks it's okay to completely and whole-heartedly **** over his family. I hate religious extremism. And I'm not just talking about the people who murder other people in the name of whichever God they've chosen to believe in. This includes those ******* on television who exploit some God's name for cash, of which an odd amount often ends up in their own pockets. This even includes this guy in my town who creeps around in strange outfits (really need a jacket when it's 97?) and jabs a card in people's face which reads "Jesus Loves You!" Sometimes he completely surprises me from behind, and so far it is pure luck that I haven't responded by shrieking and punching him in his Adam's apple. I hate a lot of things. Trust me.  My friends have exhaustive lists. It's a topic. So I understand when people hate random crap.  I understand when people hate spiders. I think it's pretty idiotic – as spiders eat most of the bugs we really should be hating – but I get it. They're scary.  I get that people hate unions, or hate the lack of unions. People hold important views which are different from mine but that doesn't make them bad people. But what I don't get is caring who other people find attractive. There's a lot of **** in this world to care about. There are a lot of people who genuinely deserve to be hated. But ****? That's who you're going to get worked up about? Why do you care? Yes, I hate a lot of things, but I can back it up. I hate cats because they're slaughtering native bird and reptile species. I hate crowds because I don't trust strangers.  I hate religious extremism because, at best, it leads to narrow minded creepy people and, at worst, it leads to murderous terrorism by both individuals and by countries. But what could possibly happen to your life if an athlete happens to sleep with other people of the same sex? How does that matter? Why do you care?
Original Story:
http://www.bloguin.com/runthefloor/20...
THE BACKYARD
BEST OF MAXIM
Golf News

Delivered to your inbox

You'll also receive Yardbarker's daily Top 10, featuring the best sports stories from around the web. Customize your newsletter to get articles on your favorite sports and teams. And the best part? It's free!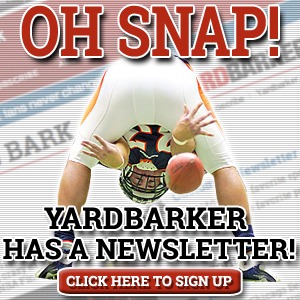 Latest Rumors
The Backyard

Today's Best Stuff

For Bloggers

Join the Yardbarker Network for more promotion, traffic, and money.

Company Info

Help

What is Yardbarker?

Yardbarker is the largest network of sports blogs and pro athlete blogs on the web. This site is the hub of the Yardbarker Network, where our editors and algorithms curate the best sports content from our network and beyond.