Before we start, I have to get this off my chest…I cannot stand Greg Norman.  I hope he contracts bird flu. Phew…much better. Did you know the President's Cup starts tonight?  Well, you do now and you're in for a treat.  The Diet Ryder Cup is normally a much more informal affair than the American/European biennial kerfuffle, but this year is different as it's hosted on the only course that's seen an International team victory and the Internationals are ******* LOADED. Royal Melbourne is awesome, from what I can gather.  Praised by players, architects and the media almost universally, the course described as a mix between Augusta National and St. Andrews is a somewhat underrated gem that's more of a British Open than US Open in terms of where the challenges come from.  The greens are fast and firm and require a bit of local knowledge, giving the Internationals yet another advantage. After the jump, we're going to take a look at each of the foursomes and see who's got the advantage.  The format is alternate shot, so the pairings are pretty important…you can pair similar players together or polar opposites with equal successes or failures and it's interesting to see what strategies the captains take.  My predicted winners in italics… Ernie Els and Ryo Ishikawa vs. Bubba Watson and Webb Simpson Despite the name power the Internationals bring, I like Bubba and Webb in a romp.  Bubba is the best driver on Tour who's eliminated a lot of the wild misses we've seen from him in the past who's paired with the guy who led pretty much every scoring category of the remaining players (Luke Donald ain't here) while Els can't make a putt to save his life and Ryo is a work in progress.  I'll take the two guys that won multiple times on the PGA Tour this year over a teenager and a dude who's only top 10′s this year came at the Tavistock Cup and a Fall Series event. Geoff Ogilvy and Charl Schwartzel vs. Bill Haas and Nick Watney No idea what to expect as this might be the closest and most quality match of the day.  Haas and Watney are rookies with mirror images in terms of game (and appearance, which is creepy)…they both have loads of talent, can bomb it off the tee and drain a bunch of putts but look who they're going against.  Charl is one of the top 10 players in the game, in my opinion, and Ogilvy grew up at Royal Melbourne and was a caddy here when he was 10 years old.  This could be a blowout either way…I really have no idea but I'm going with the Internationals because of Geoff Ogilvy's mustache. Aaron Baddeley and Jason Day vs. Dustin Johnson and Matt Kuchar Dustin Johnson is going to be exposed in this event…give him a soft course and there isn't a golfer in the world that can come close to him, but if the course is hard and fast and requires a lot of touch, his game goes to ****.  He just doesn't have the short-game or putting to really dominate here and it'll take a pretty Herculean effort from Kooch to keep things interesting as both Day and Baddeley are elite putters with elite short games.  Both the Aussies could get up and down from a dumpster, so I like them BIG here. Retief Goosen and Robert Allenby vs. Phil Mickelson and Jim Furyk Goosen and Allenby aren't in good form (with Allenby looking like a particularly rank brand of *******, currently) which doesn't portend well considering the buzzsaw they're about to run into.  Pairing the swashbuckling Mickeltits with one of the steadiest players of the past two decades is ideal for alternate shot, which makes its kind of surprising we haven't seen much of this group before.  If this match gets to the 16th hole, I'll be shocked. KT Kim and YE Yang vs. Hunter Mahan and David Toms Good idea pairing Mahan with a player that can actually chip and pitch…I like the Korean team for the most part, but Mahan's too good a driver and Toms is too good everywhere else to lose this one. Adam Scott and KJ Choi vs. Tiger Woods and Steve Stricker I'm not going to talk about any drama between a glorified bag handler/rangefinder and one of the best golfers in history, so if you were looking for insight on that, I suggest you check out a gossip rag like People or ESPN. The golf is the story between this group as Tiger/Stricker is a force to be reckoned with as evidenced by their 6-1 record since they were first paired in 2009.  The reason this group is so successful is simply because of how good they both are on and around the greens…they just don't give up strokes.  Well…a caveat.  Stricker is that good while Tiger is rusty.  Sure, the rust looks to be coming off based off of last week's results, but he's still a question mark adding to Stricker's own question mark thanks to his injuries. While Tiger/Stricker isn't exactly a sure thing right now, Scott and Choi pretty much are.  These are two of the best players in the world and Scott, in particular, looks like he's on the cusp of becoming a dominant figure, he's been that good.  Add in the Steve/Tiger drama and all of the sudden this pairing goes to 11 because it was a 10 even without that mouthy Kiwi…unfortunately, I think the Internationals bring too much power to the table here and take it home. Can't wait for tonight…this is gonna be a good weekend.
Original Story:
http://www.thevictoryformation.com/20...
MORE FROM YARDBARKER
Golf News

Delivered to your inbox

You'll also receive Yardbarker's daily Top 10, featuring the best sports stories from around the web. Customize your newsletter to get articles on your favorite sports and teams. And the best part? It's free!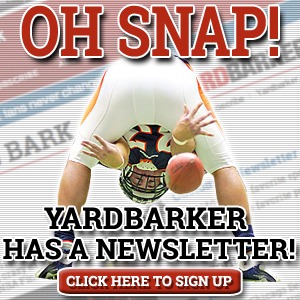 Latest Rumors
Best of Yardbarker

Today's Best Stuff

For Bloggers

Join the Yardbarker Network for more promotion, traffic, and money.

Company Info

Help

What is Yardbarker?

Yardbarker is the largest network of sports blogs and pro athlete blogs on the web. This site is the hub of the Yardbarker Network, where our editors and algorithms curate the best sports content from our network and beyond.