Posted September 03, 2012 on AP on Fox
Charl Schwartzel of South Africa birdied the last two holes to narrowly get inside the top 70 in the FedEx Cup and advance to the third playoff event next week at Crooked Stick. The question now is whether he will show up. Schwartzel has been coping with a rib injury since the U.S. Open, and it has flared up again. Schwartzel told one media outlet he was ''doubtful'' to play, and another group of reporters that the odds were 50-50. The Deutsche Bank Championship was his seventh straight tournament because he needed to get in his minimum 15 events to maintain PGA Tour membership, and the former Masters champion is on the edge. That was never more clear on Sunday in a moment that was replayed endlessly on television. He already had made three double bogeys for the day - courtesy of a broken driver - when he had a 3-foot birdie putt on the 18th. It caught the lip and spun away. He went to roll that one in and it caught another lip. ''That was enough for me,'' Schwartzel said. He barely waited for the ball to stop rolling when he swatted at it left-handed, and missed badly. He finally cleaned up the four-putt for a double bogey and a 79. Asked about the putt from the left side, Schwartzel said, ''At that point it was a blur.'' Each shot counts in the FedEx Cup, especially since Schwartzel came into the Deutsche Bank Championship at No. 71. Part of the problem was his driver. Schwartzel said the shaft began to wear, and when his caddie picked up the bag on the sixth fairway Sunday, the head topped over. He did not have a backup driver, and when a replacement was brought out to him, he tried it on No. 14, snap-hooked it into the trees and made double bogey. Schwartzel said if he skips the BMW Championship - he would need a top finish just to get to the Tour Championship, anyway - he would take a month off to rest and not return until the Dunhill Championship in Scotland. --- MOVING ON: Chris Kirk was No. 81 in the FedEx Cup, needing a solid final round to get into the top 70 and move on to the next playoff event. This was not the start he envisioned - six bogeys through 13 holes against only one birdie as he tumbled down the leaderboard and seemingly out of the playoffs. What followed was just as surprising. He holed a 40-foot birdie putt on the 14th, and Kirk was on his way. He birdied four of the last five holes to barely advance. ''A little shocked that I put myself in that position,'' Kirk said. ''And then very shocked that I managed to dig myself out. It just shows how crazy this game is.'' He wasn't alone. Dicky Pride birdied his last two holes to advance to the BMW Championship, keeping alive his hopes of reaching the Tour Championship. He knew he was close, but tried not to look at a leaderboard so he could concentrate on his golf. Pride turned to his caddie on the 18th when he stood over a chip for eagle and said, ''Do I need to make this?'' ''He said, `No, let's just play.' Which is what I was trying to do,'' Pride said. ''He helped me get back to where I needed to be.'' John Merrick needed an eagle on the 18th to knock Pride out of the 70th position, but it came up short. Jonas Blixt finished in 71st on the FedEx Cup and goes home. Oddly enough, Pride, Blixt and Merrick came into the TPC Boston at No. 96, No. 97 and No. 98 in the standings. Each of them had a 6-under 278. Each of them moved up 26 spots in the standings. It was Pride, however, who got the last spot. --- LONG LOST BROTHER?: Louis Oosthuizen stepped onto the ninth tee and heard a fan screaming from the front of the box. ''LOUIS! LOUIS! I'M YOUR BROTHER! YOUR LONG, LOST BROTHER!'' The fan had a slight gap in his front teeth, was wearing a cap and was very, very loud - so loud that Oosthuizen couldn't ignore him. He turned to look and broke into a gap-tooth smile, and was laughing so hard he covered his face with his yardage book. So, was he a real lookalike? ''My caddie said he looked just like me, so I don't know,'' Oosthuizen said. Rory McIlroy sided with the caddie. ''He did have the gap in the teeth, which I thought was so funny,'' McIlroy said. ''He was following us the whole way around. I thought there were a few similarities there.'' Except for the golf. Oosthuizen has a swing that is the envy of the tour. --- HOMEWARD BOUND: Jeff Overton closed with a 68 and tied for seventh, his best performance since the first week of April. It could not have come at a better time. Overton needed a big week to advance to the BMW Championship at Crooked Stick, the first time PGA Tour players go back there since 1991. Overton grew up in Indiana, played for the Hoosiers and can't wait to get back. ''I really wanted to play Crooked Stick all year,'' he said. ''It's kind of been circled on the schedule of things to do.'' Overton set himself up by reaching 9-under par going into the last day. He was safe, unless he had a bad final round on Monday. ''It was hard looking at it last night knowing you've got to shoot 3 or 4 over, because that's the last thing you want to think about doing,'' he said.
Original Story:
http://msn.foxsports.com/golf/story/S...
THE BACKYARD
BEST OF MAXIM
RELATED ARTICLES
HOLE LOTTA TROUBLE
Pro golfer Charl Schwartzel finished Sunday's third round of the Deutsche Bank Championship tournament on a terrible note with a four-putt on the 18th green, and all of the putts came from within three feet of the hole. Schwartzel was in position to make a birdie with the first putt on the 18th, but ended up with a double bogey. The four-putt served as a fitting end to a...
Everyone wants to end their round of golf on a good note. Charl Schwartzel probably would've settled for not looking foolish Sunday. Unfortunately for Schwartzel, he was unable to avoid an embarrassing finish to the day, as he missed three putts from just three feet away to close out his third round at the Deutsche Bank Championship in Norton, Mass. Each miss drew a rather loud...
Charl Schwartzel had a rough day at the Deutsche Bank Championship on Sunday, specifically when it came to the final hole. Charl had the wheels come off when he double bogeyed 14 and 16, but the entire vehicle imploded from 3 feet on the 18th green. Just enjoy the video below which every golfer can relate to at some point in their lives. via Devil Ball Golf Article found on: Cosby Sweaters
Former British Open champ Charl Schwartzel didn't have a great day at the course today. In fact it was downright dreadful. This sequence of putts was the highlight, or should I say lowlight, of Schwartzel's round. Schwartzel had a birdie putt from three feet away when it rimmed out of the cup. His next shot pretty much did the same thing and his third putt he completely...
I feel bad for Charl Schwartzel…on only two of these putts.  He should be embarrassed about the backhanded attempt. Schwartzel was wrapping up his 3rd round on Sunday at the Deutsche Bank at the TPC Boston when he made it to the 18th green for a 3 foot birdie putt.  The first attempt lipped out and spun directly back to Schwartzel.  Sucks, but it happens.  The second attempt...
Painful. Witnessing a four-putt on the PGA tour is about as rare an event as seeing a double-eagle, but they do happen.  Just ask 2011 Masters champion Charl Schwartzel, who took four putts from three feet away during third round action at the Deutsche Bank Championship this past Saturday. Needless to say his double-bogey on No.18—which left him at 8-over 79 for the day—effectively...
Sunday at the 2012 Deutsche Bank Championship at TPC Boston, Charl Schwartzel missed a 3 foot birdie putt, followed by a missed par putt, followed by a missed bogey putt...before sinking the double... Full story at Bob's Blitz ~ http://www.bobsblitz.com
As some golfers might tell you, sometimes the shortest putts are the hardest and it appears that pro golfer Charl Schwartzel had one of those days at the third round of the Deutsche Bank Championship.In the below video, all Charl had to do was sink a four yard putt on the 18th hole to achieve a birdie and end his day.Watch as Charl misses four straight putts and finishes the hole...
Video: Just like me and my golf buddies!
Click on the photo to read about this week's predicted big winners Wednesday night my friends. The beginning of a football season that will bring you joy, sadness,  viagara-like side effects, and erectile dysfunction all in one season. It's magical my friends. Magical. The Press Rafael Nadal is going to be on the shelf for another couple of months with injury [CNNSI] Kate Upton's...
Charl Schwartzel had a rough go-of-it at the Deutsche Bank Championship tournament. via Holdout Sports
Golf News

Delivered to your inbox

You'll also receive Yardbarker's daily Top 10, featuring the best sports stories from around the web. Customize your newsletter to get articles on your favorite sports and teams. And the best part? It's free!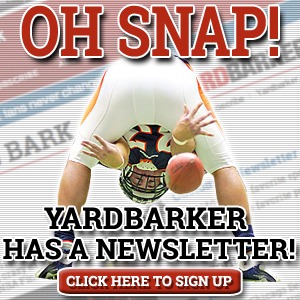 Latest Rumors
The Backyard

Today's Best Stuff

For Bloggers

Join the Yardbarker Network for more promotion, traffic, and money.

Company Info

Help

What is Yardbarker?

Yardbarker is the largest network of sports blogs and pro athlete blogs on the web. This site is the hub of the Yardbarker Network, where our editors and algorithms curate the best sports content from our network and beyond.