Found June 03, 2014 on Back9Network:
PLAYERS:
Ian Poulter
,
Christina Kim
,
Tiffany Joh
,
Padraig Harrington
,
Caroline Wozniacki
,
Serena Williams
,
Greg Oden
,
Mark Cuban
,
Phil Mickelson
,
Jason Dufner
,
Katherine Webb
,
Tiger Woods
TEAMS:
Miami Heat
,
Dallas Mavericks
Welcome to The Fringe, Back9Network's daily feature to keep you up-to-date on the best stories happening in golf, social media and pop culture.Ian Poulter Shows Off His Incredible BalanceIan Poulter has found yet another way to impress us. Shooting a video for Cobra Golf, Poulter found himself in a spot of bother, leaving him two options: take a drop and loose a stroke, or try a shot that requires a perfect swing and impeccable balance. Check out Poulter's improbable shot for yourself: Start your week with an impressive tip from @IanJamesPoulter. Don't take the penalty drop. Play it! Watch here http://t.co/MUFOaEgGNL— Cobra Golf (@cobragolf) June 2, 2014Poulter is currently one of the best players never to win a major. But how many major champions can pull off this crazy balance beam shot? To be fair, probably a lot of them … but that doesn't mean this is any less impressive. Related Link: Ian Poulter Has Very Different Car Problems Than YouChristina Kim Uses Swingshirt For Target PracticeOne person the LPGA is happy to have back playing good golf is Christina Kim. Besides the fact that she's one of the most popular players on the tour, there's the light, fun attitude and the sense of humor she brings to the game. That humor came out on Sunday when she got her hands on a Swing Shirt: Good week @thechristinakim! http://t.co/hL0j3ZSBWa— Tiffany Joh (@tiffjoh) June 1, 2014Well, that's one way to use the Swing Shirt, I guess … though I don't believe "turn your friend into a human impact bag" is listed as a proper use on the box. Related Link: Padraig Harrington Demos The Golf Swing ShirtCaroline Wozniacki Seems To Be Adjusting To Single Life Just FineCaroline Wozniacki was on the receiving end of what was, by all accounts, quite the shocking breakup a couple weeks ago. While she had previously tweeted that she was going through a hard time, she seems to have found her stride. She posted this pic of her and her girls hanging out on a boat:Boat day in Miami! http://t.co/Iw2pUat1Ck— Caroline Wozniacki (@CaroWozniacki) June 1, 2014And Wozniacki hung out with Serena Williams and watched the Miami Heat book its ticket to the NBA Finals. The two tennis stars even had their picture taken with the Eastern Conference Finals trophy and Heat center Greg Oden:Breakups are tough, especially when you're famous (not that I would know), so it's nice to see that Caroline has gotten herself back on track and that she's out there enjoying life.Related Link: Did Caroline Curse Rory?In Case You Missed ItMark Cuban Provides Perspective on Phil Mickelson SituationDallas Mavericks owner Mark Cuban was hit with a civil lawsuit in 2008 from the U.S. Securities and Exchange Commission, which accused him of insider trading. He was eventually cleared, but not before he felt his reputation was dragged through the mud.So not surprisingly, Cuban is paying attention to the situation surrounding Phil Mickelson. Read MoreJason Dufner's Acting is Pretty BaaaaadThe 2014 PGA Championship has yet to be played, but that isn't stopping Jason Dufner from planning for the final major of 2015. Being the enthusiastic guy that he is, Dufner is having a hard time containing his excitement for the 2015 PGA Championship at Whistling Straits in Wisconsin, so he's booking his tee time in advance. Way in advance. Read MoreOut Of BoundsBabies are apt to do the darndest things because, well, they're babies. They're learning about their world and sounds and language … blah blah blah. Some babies just got skills from birth. One of those babies is the one in the video below, just straight breaking it down like she's been doing it forever: Related Link: Bubba vs. Jack & Cheyenne Is Pinehurst BoundOther Hot Links:- Mark Cuban Provides Perspective on Phil Mickelson Situation- Jason Dufner's Acting is Pretty Baaaaad- Jordan Spieth Recreates his Epic Bunker Shot on First Try- Katherine Webb Plays Golf with Tiger Woods… Sort Of- Par For the Course: More Delays Threatening 2016 Olympic Golf- Tweek in Review: The Week's Best Tweets 
Original Story:
http://www.back9network.com/article/t...
THE BACKYARD
BEST OF MAXIM
RELATED ARTICLES
Apparently, Ian Poulter has too many cars, even for his liking. While this may come as a surprise — being the car guru that he is — it's true. Maybe he ran out of room in his garage, although it's unlikely.Regardless of the reasoning, his overload of sports cars comes as a benefit to every person who follows Poulter on Twitter. A huge benefit.He's giving away his 2005...
There's an old saying out there: Ask, and you shall receive. Certainly, though, there are things you can ask and ask and ask for, and most of the time you don't end up getting. I've been begging the universe for a date with Anna Kendrick for about three years now and here I am … waiting. For one of Ian Poulter's Twitter followers, he didn't have to wait. The guy wanted...
((ht: cbssports.com))Okay, this really isn't fair. Mostly because normal hackers like us can't actually do this.Check out this promotional video PGA Tour Golfer and snazzy dresser Ian Poulter participated in for King Cobra golf.Poulter stands on the railing of a creek bridge on a random golf course...explains his predicament and boom! Drops the ball on the green.Yeah, needless...
Welcome to The Fringe, Back9Network's daily feature to keep you up-to-date on the best stories happening in golf, social media and pop culture.Ian Poulter Takes Time Out to Test Some PillowsIt seems like every day Ian Poulter posts something on Twitter that makes us laugh or question his sanity. Today's dose of Poulter comes following some impromptu pillow testing the Englishman...
The big boys cough up the Memorial, there's a new No. 1 in women's golf, and the world's best Swede can't quite win at home. Here's a look back at the weekend in golf:Hideki Matsuyama wins Memorial because no one else wanted toReigning Masters champ Bubba Watson entered Sunday with a one-shot lead in the Memorial Tournament at Muirfield Village, but he shanked that away...
Golf News

Delivered to your inbox

You'll also receive Yardbarker's daily Top 10, featuring the best sports stories from around the web. Customize your newsletter to get articles on your favorite sports and teams. And the best part? It's free!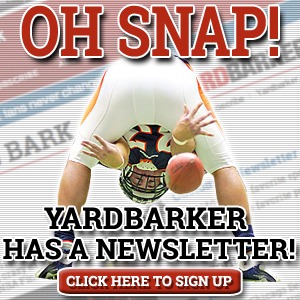 Latest Rumors
The Backyard

Today's Best Stuff

For Bloggers

Join the Yardbarker Network for more promotion, traffic, and money.

Company Info

Help

What is Yardbarker?

Yardbarker is the largest network of sports blogs and pro athlete blogs on the web. This site is the hub of the Yardbarker Network, where our editors and algorithms curate the best sports content from our network and beyond.