Found May 13, 2013 on Fox Sports:
Tiger Woods and Sergio Garcia ended a dramatic weekend of golf in a place that made each comfortable. Garcia finished as the victim. Woods, as usual, was the winner. Protagonists need antagonists and like Tweety needed Sylvester and Bugs Bunny needed Yosemite Sam, on his weekend at The Players, the cartoonish Garcia was a tailor-made villain for Woods. The kind that comes so close to winning only to end up as roadkill. And though Woods wasn't going there, Garcia's petulant assaults on his character - calling him "not the nicest guy on Tour" - may have even given the World No. 1 the boost he needed to win on a course he doesn't particularly enjoy for the first time in 12 years. "I thought I handled the situation well and really played well today," Woods deflected when asked about Garcia. Winners, of course, can afford to take the high road. Garcia, on the other hand, was unrepentant when asked if there was anything he'd do differently after accusing Woods of gamesmanship in Saturday's third round. "No, no," he said. "It sounds like I'm the bad guy here. "I was the victim. "I don't have any regrets of anything." Well, that may not strictly be true. The Spaniard, once full of life and promise but lately a whiny downer convinced the golfing gods conspired against him, reached the signature 17th island green tied for the lead with Woods at 13-under par. And then it was if a giant cartoon anvil with "ACME" written on it landed on his head. Garcia took on that back right pin on the Par 3 that everyone tells you not to and, predictably, found a watery grave. The fact that so many cheered was confirmation of whom the people thought was the bad guy. For good measure, maybe to make sure his title chances really drowned, Garcia took out another ball and hit the same shot with the same pitching wedge. Cue: ACME anvil. If they make "Tin Cup II", the producers will know who to cast. When the carnage was over, it added up to a quadruple bogey. On 18, Garcia emptied out that particular sleeve of balls with another water ball, leading to a double bogey. It was the sort of finish that could haunt a player. For a long time. Garcia said he wouldn't lose any sleep over it. "It happens," he said later with a shrug. Interestingly, it doesn't happen to Woods. He survived his own cartoonish blunder on the 14th hole - a tee shot that really has his number - hooking into the water and then taking a double bogey. His two-shot lead gone, Woods pulled a 9-iron approach into the next green and was so short-sided, bogey seemed inevitable. But Woods made the clutch putt from eight feet to save par. He'd later call it "the shot that turned the tide." On the next, a poor tee shot was rescued by an excellent bunker shot leading to a tap-in birdie, and then two pars to finish. Woods did what he usually does and hollered back for the chasing pack to come get him. And as usual they weren't up for the challenge. Swedish rookie David Lingmerth was gallant but three-putted the last when he needed birdie to force a playoff. Jeff Maggert's 49-year-old nerves let him down on 17 where he, too, found the water (to finish just two shots behind Woods). The list goes on. Only Woods and Maggert of the last 15 players to go out on Sunday finished under par. It all augurs well for Woods, who has reached four wins faster this year than in any season of his career. This win - in his 300th start on the PGA Tour (he won, too, in his 100th and 200th) - was probably the most impressive of the year because it came at a tournament in which he hasn't historically done well. And he did it differently, too. While at Torrey Pines, Doral and Bay Hill Woods relied on a hot putter, he won here despite taking 114 putts. Thirty-five players took fewer putts. "Sometimes it's a little harder than others," he said of his wins. "This is a very tricky golf course with a lot of things that can go wrong coming down the stretch. "I'm not the only one who's struggled with it. "But I've been hitting it really well. I've played pretty good this entire year. It's not like my game was off. For some reason this week I felt really comfortable with what I was doing." He felt comfortable enough, too, to take a shot at those who doubted him during his darkest years, post-scandal. "Am I surprised?" he repeated when asked about the success he's having. "No. I know a lot of people in this room thought I was done. "But I'm not." What's left, of course, is to prove that on the grandest stage. The final round of the US Open in June - at venerable Merion - will be played five years to the day since Woods won his last major. Despite the fact they don't get along, he should be hoping he gets paired with Garcia in Pennsylvania. In the 13 tournaments they've played together in during their PGA Tour careers, Woods has now won nine. With enemies like that, who needs friends?
Original Story:
http://msn.foxsports.com/golf/story/t...
THE BACKYARD
BEST OF MAXIM
RELATED ARTICLES
I'm not one that likes the thought of fans being able to call penalties on players from their televisions at home. And with the recent news at The Masters, on Tiger Woods illegal drop, this is just going to make everything worse. But after last week's TPC Sawgrass and another Tiger Woods controversial drop, the tour needs to do something. If the best player in the world doesn't...
After Tiger Woods won the 2013 Players Championship, he decided to apologize to his mother Kultida Woods for missing Mother's Day. Watch as Tiger drops a "Sorry, Mom" in the below GIF: Oh Tiger...you sly fox...you... (Courtesy of @CJZero)
We had a name for Sergio Garcia many years ago after he imploded during a round three at the Masters and proceeded to step up to the podium and blame the media for his bad round. "Whiny *****" That name reared its ugly head again during the 3rd round of The Players Championship when Garcia accused Tiger Woods of costing him a shot on the second hole by pulling a club...
Tiger Woods had the last word against Sergio Garcia by winning The Players Championship on Sunday. Woods ended a weekend of heated words with Garcia by doing what he does best - closing out tournaments, even if he let this one turn into a tense duel over the final hour at the TPC Sawgrass. Tied with Garcia with two holes to play, Woods won by finding land on the last two holes for...
Odds for the 2013 U.S. Open have been released and to no surprise, Tiger Woods is a overwhelming favorite to take home the major.
Sergio Garcia lost the tournament lead that he shared with Tiger Woods on the 17th hole of Sunday's final round of the PGA Players Championship when he shot the ball into the water twice on the way to a quadruple-bogey. Garcia followed it up by hitting the ball into the water again on the 18th and finished with a double-bogey on the final hole. The video here, set to the...
One bad tee shot made Tiger Woods appear vulnerable. One clutch par putt and a critical birdie made him look invincible. Woods closed out The Players Championship on Sunday like he has so many other tournaments: hitting big shot after big shot down the stretch. His latest unflappable finish helped him secure his fourth victory of 2013 and capture the richest prize on the PGA Tour...
Tonight I kept it simple and sweet. Two topics, golf and homosexuality in sports. Thanks to Nick Masuda of Golfweek Magazine for coming on the show and having an awesome conversation about Tiger Woods and The Players Championship. Tiger has been so dominant and we explored how much he has improved. So much has happened since Jason Collins came out a few weeks ago. Tonight was the...
Some Twitter comedian observed that Tiger Woods apparently retained ownership of Sergio Garcia in his pre-nup with Elin. That's harsh, but this...
Sergio Garcia told NBC during the weather delay at The Players Championship on Saturday that Tiger Woods might have caused him to hit a bad shot on the second hole during their round together. Garcia blocked his second shot deep into the trees from the right side of the 
Sergio Garcia has had his share of painful final round moments throughout his long career. The Players Championship, and more specifically the 17th hole at Sawgrass, was host to one of his finer moments, though. Sunday, however, was not one of those finer moments. Garcia quadruple bogeyed 17, falling out of a share of the lead, and effectively giving away the tournament. Tiger Woods...
Love him or hate him (and there seems to be no middle ground) it is hard to argue against the claim that Tiger Woods is the greatest golfer in the history of the PGA. The numbers are staggering, 78 career wins in 300 starts including 14 major championships. Lets take a quick look at the top 10 on the all time wins list : 1 Sam Snead 82 wins, 7 majors in 30 years 2 Tiger Woods 78...
Golf News

Delivered to your inbox

You'll also receive Yardbarker's daily Top 10, featuring the best sports stories from around the web. Customize your newsletter to get articles on your favorite sports and teams. And the best part? It's free!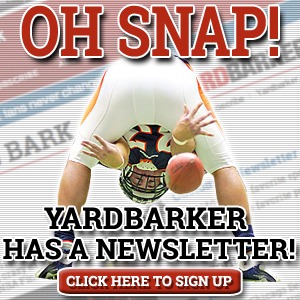 Latest Rumors
The Backyard

Today's Best Stuff

For Bloggers

Join the Yardbarker Network for more promotion, traffic, and money.

Company Info

Help

What is Yardbarker?

Yardbarker is the largest network of sports blogs and pro athlete blogs on the web. This site is the hub of the Yardbarker Network, where our editors and algorithms curate the best sports content from our network and beyond.