Found May 04, 2012 on Fox Sports:
It all hinged on a four-foot putt. For a man who's built his legend on burying the clutch putt -- and from far greater distances, under far greater pressures -- this birdie should've been routine. But this Tiger Woods bites his lip over the ball like a man who's unsure of himself; a man without a cape, no longer able to leap tall buildings in a single bound. On his penultimate hole at Quail Hollow on a steamy Friday, Woods jammed the putt, opting for force when the situation called for trust; for finesse. The ball veered right, barely catching the lip, and just like that, he was on the outside looking in at the cut-line at the Wells Fargo Championship. Woods used to need putts to win; now he needed one on the exacting ninth -- his final hole of the day -- just to play the weekend. In keeping with the motif of this lamentable campaign, Woods left his approach shot into the final green woefully short, then left the do-or-die birdie putt from 50 feet at least five feet short. And with that he headed for his Gulfstream and the flight back to his compound in Jupiter, convinced he was headed for just the eighth missed cut of his professional career and the second in a row at one of his favorite courses. "Frustration," he said later, "I've missed my share of cuts in the past, and they don't feel good." Predictably, the autopsy into his Charlotte malfunction began immediately. "It was a struggle all the way around," admitted Woods' caddie, Joe LaCava. "I think he'd tell you everything was kind of mediocre." Was the victory in March at Bay Hill -- his first on the PGA Tour since his life became the road kill of scandal and divorce -- an anomaly? His worst-ever performance at the Masters, now followed three weeks later by a missed cut, suggests that all isn't well inside Tiger's world. "Personally, his self belief's got to be shot," said Nick Faldo. Or maybe the answer lies in the words of Corey Carroll, Woods' former closest friend in Orlando, who was quoted in Haney's book "The Big Miss" saying that Woods just isn't as good as he once was. The mistakes that cost Woods at Quail Hollow weren't just physical. He seemed distracted, his mind not fully on the job. Perhaps it's because he's believed to be in the midst of negotiating a new contract with Nike, the biggest benefactor left on his portfolio. (Tiger's agent, Mark Steinberg, said he doesn't discuss business dealings when I asked whether the negotiations were weighing on Woods.) Woods, however, isn't one to open windows into his soul and so preferred to overlook the psychological, as well as the 33 putts he took on Friday and the half-dozen flubbed chips and pitches. Instead, he blamed his poor play once again on the incompatible "combo platter" of ex-coach Hank Haney's backswing mixed with current coach Sean Foley's downswing. Woods said that because Foley's set-up feels so uncomfortable to him, he tends to revert to Haney's. "If I get over the golf ball and I feel uncomfortable, I hit it great," he said. "It's just that I get out there and I want to get comfortable, and I follow my old stuff and I hit it awful." He hinted that despite being 20 months into his work with Foley, he may still be a long way away from recapturing the form that won him 14 major championships. "If you think about it, with Butch (Harmon), it took me two years and with Hank (Haney) it took me almost two years before old (swing) patterns are out," he said. "It takes time. ... It takes hundreds of thousands, if not millions, of golf balls, but eventually it comes around." That timeframe might be fine for a player early in his career, but the clock is ticking for a 36-year-old with four knee surgeries and chronic Achilles problems. There will be those who think Foley's to blame for Woods' woes, but Geoff Ogilvy, who played alongside Woods, isn't one of them. "I think he's actually playing pretty well," said the urbane Aussie. "He hit four or five pretty loose shots off the tee, but if he holed putts, he'd be in contention. Or he wouldn't be out of the tournament. "I think he's actually getting there. I know that sounds ridiculous because he used to look horrible and win tournaments. "I think he's doing a lot of good stuff. ... But he has to putt better." Woods cut a forlorn figure as he balanced his hat on his head, held his golf shoes and walked to his car. "See you next week," he told some media members, referring to The Players championship in Ponte Vedra Beach. But whom will we see next week?
Original Story:
http://msn.foxsports.com/golf/story/t...
THE BACKYARD
BEST OF MAXIM
RELATED ARTICLES
There's plenty more to Cheyenne Woods' game than just her famous last name. With uncle Tiger Woods playing this week in Charlotte, his niece is looking to wrap up her record-setting Wake Forest career with a strong showing at next week's NCAA regionals. She hopes to play at the championship finals the following week. After that, she'll turn pro and look to build...
Tiger Woods is projected to miss the cut after a dismal two rounds at the Wells Fargo Championship. Woods shot a one-over par 73 on Friday, leaving him at even-par for the tournament and one shot below the projected cut. The 36-year-old finished 13 shots behind current leader Nick Watney, who fired a 64 in the second round to move to 12-under at Quail Hollow in Charlotte. Woods...
In his latest attempt to move on from his "transgressions," Tiger Woods is reportedly selling his beachfront condo in Orange County. TMZ.com reports that the former world No. 1 golfer is selling his condo in Corona Del Mar for $2.495 million after reportedly purchasing it for $3 milllion back in 2004. The condo, which TMZ dubs one of the golfer's "crash pads,&quot...
WINSTON-SALEM, N.C. (AP) -- There's plenty more to Cheyenne Woods' game than just her famous last name. With uncle Tiger Woods playing this week across the state in Charlotte, his niece is looking to wrap up her record-setting Wake Forest career with a strong showing at next week's NCAA regionals. She hopes to qualify for the championship finals later in May before...
The Wells Fargo Championship looks like it will be missing Tiger Woods on the weekend for the third straight year. Woods couldn't buy a putt in his round of 73 and was at even-par 144, almost certain to miss the cut for the eighth time in his career. Instead, the leaderboard was filled with a couple of players looking to turn their games around. Nick Watney, who has not had...
Does anyone else find it incredibly odd that for a guy that dresses so well on the golf course, Tiger Woods always looks like the guy that has Castaway fashion sense*? The above shirt was from his Tiger Jam thingy and, really, I have no words. It looks like he's wearing a Magic Eye book. Tiger, please, stop shopping in the MGM Grand shop. * -- Castaway fashion sense is someone...
Follow Tiger Woods in the Wells Fargo Championship at Quail Hollow.
Webb Simpson said he was nervous playing golf with Tiger Woods. It sure didn't show. Simpson chipped in for eagle and holed a 60-foot birdie putt that might have rolled off the 12th green if the cup didn't get in the way. It led to a 7-under 65 and a share of the lead with Stewart Cink and Ryan Moore in the first round of the Wells Fargo Championship. Woods one-putted three...
Nick Watney answered what he referred to as a wake-up call at the Wells Fargo Championship. Tiger Woods might need one. Watney had gone nine straight rounds on the PGA Tour without breaking 70 and had failed to crack the top 10 in all nine of his stroke-play tournaments. He worked hard to change that, and it paid off Friday with an 8-under 64 that put him atop the leaderboard at...
• You can buy Tigers Woods' beach condo • MUST-SEE: The Bear Bryant NASCAR helmet • Gene Chizik picking nose at Braves game; nice shirt! • Renaldo Blackman's sweet 'Party With Sluts' hat • Uh, Oh! Erin Andrews heading to Derby ALERT! • One Of The All-Time Hottest ASU Students: Katy • Hottest Polish Chick I'd Sausage Of The Day: Monica • Who's up for a...
May 6, 2012 - Rory McIlroy April 29, 2012 - Luke Donald (1 week) April 15, 2012 - Rory McIlroy (2 weeks) March 18, 2012 - Luke Donald (4 weeks) March 4, 2012 - Rory McIlroy (2 weeks) May 29, 2011 - Luke Donald (40 weeks) April 24, 2011 - Lee Westwood (5 weeks) Feb. 27, 2011 - Martin Kaymer (8 weeks) Oct. 31, 2010 - Lee Westwood (17 weeks) June 12, 2005 - Tiger Woods (281...
Golf News

Delivered to your inbox

You'll also receive Yardbarker's daily Top 10, featuring the best sports stories from around the web. Customize your newsletter to get articles on your favorite sports and teams. And the best part? It's free!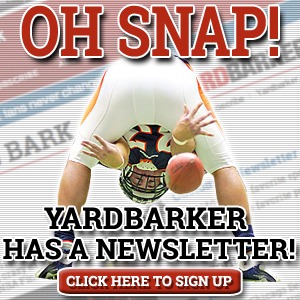 Latest Rumors
The Backyard

Today's Best Stuff

For Bloggers

Join the Yardbarker Network for more promotion, traffic, and money.

Company Info

Help

What is Yardbarker?

Yardbarker is the largest network of sports blogs and pro athlete blogs on the web. This site is the hub of the Yardbarker Network, where our editors and algorithms curate the best sports content from our network and beyond.