Found January 24, 2013 on Fox Sports:
Golf is, necessarily, about numbers. Tiger Woods' number on an overcast Thursday at the Farmers Insurance Open was 68. On the more exacting Torrey Pines South course -- which played two shots harder than the shorter North -- a round of 4-under par represented a very good start for Woods. He has won seven times here but none since the scandal. Even though Woods could have shot much lower -- he had six birdies and an eagle -- only four players on the South bettered him, which left Woods satisfied despite a sloppy finish. "A 68 on the South," he declared, "Is a good number." But there was more to Thursday's round than just a number. For stretches, Woods looked, dare it be said, like the Old Tiger. And it wasn't just his play that said so, but his demeanor. When he was at his best, he carried an aura of imperiousness. He was never in any doubt as to whether he would play well; the only question was how well. Since the scandal, that self-assuredness hasn't been as obvious. "I knew he was going to play well today," said Woods' caddie, Joe LaCava. "I don't know if it's because he's very comfortable here, but I could see it on the range this morning when we were warming up. His tempo looked good, and he was moving the ball both ways. "I always know he's going to play well when he shapes it easily both ways on the range." LaCava's instincts were validated immediately. Woods found a fairway bunker on the first hole -- a relatively benign par 4 he managed to butcher during his 2008 US Open victory here -- but drained a 20 footer for birdie. And that's important, too, because Woods back in the day was deadly from that range. "I think he could've played quite a bit better," said Rickie Fowler, who plays socially with Woods in Florida and was paired with him on Thursday. "But when he was on the greens, he definitely took advantage." Woods, who is three shots off the lead shared by K.J. Choi and Brandt Snedeker, missed left off the tee early, but it didn't get him into trouble until the brutal fourth, nestled along the Pacific. From an awkward, side-hill stance in the rough, Woods hit a poor approach, chipped on, then three-putted for double bogey. "Yeah, he wasn't in the best mood after that," LaCava said. But Woods rebounded immediately with a birdie on the next, then recalled that 2008 US Open when he holed his greenside bunker shot for eagle on the par-5 sixth. "It was more important to get that birdie right out of the way (on the fifth) and get back to even par with the par 5 to play," Woods said. "I knew I had two par 5s on the front side to go, so I could get it under par and then maybe get two or three on the back. I thought that would be a good score. "And, lo and behold, I got it rolling." That he did, with birdies on eight, nine, 12 and 13. "Got it to 6 (under par) and had a chance to get to 7," he said. But the putt on the 14th slid agonizingly by the hole. It seemed, at the time, just a minor inconvenience. He was playing so well it seemed inevitable that he would tie for the lead. But then came a reminder that resurrection for Tiger Woods won't be easy. An errant tee shot to the right of 15 left him behind a tree and resulted in a bogey after a bad chip. Another poor chip on 17 led to another bogey. Woods layed up on the closing par 5, but from 95 yards sailed a lob wedge over the green and into a bunker. He needed to hole an 8-footer for par just to stay at 4 under. "I hit a beautiful putt to get it to 7 (under), and I get up and down on 18 to get to 4," he shrugged, "I made a few mistakes out there, but I made some nice plays, as well." Woods and LaCava explained the turnaround given last week's missed cut in Abu Dhabi. "I think last week really was just a lack of playing," LaCava said. "You can practice all you want, but you need the competition." Woods agreed, to a point. "It does help to play after having six weeks off," he said. "Unfortunately, it was only a couple of rounds, but it was still nice to get a feel for it. "It wasn't really a lot different than how I hit it last week. Last week's conditions were a lot more difficult, and the fairways were narrow and the wind was howling. I felt like I was doing a lot of good things last week. And I came out here today and basically did the same thing."
Original Story:
http://msn.foxsports.com/golf/story/p...
THE BACKYARD
BEST OF MAXIM
RELATED ARTICLES
Less than a week ago it was being reported that Tiger Woods wanted to remarry Elin and was willing to offer her a huge sum of money in a prenup to try and get her back.  Now it is being reported that Woods has linked up with Lindsay Vonn.  Vonn, a former Gold Medal Olympic Skier, just had her divorce from Thomas Vonn finalized earlier this month.According to The Daily Mail, Tiger...
The next golf prodigy has been discovered thanks to YouTube.Seen here is a 17-month old baby crushing plastic golf balls with his plastic club. His hand-eye coordination is absolutely incredible. And he is already a few months ahead of where Tiger Woods was at this age. We know how his professional golf career has turned out.Could this little guy be the next star? Look at, Rory McIlroy...
Despite the swirling of rumors all around him that he might be dating Lindsey Vonn while reports indicate that he may be attempting to woo back ex-wife Elin Nordgren at the same time (what tangled webs we weave), Tiger Woods trudges along on the golf course, attempting to recapture the long-last magic that made him the most feared golfers in PGA Tour history. And much like it...
Tiger Woods is going to have to wait to pursue a seventh win at Torrey Pines. Thick fog forced a long delay Saturday in the third round of the Farmers Insurance Open. Players began the round after a three-hour delay, only for the fog to return five minutes after they started. No one finished more than one hole. The delay meant the third round could not be completed, and officials...
Tiger Woods is going to have to wait to pursue another win at Torrey Pines. A thick fog shrouded the course along the Pacific bluffs on Saturday and essentially wiped out the entire day at the Farmers Insurance Open. Woods, a six-time winner of this tournament, had a two-shot lead and never even bothered coming to the golf course. Three players completed one hole -- and that was...
Elin Nordegren is making her presence known in South Florida with a new, $12 million ocean-view mansion. About a year ago, Nordegren, with the help of Tiger Woods' money clip, purchased the 17,000-square-foot mansion for $12.2 million. After an infestation of termites in the enormous household, she decided to knock it down to create a 21,000-square-foot masterpiece on the North...
Tiger Woods' love life is getting complicated, but that may actually be a good thing for his golf career. Last week we shared a report from the National Enquirer — the same outlet that first broke open the Tiger sex scandal — that said the golfer was trying to remarry ex-wife Elin. Though the story was shocking, we went with it believing that the Enquirer's sources on all...
A couple of weeks ago we reported that Tiger Woods was possibly dating Olympic skier Lindsey Vonn. It was only a rumor at time, but it has picked up steam even as reports that Tiger was thinking about giving his Ex-wife $350 million to take him back. Vonn decided to speak on on the rumor. "We are just friends," she told the Denver Post after winning her second World Cup downhill...
A week after a report surfaced that Tiger Woods was interested in remarrying ex-wife Elin Nordegren, numerous reports Wednesday said that the golfer is actually involved in a romantic relationship with Olympic and world champion skier Lindsey Vonn. The Daily Mail reported that the two began dating in November of last year, and that the 37-year-old Woods recently took a romantic...
Golf News

Delivered to your inbox

You'll also receive Yardbarker's daily Top 10, featuring the best sports stories from around the web. Customize your newsletter to get articles on your favorite sports and teams. And the best part? It's free!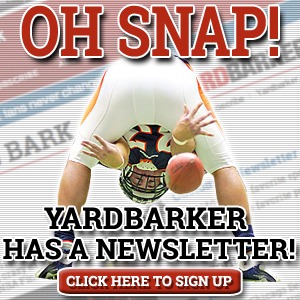 Latest Rumors
The Backyard

Today's Best Stuff

For Bloggers

Join the Yardbarker Network for more promotion, traffic, and money.

Company Info

Help

What is Yardbarker?

Yardbarker is the largest network of sports blogs and pro athlete blogs on the web. This site is the hub of the Yardbarker Network, where our editors and algorithms curate the best sports content from our network and beyond.