Found February 29, 2012 on It's Always Sunny in Detroit:
"The Big Miss" written by Hank Haney, Tiger Wood's former swing coach is due out March 27, one week before the Masters. It'll be incredibly poor timing for the man who used to call August, Georgia his second home. The book centers on Haney's six years serving as the doctor to Tiger's once flawless swing. As expected, Haney probably has more dirt on Tiger than anyone in the sport save for Tiger's ex-caddy, Steve Williams.
On Tuesday, Golf Digest started releasing excerpts from the book through its tablet applications. In one excerpt that made news, Haney highlighted Woods' fascination with the Navy SEALS.
"I was beginning to realize that his sentiment ran deep, and that as incredible as it seemed, Tiger was seriously considering becoming a Navy SEAL," Haney wrote, referring to the summer of 2007. "I didn't know how he'd go about it, but when he talked about, it was clear that he had a plan. After finding out that the Navy SEAL age limit is 28, I asked Tiger about his being too old to join. `It's not a problem,' he said. `They're making a special age exemption for me.'"
Mark Steinberg, Woods' agent, also released a statement Tuesday saying, "Because of his father, it' no secret that Tiger has always had high respect for the military, so for Haney to twist that admiration into something negative is disrespectful." Woods met with the press Wednesday at PGA National believing that Steinberg's statement was enough. Naturally, the media disagreed. Alex Miceli, a Golfweek senior writer and Golf Channel contributor, pressed Woods after Tiger said that he had "already commented on everything."
"I've already talked about everything in the book. I've already commented on everything, Alex," Woods said.

"Then I must have missed you answering that question," Miceli replied.

"Well, I've already commented on the book. Is that in the book? Is it in the book?" Woods said.

Miceli replied he had not seen the book.

"You're a beauty, you know that?" Woods said, trying to smile.

Woods then paused, stared at him and said, "Have a good day."
I won't judge whether Steinberg's comments were enough for the media concerning Woods' thoughts on the book. But, we all know that Tiger doesn't have a PGA win in over two years. Despite his new swing, consisting of a fourth major adjustment since 1996, looking more fluid and natural, you have to think Tiger is pressing. His world has learned a lot about Woods in the past couple years. He isn't the robot that most once thought. 
And while Haney's book is probably kicking a man while he's down, Tiger had to expect to be endlessly questioned on it. One thing I do know - three years ago, Tiger's confidence and bravado wouldn't have let him get into this spat with a media of the member. He was too good for that then. But as has been reflected in his game and illustrated in his face below, Tiger's once unflappable mental edge is buried in a green-side bunker.
Original Story:
http://feedproxy.google.com/~r/ItsAlw...
THE BACKYARD
BEST OF MAXIM
RELATED ARTICLES
Over the past two years, Tiger Woods has had to battle questions about his extramarital affairs and the collapse of his personal life. Now, he has to deal with a book his former coach Hank Haney wrote. Tiger has described the book as "unprofessional and very disappointing," and it appears answering questions about it is taking its toll. As you see above, Tiger had an extremely...
Tiger Woods had a terse exchange with a reporter over excerpts from former swing coach Hank Haney's book. The volley ended with Woods refusing to answer the question, staring him down for five seconds and saying sarcastically, ''Have a good day.'' The topic Wednesday at the Honda Classic was Haney's claims that Woods seriously thought about becoming a Navy...
Tiger Woods almost left the golf world and all of the opportunities it presented to him in order to become a Navy SEAL. That's what his former coach is alleging at least. Woods' former coach and renowned golf instructor Hank Haney is set to release a book about his relationship with the former world No. 1 golfer next month, and it's expected to offer an in-depth look...
Tiger Woods had a terse exchange with a magazine reporter Wednesday over excerpts from his former swing coach's new book, and ended the conversation with a long stare and a sarcastic, "Have a good day."
The agent for Tiger Woods lashed out Tuesday against Hank Haney's book, saying his 'armchair psychology' about Woods was 'ridiculous' and that it was clear the former swing coach only cares about self-promotion.
PALM BEACH GARDENS, Fla. (AP) It didn't take long for Tiger Woods to go on the attack in his first trip to the Honda Classic in nearly 20 years. But he was in the press room, not on the golf course.
By Andrew Nicholson Suns.com June 13, 2006 In his native Brazil, Leandro Barbosa is simply known as Leandrinho. That's because in his native country, famous athletes are known by one name. The men who have challenged Michael Jordan and Tiger Woods for most far-reaching worldwide recognition have been Brazilian soccer players Pele, Ronaldo and Ronaldinho, a two-time FIFA...
Golf News

Delivered to your inbox

You'll also receive Yardbarker's daily Top 10, featuring the best sports stories from around the web. Customize your newsletter to get articles on your favorite sports and teams. And the best part? It's free!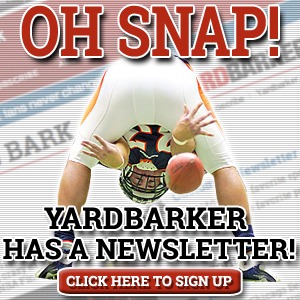 Latest Rumors
Best of Yardbarker

Today's Best Stuff

For Bloggers

Join the Yardbarker Network for more promotion, traffic, and money.

Company Info

Help

What is Yardbarker?

Yardbarker is the largest network of sports blogs and pro athlete blogs on the web. This site is the hub of the Yardbarker Network, where our editors and algorithms curate the best sports content from our network and beyond.