Found March 28, 2013 on Fox Sports South:
Tiger Woods is going to win the Masters. As surely as birds chirp, azaleas bloom and CBS announcers swoon over the beauty of Augusta National, by sundown on the second Sunday in April, Tiger will have his fifth green jacket and his 15th major championship. This isnt an original observation. Before Nicklaus, Arnold Palmer and Gary Player shuffle out to the tee for the ceremonial first shots, every pundit with a passing knowledge of the game will have picked Tiger. But there is a reason for that, and it isnt bandwagon jumping. The guy is better than every other player in the world again. And he is better in ways that are suited for the Masters. Last April, Tiger won at Bay Hill and arrived at Augusta like Caesar entering the gates of Rome. But not everybody was sold. He still didnt have the new golf swing dialed in and his short iron distances were an unsolved mystery. One 9-iron shot would fly 140 yards and the next would soar 180. He won at Bay Hill playing defense, fighting the big miss with knock-downs and hold-offs, and making crucial putts at critical times. This year is different. Tiger has won three times before April 1 a feat he last accomplished in 2008, the last year he won a major and he has done so in a fashion reminiscent of his most dominating days on tour. His golf swing is as good as its been in years, and he seems confident and committed every time he makes a backswing. Thats not why hes going to win, though. He still misses fairways left and right, sometimes blasting drives so far afield that even the throng of spectators cant find them. And while he is still plenty long, he isnt the longest hitter in the game anymore. In fact, on any given week he might not rank in the top five. No, the reason Tiger will win the Masters is not his drives or his swing or his commitment or confidence. He is going to win because he is putting better than he ever has in his life, which might be better than anyone ever has in history. At Bay Hill he ranked No.1 in putting for the week, and in the top 10 percent in saves. He also finished in the bottom 10 percent in fairways hit and was in the bottom half of the field in greens hit in regulation. But he won the Arnold Palmer Invitational without breaking a sweat because he missed one putt all week from inside 10 feet. Two weeks prior, in the WGC-Cadillac Championship at Doral, he finished the week with 100 putts and 27 birdies. As if those numbers werent impressive enough, Tiger didnt miss any putts inside 10 feet. He went 33-0. Nobody does that, not even in a casual round with your buddies, much less on lightning-fast, brick-hard greens with thousands of fans watching and millions of dollars on the line. These were not wobbly rolls that caught all the edges and fell in. At Bay Hill the only bad putt he hit all week was a 25-footer at 13 on Sunday that he left eight feet short. Then, just as it looked like he might become human again, he hit the eight-footer in the center of the hole as if it was a tap-in. Because he is putting so well, he doesnt have to hit 5-irons at the flags from bad lies in the rough. He can play the percentages knowing that any shot on the green gives him a chance at birdie. That is why he will win the Masters. He can drive the ball anywhere at Augusta National. The rough (or second cut at the green jacket crowd calls it) is shorter than the average public courses fairways. And the fairways themselves provide ample room. That means Tiger can freewheel off the tee, knowing that his good drives will put him perfect spots to attack, and his not-so-perfect ones wont hurt him. Yes, Tiger is going to win. As surely as the sun rises in the east and the grass at Augusta National is green, the No.1 player in the world will take one more step toward becoming the greatest player of all time. When he does, he should give a shout-out to Steve Stricker, the man who gave him a putting lesson the Wednesday before the opening round at Doral. Stricker, long known as one of the best putters in the game, had Tiger square his shoulders to the line and move his hands a little higher to align the putter face. The results of that lesson speak for themselves. Of course Tiger wont give Stricker his due. Just as surely as the sun will set in the west the Sunday after the Masters, Tiger will bask in the glory of his latest accomplishment with a Cheshire cat smile and a sharks soulless eyes, acknowledging everyone but thanking no one. That part of him, unfortunately, hasnt changed.
Original Story:
http://www.foxsportssouth.com/story/T...
THE BACKYARD
BEST OF MAXIM
RELATED ARTICLES
US Weekly decided — wisely, I might add — to plaster Lindsey Vonn and Tiger Woods all over the cover of the periodical's latest issue. Woods and Vonn, who awkwardly made their relationship public last week, have stressed that they crave privacy as the two pursue their budding romance, so I'm sure US Weekly will respect their wishes after this issue. On the other hand, maybe...
Some people are up in arms over Nike seemingly suggesting in their latest ad that Tiger Woods getting back to his winning ways somehow erases his much publicized off-course misdeeds. Of course, that's only subject to interpretation, but we all know how Nike rolls. Provocative ads are nothing new to the shoemaker. 
BACHELOR NO. 2
A report claims that before her recently revealed relationship with Tiger Woods, skier Lindsey Vonn dated fellow Minnesotan and Kardashian ex Kris Humphries.
OUT OF THE WOODS
According to reports, Tiger Woods apparently sent Rory McIlroy a text message that in essence read, "Get your finger out of your ass and win."
Tiger Woods, the newly-crowned No. 1 golfer in the world, reportedly sent a crude text to Rory McIlroy, the No. 2 golfer in the world.  According to Houston Chronicle columnist Jerome Solomon, Woods gave McIlroy some pointed advice as McIlroy prepares for the Shell Houston Open this week.
Tiger Woods finally caught back up with his talent this week, and his destiny is within spitting distance once again. His long climb back to the world No. 1 ranking after career and life stumbles is, quite frankly, inspiring. He lost his putting stroke, his wife and his reputation along the way. He had caddie issues, deep regret and unimaginable shame. He had critics and haters...
When marketing is less about truth and more about endorsing one view of reality, Nike often comes out the winner. The company's latest ad pushes the preferred narrative once again, no matter how wrong or how rankling it is. Nike capitalized this week on Tiger Woods' latest run, which includes two PGA Tour victories and regaining the world No. 1 ranking heading into the Master's...
Regaining the No. 1 spot in the world is something that has been a long time coming for Tiger Woods.At times it appeared as if it was never going to happen again, but after falling down pretty fart professionally and personally it now appears that ole Eldrick might have it back together again. And he's okay with losing it too (the No. 1 ranking that is). Tiger'...
Life must be going well for Tiger Woods when he can make headlines in the gossip pages for dating Olympic ski champion Lindsey Vonn and in the sports pages for winning Bay Hill and returning to No. 1 in the world. All in the same week. The studio photos of Woods and Vonn that were posted on their Facebook pages looked more suitable for a catalog showcasing their clothing sponsors...
Poor little tink tink. It seems Kris Humphries can't find a woman to stay with him longer than a few months, before running to the arms of a wealthier more popular man. According to Gossip Extra, before Tiger Woods publicly announced he was in a relationship with Lindsey Vonn, it appears Humphries was close in the second place. "Woods wasn't Vonn's only suitor," a source...
Golf News

Delivered to your inbox

You'll also receive Yardbarker's daily Top 10, featuring the best sports stories from around the web. Customize your newsletter to get articles on your favorite sports and teams. And the best part? It's free!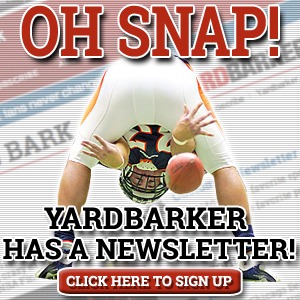 Latest Rumors
The Backyard

Today's Best Stuff

For Bloggers

Join the Yardbarker Network for more promotion, traffic, and money.

Company Info

Help

What is Yardbarker?

Yardbarker is the largest network of sports blogs and pro athlete blogs on the web. This site is the hub of the Yardbarker Network, where our editors and algorithms curate the best sports content from our network and beyond.