Found July 17, 2012 on Fox Sports:
One sounds as if he's ready to sit through a major examination, the other one seems to have turned up for a pub quiz. Those seem to be the respective approaches of Tiger Woods and Lee Westwood. It will be interesting to see which attitude bears fruit. Woods talked at length about the strategy needed to play Royal Lytham. Listen to him talk about trying to avoid Lytham's most formidable line of defense: "The bunkers are staggered differently here," Woods said about the 206 sand traps on the golf course. "There's some forced carries to where you have to force it and then stop it or try to skirt past them. You can't just either lay up or bomb over the top. There has to be some shape to shots." As for Westwood, his attitude couldn't be more laissez-faire. "I think it's a fair golf course and one that's a lot harder than it looks at first impression," Westwood said. "People say it's very flat and almost dull-like, but the more you play, I think the more you enjoy it. I played a lot of Lytham Trophies and a couple of Opens here." Westwood has a big advantage because of his knowledge of Royal Lytham. He doesn't have to study the course perhaps in the same detail as Woods. However, the Englishman is so laid back this week he's nearly horizontal. "I'm fairly relaxed," Westwood said. "I'm always fairly relaxed now. There's not a lot that gets to me, winds me up." "I'm not sure I've ever seen him this relaxed," manager Chubby Chandler said. Woods has three wins this year, but he's had some poor performances too. He finished 40th at the Masters, 21st at the US Open and missed the cut at his most recent tournament, The Greenbrier Classic. "If I knew the answer I'd tell you, but I don't," Woods said about the disparity in his performances. "I just keep trying to work and keep trying to get better. I'm just trying to get better, get more consistent." While Woods can't find the answer in his game, Westwood acts like he couldn't care less about his own. "I think I've gotten more relaxed and just sort of played and let the cards fall where they may," Westwood said. Woods hasn't won a major since the 2008 US Open while Westwood is still searching for his first. If the two men have one thing in common this week, it's that they know they need to stay close to the leaderboard through the first three rounds to give themselves a chance on Sunday. "I just try and put myself there," Woods said. "I think if I continue putting myself there enough times then I'll win major championships." Ditto for Westwood. "I think it's hard to press in major championships. You sort of have to edge your way in there and play sort of conservatively and get in position for the weekend and Sunday afternoon on the back nine and see where you are." Both men are also good at defusing difficult questions. In Tiger's case it concerned the fact he hasn't won one of the marquee events in four years. Injuries played a part, but he also pointed to another factor that has kept him from getting his hands on major silverware. "I think the fields are deeper," Woods said. "I think there are more guys now who have a chance to win major championships than ever before. I think that will just continue to be that way." Westwood doesn't do serious and analytical like Woods. He resorts to self-deprecating wit, especially when it comes to a particularly sore subject. "People have said the previous winners have all got great short games, and apparently I haven't got much of a short game," a sarcastic Westwood said at the opening of his press conference. The Englishman hates the subject, but of course since he brought it up it meant he received further questions on his seeming inability to chip and putt. "I don't think you can get to No. 1 in the world without much of a short game, so that question is fairly easy to answer." When he was pressed he got about as curt as he was going to get without getting uptight. "I'm sure I've answered the short game question and sucked that lemon dry by now." That was as animated and serious as Westwood got. The rest was a matter-of-fact conversation compared to a more thoughtful approach from Woods. Will serious win out over laid back? We'll find out.
Original Story:
http://msn.foxsports.com/golf/story/l...
THE BACKYARD
BEST OF MAXIM
RELATED ARTICLES
(Eds: With AP Photos.) By DOUG FERGUSON AP Golf Writer This is not Lee Westwood's last chance to win a major. It might not even be his best chance. History won't be on his side much longer, however, and time isn't too far behind. Westwood's best friend, Darren Clarke, was 42 when he finally captured his first major last year at the British Open. That put him in...
Lee Westwood might have won that elusive first major had he not hit a tee shot into a tree on the fifth hole in the final round of the U.S. Open at Olympic Club last month. The ball disappeared, and with it so did Westwood's chances of getting off the list of best players never to win a major. ''You make your own luck a lot of times, but that was an unfortunate time...
Tiger Woods gets a familiar face for the first two rounds of the British Open. Woods is in the same group with Justin Rose and Sergio Garcia. It will be the fourth time in the last nine Opens for Woods that he plays alongside Rose. They also were in the same group at Muirfield in 2002, Carnoustie in 2007 and St. Andrews in 2010. Luke Donald, the world No. 1 in search of his first...
As Lee Westwood and Luke Donald were coming toward the end of their practice round on what had been another awful day of English weather, a strange thing happened. The thick clouds began to break up in the western sky. There were patches of blue and, yes, even a brief glimpse of the sun. For a few glorious moments Monday, Westwood and Donald were putting through shadows on the...
In case you were suspected that on at least one day during the Open Championship at Royal Lytham that either Tiger Woods or Rory McIlroy would not be able to pick out an outfit and show up at the tee box on the fist hole wearing nothing but their underwear, the outfits that each golfer [...]
The 2012 British Open is kicking off this week at the Royal Lytham & St. Annes golf course in Lancashire, UK. The last time the British Open was at Royal Lytham & St. Annes was in 2001 when David Duval took home the Claret Jug. Like all of the British Open courses in the UK, the Royal Lytham & St. Annes will give the top players on the PGA Tour a run for their money....
(Eds: With AP Photos.) By JIM LITKE AP Sports Columnist Just before noon, the name ''Tiger Woods'' popped up on the leaderboard at the British Open with a red ''-4'' alongside it. Not long ago, that would have been a signal for everyone else to book the first flight home as soon as the tournament ended. They already knew who had reserved the best...
The 2012 British Open is underway as you read this early morning post. Tiger Woods is playing with Sergio, and Justin Rose. The group tee'd off about 45 minutes ago… Lefty is playing with world #1 Luke Donald and Geoff Ogilvy. They are set to tee off at 9:43 am this morning. It should be an interesting weekend, and the place all the action is going down is rather special as...
Tiger Woods gets a familiar face for the first two rounds of the British Open.
Picking the best five from the oldest championship in golf isn't easy, not with 150 years of history. Willie Park Sr. won the first British Open at Prestwick in 1860 - a month before Abraham Lincoln was elected U.S. president. Against an eight-man field on a 12-hole course along the Ayrshire coast of Scotland, he defeated Old Tom Morris by two shots and won the championship...
The first round of the 2012 British Open has generated excitement with Tiger Woods being just a few strokes behind the leader.  I'm sure the crowd has enjoyed their time walking the historic Royal Lytham & St. Annes Golf Course, well, I guess not everyone. This one fan in the video above was hit in the head by a Rory McIlroy drive on the 15th.  The camera just missed...
Floyd Mayweather, Tiger Woods, Kobe Bryant, LeBron James and Alex Rodriguez. What do they have in common? They are all divisive personalities. In fact, if you look at that list, you could literally think it's a list of the most hated athletes on the planet today. Well, ironically, that isn't where I got this list of names. It happens that these are also currently 5 of the 6...
Golf News

Delivered to your inbox

You'll also receive Yardbarker's daily Top 10, featuring the best sports stories from around the web. Customize your newsletter to get articles on your favorite sports and teams. And the best part? It's free!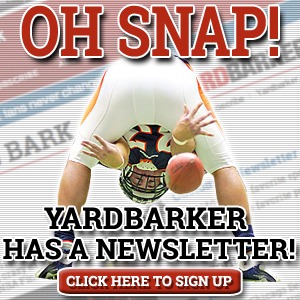 Latest Rumors
The Backyard

Today's Best Stuff

For Bloggers

Join the Yardbarker Network for more promotion, traffic, and money.

Company Info

Help

What is Yardbarker?

Yardbarker is the largest network of sports blogs and pro athlete blogs on the web. This site is the hub of the Yardbarker Network, where our editors and algorithms curate the best sports content from our network and beyond.