Found May 08, 2012 on Fox Sports:
Tiger Woods is about the only person not in a panic about his game. These remain curious times for the guy trying to show he can still dominate golf as he once did. In his last four tournaments, Woods walked off the course in the middle of the final round at Doral with tightness in his left Achilles tendon, won by five shots at Bay Hill for his first PGA Tour title in 30 months, was an also-ran at the Masters with his worst performance there as a pro and missed the cut at Quail Hollow for only the eighth time in his career. In the absence of trophies, there is no shortage of opinions. Peter Alliss, the player-turned-broadcaster, said before his induction into the World Golf Hall of Fame that Woods is ''gone at the moment.'' Nick Faldo, a six-time major champion who works for CBS Sports and Golf Channel, said Woods no longer has the self-belief that made him No. 1 for all those years. Brandel Chamblee, a journeyman on the PGA Tour and now an analyst for Golf Channel, said Woods should fire Sean Foley and call his old coach, Butch Harmon. ''And I know he'll never do that because he's letting his ego get in the way of common sense,'' Chamblee said on a conference call for The Players Championship, which starts Thursday. ''He wants to prove to people he's right. He would rather prove to people he's right than be right.'' Woods has been down this road, though not with so many detours. ''Guys, I've done this before,'' Woods said. ''I've been through this. Actually, a lot of you guys lived it with me, went through those periods where I wasn't quite where I wanted to be. I had some pretty good runs after that, and this is no different. It takes a little bit of a time, and I keep building and things eventually come around to where they feel natural and efficient. ''I think that's probably the most important word, is that you get out there and you feel efficient in what you're doing.'' Woods shot back with subtlety at the TV analysts. ''I can understand that everyone has an opinion, and he's entitled to his. But he's no longer playing anymore, so, so be it,'' Woods said of Chamblee, who won once in 380 starts in his PGA Tour career. As for Faldo's comments on his self-belief? ''I always find it interesting since they're not in my head,'' Woods said. ''They must have some kind of superpower I don't know about.'' If he is looking for good vibes to turn his fortunes, the TPC Sawgrass might not be the best place. No other course on his regular schedule has given him more fits. Sure, Woods won in 2001 with that ''better than most'' 60-foot birdie putt on the island-green 17th in the third round, and he was runner-up to Hal Sutton's ''Be the right club today!'' moment in 2000. But he has had only two other finishes in the top 10 at The Players Championship, and the last two years were particularly troubling. In 2010, returning to the scene where he made his first public appearance since the scandal in his personal life, he withdrew halfway through the final round with what turned out to be a minor neck injury. Last year, he withdrew after nine holes and a 42 on his card with injuries to his left leg, which kept him out of golf for the next three months and prolonged his ''process'' in the new swing Foley is teaching. ''I had a few issues going on physically there,'' Woods said of last year. ''I was wondering whether I should have played, and because this is a big event, I tried to tee it up and it didn't work out. But it's nice to actually be healthy again and do all my training and everything I need to do to get ready to play. That's something that I could not do at the time.'' He had a little extra time to work on his game after missing the cut at Quail Hollow by one shot. Woods tried to explain why his game can be up-and-down - a winner one tournament, a weekend off at another tournament - by saying that his new move is still uncomfortable, and that when he feels comfortable over the ball, it often results in old swing patterns. He said this was nothing new, either. Woods said it took nearly two years for the overhaul with Harmon to feel natural, and about the same time with an entirely new swing from Hank Haney. He began working with Foley at the 2010 PGA Championship, though he missed nearly four months last year without competition, and it wasn't until a year after he hired Foley that Woods was able to practice and work out with no restrictions. ''I haven't been able to put in the time,'' he said. ''In essence, it takes time. It takes time, takes a lot of reps.'' Even so, he never missed a cut during the heart of the other two swing changes, and he still finished in the top 10 more often than he didn't. He is older this time around, having turned 36 during the offseason. He has gone through four knee surgeries. Whether the competition is stronger is difficult to measure, though Alliss on Monday said during his best years, Woods was ''Gulliver in a land of Lilliputians.'' Rory McIlroy returned to No. 1 in the world with his playoff loss at Quail Hollow to Rickie Fowler. Both are 23. Woods is No. 7 in the world, so far back that he most likely couldn't get to the top unless he won his next three tournaments, concluding with the U.S. Open. With Woods, though, expect anything - except panic. ''Unfortunately, the last two tournaments I've played in weren't that great,'' Woods said. ''No big deal. We'll just continue working and try and put it together this week.''
Original Story:
http://msn.foxsports.com/golf/story/W...
THE BACKYARD
BEST OF MAXIM
RELATED ARTICLES
When people think of Tiger Woods, they usually think of his 14 major championships, putting on that legendary green jacket, and sinking forty-foot putts as if they were only five feet.  What people most certainly do not think about is Tiger missing cuts in tournaments that should not be an issue at all.  I ask you, what exactly is wrong with Tiger Woods right now?  What can we...
Divining Tiger Woods has become golf's greatest pastime. "Will he, or won't he?" has become a question of Shakespearean dimensions as Woods strives to find the champion he used to be. Is Woods "gone," his "golfing brain completely addled" as Peter Alliss, the legendary British broadcaster, said during his Hall of Fame induction speech on Monday...
From Tiger Woods' press conference on Tuesday at the Players Championship ... "Well, I think it's a process, and I've said this numerous times, is that you keep building. And there's certain times when, yeah, you make great strides forward, and there's other times where you're going to take a stride or two backwards. It's a process." That...
Tiger Woods is not about to panic over his past two results, including a rare missed cut last week at Quail Hollow. Woods was preaching patience Tuesday at The Players Championship, the tournament that has given him more fits than any other on his regular schedule. He says he has had bad patches before when he was revamping his swing, and eventually he went on a big run and established...
If there's not already a name for this type of photo, we propose the phrase "photobang." It's catchy, funny, and (frankly) pretty f*cking descriptive. We're not too sure... [[ Read More ]]
I feel like an old man every time I talk about Tiger Woods, saying things like, "In my day, that Tiger Woods fellow used to hit the ball 400 yards with a six-iron." Ah,but  this picture does invoke memories of a happier time doesn't it? A couple of dogs, a Swedish wife, 1.8 kids, not to mention the No. 1 ranking in the world of golf. Unfortunately, in today's world, Tiger...
This week, the World Golf Hall of Fame inducted five new members, including Peter Alliss and Dan Jenkins while the Champions Tour hosted a Legends Tournament featuring, among others, Jack Nicklaus, Arnold Palmer and Lee Trevino.  These items are varying degrees of interesting, based on your golf leanings, but what raised eyebrows was not the participation in these events, [...]
When Rory McIlroy was a young boy aspiring to someday become the best golfer in the world, Tiger Woods was in a class of his own. Like every other young golfer, McIlroy admired Tiger when he was a teenager. Now 23 years old and one of the top golfers in the world, McIlroy has met a number of famous and powerful people, including the president of the United States. Interestingly...
Ian Poulter has birdied all of the par 5s on the TPC Sawgrass for a 7-under 65 and the early lead Thursday at The Players Championship. For Tiger Woods, his goal is to make it to the weekend. One week after missing the cut at Quail Hollow, Woods opened with a 2-over 74 and already was nine shots out of the lead. He will have to play well Friday to avoid missing consecutive cuts...
May 6, 2012 - Rory McIlroy April 29, 2012 - Luke Donald (1 week) April 15, 2012 - Rory McIlroy (2 weeks) March 18, 2012 - Luke Donald (4 weeks) March 4, 2012 - Rory McIlroy (2 weeks) May 29, 2011 - Luke Donald (40 weeks) April 24, 2011 - Lee Westwood (5 weeks) Feb. 27, 2011 - Martin Kaymer (8 weeks) Oct. 31, 2010 - Lee Westwood (17 weeks) June 12, 2005 - Tiger Woods (281...
Golf News

Delivered to your inbox

You'll also receive Yardbarker's daily Top 10, featuring the best sports stories from around the web. Customize your newsletter to get articles on your favorite sports and teams. And the best part? It's free!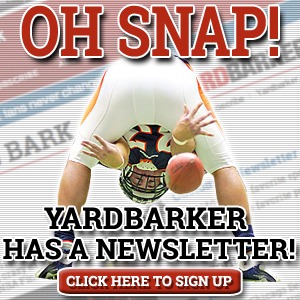 Latest Rumors
The Backyard

Today's Best Stuff

For Bloggers

Join the Yardbarker Network for more promotion, traffic, and money.

Company Info

Help

What is Yardbarker?

Yardbarker is the largest network of sports blogs and pro athlete blogs on the web. This site is the hub of the Yardbarker Network, where our editors and algorithms curate the best sports content from our network and beyond.