Jack Nicklaus who widely regarded as the greatest golfer of all-time, and when you reach G.O.A.T status, you can essentially do anything. The 18-time major champion now has his own specialty pair of Stance socks that you can wear and they look pretty sick. Nicklaus teamed up with Stance, the popular sock manufacturing company, to create these unique designs. The one pictured is of...
Jack Nicklaus, who has 18 majors titles to his credit, believes hopped up golf balls and the ever-increasing lengths of courses are among the biggest issues facing the game today.
Jack Nicklaus said Mike Davis pledged to address the distance the golf ball is flying and the problems Nicklaus believes the distance explosion is creating in the game.
Nicklaus won 18 major championships, the most of any professional golfer in history.
At age 78, Jack Nicklaus has decided to "step away" from day-to-day duties as the head of Nicklaus Companies.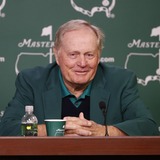 Jack Nicklaus feels that Tiger Woods is in need of help in the wake of his DUI arrest on Monday, and the 18-time major champion is willing to offer his support.While speaking to reporters on Tuesday, Nicklaus made it seem as though the arrest was more than just a fluke incident from an iconic athlete who has it all together. Nicklaus also mentioned the rash of injuries Woods has...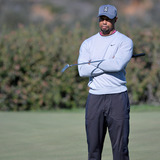 Tiger Woods announced on Thursday that he recently underwent yet another back surgery to alleviate lingering pain.The procedure was Tiger's fourth on his back."The surgery went well, and I'm optimistic this will relieve my back spasms and pain," Woods said in a statement on his website. "When healed, I look forward to getting back to a normal life, playing with my kids, competing...
Tiger Woods is still working to get his game back to where he feels it needs to be before he returns to the PGA Tour, but he does not believe he is running out of time to catch Jack Nicklaus. In fact, Tiger still thinks he can pass Jack. In a rare sit-down interview with Charlie Rose on PBS, Woods was asked if he believes he will reach 18 major championships. His response was vintage...
Tiger Woods announced Tuesday that he will not be playing in the 2016 U.S. Open or the Quicken Loans National as he continues to recover from his latest back injury. "While I continue to work hard on getting healthy, I am not physically ready to play in this year's U.S. Open and the Quicken Loans National," Woods wrote, via his website. "I am making progress, but I'm not yet ready...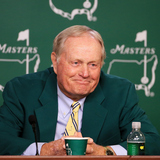 It has been 30 years since Jack Nicklaus became the oldest golfer ever to win the Masters, and he is missing one important piece of memorabilia from that milestone in his career — the putter. In an interview with "The Dan Patrick Show" on Wednesday, Nicklaus explained that the only sentimental golf club he hasn't kept is the putter he used to win the 1986 Masters at age 46. Why...
MORE STORIES >>
Golf News

Delivered to your inbox

You'll also receive Yardbarker's daily Top 10, featuring the best sports stories from around the web. Customize your newsletter to get articles on your favorite sports and teams. And the best part? It's free!