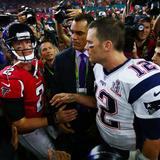 Sports choke jobs are as heartbreaking for fans as they are for the teams and players directly responsible, and it can take a long time to get over them — if ever. Whether they occurred on the grandest of stages or in rivalry games, surrendering what appeared like a insurmountable lead or failing in a prime opportunity to win it all can be devastating.The following features the...
After a full season of tournaments and three playoff events, Phil Mickelson fell one shot short of a return to the Tour Championship.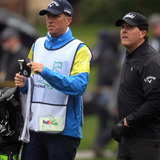 The golf world was thrown for a loop in June when it was announced that Phil Mickelson and his longtime caddie Jim "Bones" Mackay were going their separate ways. Lefty's brother will serve as his caddie for the remainder of the season but it raised a question, what will Bones do next? Will he jump onto someone else's bag and if so, who?As it turns out, Mackay will remain...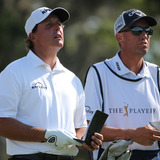 Phil Mickelson and his long-time caddie, Jim "Bones" Mackay, are splitting up after spending the last 25 years together on the PGA Tour.The two men issued a joint statement on Tuesday announcing the stunning news. During the incredible run these two men shared, Mickelson won five major championships and had 48 total wins as a pro.Mackay began caddying for Mickelson in 1992. His...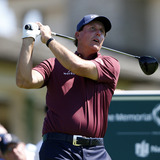 He faces long odds, but then there are few things Phil Mickelson likes more than that. Mickelson previously announced that he'd likely be unable to compete in this year's U.S. Open at Wisconsin's Erin Hills as he'll be attending his daughter Amanda's high school graduation the morning of the opening round.At the time, Mickelson hadn't completely given up on competing...
Phil Mickelson has always earned his reputation as a family man, and his announcement that he'll likely be skipping this year's U.S. Open to attend his daughter's graduation is just the latest example. The U.S. Open remains the only major Mickelson hasn't won, and as he turns 47 on June 16th (Friday of the tournament, actually), it's fair to wonder just how many legitimate...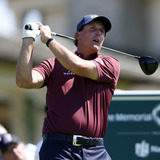 Phil Mickelson is yet to win the U.S. Open, the only major tournament that he has not been able to come out victorious during what will one day be a Hall of Fame career.Lefty will not break that long streak of failures this season in Wisconsin. The veteran golfer announced on Saturday that he will skip this year's U.S. Open, instead opting to attend his daughter's high school...
Phil Mickelson might be a professional golfer, but away from the PGA Tour, he's golf's version of a pool-room hustler.According to a voicemail released by Deadspin, Mickelson found himself a big victim in 2015: current Masters leader Charley Hoffman.From the voicemail, supposedly from Mickelson:"Hey, it's Phil," he says. "Hey, Sunday morning, we're on. Yeah, it's...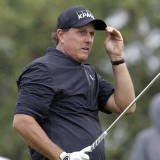 Phil Mickelson was asked about Lexi Thompson's penalty situation Tuesday, and his response had our jaws on the floor. He said has seen golfers get away with what Lexi Thompson got penalized for, a four-stroke penalty in the end that cost her the chance to win over the weekend.But even more eye-opening than that, Lefty says many guys on tour intentionally place their balls incorrectly...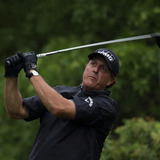 Phil Mickelson avoided being charged for insider trading for acting on a stock tip in 2012, but the case has revealed another interesting note about the golfer's gambling habit.Mickelson has long had a reputation for being a huge gambler, which is sort of how he ended up in the situation. It was revealed in court on Thursday that Lefty owed gambling pro Billy Walters nearly $2 million...
MORE STORIES >>
Golf News

Delivered to your inbox

You'll also receive Yardbarker's daily Top 10, featuring the best sports stories from around the web. Customize your newsletter to get articles on your favorite sports and teams. And the best part? It's free!