Found December 27, 2012 on Obstructed View OLD:
PLAYERS:
Matt Garza
,
Prince Fielder
,
Reed Johnson
,
Carlos Zambrano
,
Chris Volstad
,
Starlin Castro
,
Andrew Cashner
,
Kyung-Min Na
,
Anthony Rizzo
,
Paul Maholm
,
Jeff Bianchi
,
Kerry Wood
,
Theo Epstein
,
Bud Selig
,
Rodrigo Lopez
,
Jeff Samardzija
TEAMS:
Chicago Cubs
,
Detroit Tigers
,
Atlanta Braves
,
Miami Marlins
,
San Diego Padres
,
Milwaukee Brewers
,
Boston Red Sox
2012 was pretty painful to live through as a Cubs fan, and even more so as a Cubs blogger who felt obligated to pay even more attention than is normally considered safe for human beings in an effort to bring you our non-classy, confidence-lacking, reundiscreditationalness that you all expect from us. So we're going to make you re-live the pain all over again. You're welcome, jabronis. January 1 – The first full Year of Theo begins with rumors of Matt Garza getting traded to virtually every major league team that exists, the Cubs covertly pursuing Prince Fielder, and Cubs fans everywhere trying to learn how to pronounce "Yoenis Cespedes" just in case. January 3 – Theo continues the annual Cubs tradition of signing Reed Johnson. It was immediately hailed as a "smart value signing" and we all count our blessings that the Cubs will no longer pander to the meatball fans. January 4 – Carlos Zambrano is traded to the Miami Marlins for Chris Volstad. One of the best starters in team history and a highly valuable pitcher was traded for Chris Freaking Volstad and Cubs fans across the interwebs and talk radio largely rejoice in the news that they'd be getting a healthy dose of Chris Freaking Volstad in 2012. January 5 – Starlin Castro is accused of sexual assault and the Cubs find themselves in the unenviable position of having a major crisis that can't simply be blamed on Zambrano. January 6 – The Cubs trade the oft-injured, talented Andrew Cashner plus Kyung-Min Na to the Padres for the highly regarded 1st base prospect, Anthony Rizzo, Zach Cates and a gigantic distraction from the Castro news as a throw-in. January 9 – Paul Maholm scoops everybody with a tweet announcing he is signing with the Cubs. The mainstream media vows to never be embarassed on Twitter ever again. January 11 – The Cubs waive Jeff Bianchi to make space on the 40 man roster for Maholm. This was widely believed to be the first time anybody had been aware that someone named Jeff Bianchi had ever been a member of the Cubs. January 13 – As the Cubs Convention begins, Paul Sullivan tweets a somber note seemingly signifying the end of the Kerry Wood Era (Version 2.0): Cubs Convention starting without Kerry Wood. No last-minute drama expected. — Paul Sullivan (@PWSullivan) January 13, 2012 30 minutes later, Pat Hughes announces his signing as part of the Opening Ceremonies and introduces Wood to a jubilant crowd. The mainstream media vows to never be embarassed on Twitter ever again. January 14 – Lots of stuff is said at the Cubs Convention, but it's all pre-planned and I wasn't there because I was sick, so I'm not going to rehash it here because none of it matters worth a damn. January 15 – The Cubs management announces that there will be a 75-foot long video display board added to the corner of the right field bleachers and everybody loses their **** about the beauty of the ballpark or some nonsense that never came up again after the scoreboard ended up fitting into the architecture of the stadium so well that nobody even noticed it. January 18 – The Cubs and Red Sox still can't agree on what Theo Epstein is worth and interrupt Bud Selig from a very high-powered mid-afternoon nap to have him help decide the issue. He mumbled something about "ask your mother," rolled over and went back to sleep. January 20 – The Cubs start selling nine-game ticket packs to capitalize on the momentum of their re-signing of Rodrigo Lopez the day before, which I just now realized I hadn't mentioned before and didn't think was worthy of a bullet of its own. January 24 – We start hearing the annual song and dance about Jeff Samardzija wanting to be a starter again and we all laugh and laugh because Theo and Jed are WAY too smart to fall for that ******** like Hendry was. January 27 – The Cubs get a little closer to being playoff contenders when Bud Selig added an additional ten wild card teams per league… wait… what? Oh, it was only one additional wild card team, so the Cubs are still screwed. January 31 – January ends with the Theo compensation issue still unresolved, Matt Garza is still a Cub, and Cubs fans are now pretty convinced that "Yoenis" rhymes with "menace" and not "penis," but who the hell knows for sure?
Original Story:
http://www.obstructedview.net/comment...
THE BACKYARD
BEST OF MAXIM
RELATED ARTICLES
The regular seasons for the Latin Winter Leagues in Venezuela (VWL), Mexico (LMP), Puerto Rico (PWL), and the Dominican Republic (DWL) close this weekend, and the playoffs will start next month. Then the four league champions will meet in the Caribbean Series in Hermosillo, Mexico, the first week of February (just prior to the start of MLB Spring Training). About 30 Cubs (both...
The Chicago Cubs have signed lefty-reliever Hisanori Takahashi to a minor-league deal which includes an invite to Spring Training, Jeff Passan of Yahoo! Sports reports. Takahashi finished up last season with the Pirates after they claimed him off waivers from the Angels. Overall last season, Takahashi went 0-3 with a 5.54 ERA with a 9.3 K/9, the best k-rate of his career. Image taken...
Hey there, New Guy again, Rice and I had a very baseball nerdy conversation on Christmas night and we'd like to share it with you on "back to work day." Full transcript is here, I'm going to pull the good stuff and add my own thoughts. Rice Cube do you think that if the Cubs had gotten Anibal Sanchez that they would've signed Edwin Jackson as well? Mauricio Rubio Jr....
For each pitcher from 1993-2011 with at least 5,000 Batters Faced, I've added up the average growth in run expectancy per NIBB. The average increase in RE for an NIBB over that period was .323 runs, which jives with Tango's findings here. There were 175 pitchers in the sample, with a standard deviation of .013. The pitcher who gave up the least damaging change in RunEx with...
MLB News

Delivered to your inbox

You'll also receive Yardbarker's daily Top 10, featuring the best sports stories from around the web. Customize your newsletter to get articles on your favorite sports and teams. And the best part? It's free!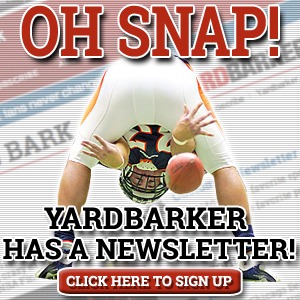 Latest Rumors
The Backyard

Today's Best Stuff

For Bloggers

Join the Yardbarker Network for more promotion, traffic, and money.

Company Info

Help

What is Yardbarker?

Yardbarker is the largest network of sports blogs and pro athlete blogs on the web. This site is the hub of the Yardbarker Network, where our editors and algorithms curate the best sports content from our network and beyond.