Found February 23, 2012 on Monkey with a Halo:
From out of the league since 2007 to the surprise fifth starter for the Angels by the end of 2011, the last four years have been quite the adventure for Jerome Williams.  Now it is a whole new adventure for Williams as he looks to prove that he belongs in the big leagues for good. 2011 Stats: 4-0, 44.0 IP, 3.68 ERA, 45 H, 15 BB, 6 HR, 28 K 2012 ZiPS Projections: 5-7, 103.2 IP, 5.04 ERA, 121 H, 30 BB, 15 HR, 65 K 2012 Bill James Projections: 3-6, 88.0 IP, 5.11 ERA, 102 H, 25 BB, 13 HR, 54 K 2012 CAIRO Projections: 5-4, 80.1 IP, 4.73 ERA, 91 H, 26 BB, 11 HR, 48 K 2012 PECOTA Projections: 6-10, 114.0 IP, 4.96 ERA, 126 H, 43 BB, 15 HR, 68 K 2012 MWaH Projections*: 9-12 172.0 IP, 4.38 ERA, 180 H, 64 BB, 24 HR, 116 K *The MWaH projections are simply my best guess based off my own personal opinion and research 2011 in Review: It is amazing what a little hard work and a cut fastball can do.  Almost five years ago, Williams appeared to be cementing his status as one of the biggest prospect busts of the decade.  But Jerome did not give up on his baseball dream.  He toiled in the minors for years before the Angels took a chance on him and signed him to the Salt Lake Bees, mostly because they just needed someone to eat innings for the Bees.  Lo and behold, the Halos burnt through the very limited rotation depth they had in the majors and were forced to call up Jerome who had been surprisingly effective in Triple-A. Even more surprisingly, Jerome ended up securing a spot in the rotation after his mid-August promotion to the majors.  He used good command and his newly developed cutter to turn himself from a big-time pitching prospect into a contact-inducing veteran workhorse.  Jerome finished his abbreviated 2011 campaign with a very respectable 3.68 ERA, though had a less than impressive 4.62 FIP and 4.19 xFIP.  However, if you just focus on his six starts and ignore his four relief appearances, the numbers get downright fantastic.  When starting a game, Jerome's ERA drops all the way down to 2.31 ERA and much more tolerable 3.44 FIP and 3.96 xFIP.  He also seemed to minimize his problem with home runs, allowing a 0.46 HR/9 rate while starting as opposed to 7.20 HR/9 in relief.  Of course, much of that poor relief work really just comes from his one appearance against Texas at the end of the season in which he gave up four runs on three homers.  If anything, that just proves to us that dealing with a small sample size makes it incredibly difficult to infer anything, though it didn't stop the Angels from inferring him right into making him the incumbent fifth starter entering 2012. Three Lingering Questions for 2012:
Is Williams really for real? As good as Jerome was after being called up last season, he only have a 44 inning sample size to judge him by and he mostly faced inferior competition.  On the other hand, he showed good command and kept the ball on the ground decently, so Williams has a good foundation to work with.
Does Jerome already have the fifth starter job locked up? The Halos brought in no veterans to compete with Williams for the gig, leaving just Garrett Richards, Trevor Bell and Brad Mills to challenge him.  Williams might even have an advantage since he is out of options, but he also isn't a guy the Angels have much investment to lose if he ends up turning back into a pumpkin.
Why was he so bad in relief? Was it because he loses effectiveness when pitching out of the stretch?  Or was it because he wasn't mentally prepared to be used in relief (which he likely wasn't as the appearances came with almost no warning)?  Or was it just a fluke?
What to Expect in 2012: Williams is kind of impossible to project.  He put up great numbers in his starts last season, but those six starts game against a below average Oriole lineup followed by two straight starts against an absolutely miserable Seattle offense then a start against a slightly less miserable Oakland lineup, then a good Jays batting order and then Oakland again.  That's six starts and just one quality lineup.  He dealt with all of those offenses quite handily, but given that he also had the advantage of the opposition having never seen him before and one can't help but assume that he is going to come back down to earth against better teams who now have video on him and his fancy new cut fastball. On the other hand, it is hard to put too much stock in the advanced projection systems since they are likely all incorporating his previous performance from 2007 and before.  He just isn't the same guy anymore though, so that historical performance probably shouldn't carry much weight.  That leaves me with no real choice other than to judge him based on what we saw last season and what we saw was a guy who pounds the strike zone and pitches to contact.  He gets a fair amount of grounders, though not an overwhelming amount and when he misses, he misses up in the zone, thus the home runs. The good news is that the performance combined with a very strong showing in the Venezuelan Winter League should make him a lock for to open the season in the Angel rotation unless he absolutely implodes in spring training.  After that, who knows.  My best guess is that he is a perfectly serviceable fifth starter.  My basis for saying that though is less dependent on Jerome and more on the Angel defense.  Williams survives by pitching to contact, which puts the onus on the defense.  Fortunately for Jerome, the Angels have a pretty darn good defensive team.  So long as he keeps displaying good control, he should be able to minimize the damage done when the defense can't bail him out. The bad news is, that is all just based on a hunch.  It is probably just as likely that Jerome gets exposed once the rest of baseball gets a look at the scouting report on him and start laying off his cutter, opting instead to tee off on his straight four-seam fastball. [follow]
Original Story:
http://www.monkeywithahalo.com/2012-a...
THE BACKYARD
BEST OF MAXIM
RELATED ARTICLES
Interview Conducted on February 17, 2012 by David Saltzer, AngelsWin.com Senior Writer Making the Major Leagues is the goal for every Minor League player in every organization. However, along the way, there are other opportunities to shine in ways that most of us will never experience. One of those opportunities is to represent your country in an international competition. That's...
Reporting from Tempe, Ariz. -- Albert Pujols is the focal point of the Angels' 2012 marketing campaign, which kicked off in late January with 70 billboards throughout Southern California, 20 of which refer to the former St. Louis Cardinals star as "El Hombre," The Man. One little problem: Pujols would prefer not to be called "El Hombre." The slugger asked...
Bobby Abreu says he wants to be an everyday player and thinks the Los Angeles Angels should trade him if he is going to spend most of his time on the bench this season. In a statement given to ESPNdeportes on Tuesday, Abreu says trading him is the right thing for the Angels to do if there is no full-time position for him. On Wednesday, Manager Mike Scioscia said he doesn't...
The new marriage between Albert Pujols and the Los Angeles Angels is one that should produce positive results for both parties for years to come. However, it appears that they have already hit a minor bump in the road. ESPN.com reports that Pujols is a little irked by billboards that have been posted in Southern California that refer to the slugger as "El Hombre" or &quot...
Albert Pujols isn't too pleased with the 20 billboards picturing his likeness with the words "El Hombre" in Southern California. Pujols has gone to great lengths to show respect toward St. Louis Cardinals Hall of Famer Stan "The Man" Musial. "Like I say, I haven't talked to them, but I prefer not to use (El Hombre)," Pujols told ESPN Los Angeles...
For those of you who have been living under a rock for the past week, you may have missed the news on an Abreu-Burnett swap that was gracefully voided by A.J Burnett due to the Angels being in his no trade clause. What a bullet we dodged with that one, right? Burnett is an over-the-hill veteran, like Abreu, who has managed to pitch to Kazmirian levels of ineptitude the past two...
By Brian Waller - AngelsWin.com Feature Writer Ask any Angel fan about the teams from the 1970's and two names usually get thrown out there pretty quickly; Nolan Ryan and Frank Tanana. The Ryan/Tanana duo combined for 240 wins during their time in an Angel's uniform. They were fixtures in the rotation and during the early to mid 70's they were the faces of the franchise....
"It's professional etiquette - I would never put Tony on the spot talking about Albert Pujols," Leyland said. "He has a relationship (with Pujols) that goes beyond our friendship.
(source feed provided no summary content for this entry)
Angels slugger Mark Trumbo took a ball off his nose while fielding grounders at third base on Friday. He said he won't get X-rays and doesn't believe it's broken.
Angels News

Delivered to your inbox

You'll also receive Yardbarker's daily Top 10, featuring the best sports stories from around the web. Customize your newsletter to get articles on your favorite sports and teams. And the best part? It's free!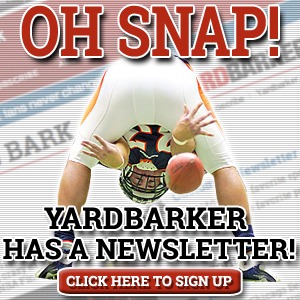 Latest Rumors
Best of Yardbarker

Today's Best Stuff

For Bloggers

Join the Yardbarker Network for more promotion, traffic, and money.

Company Info

Help

What is Yardbarker?

Yardbarker is the largest network of sports blogs and pro athlete blogs on the web. This site is the hub of the Yardbarker Network, where our editors and algorithms curate the best sports content from our network and beyond.