Found February 10, 2012 on Chop-N-Change:
Randall Delgado made a lot of strides in 2011, ending up in the major league rotation to finish the season, but at the end of the day, there is still a lot of room for improvement.
Delgado's year started in Mississippi, where he started 21 games and threw 117 1/3 innings. In his stint at Mississippi, he struck out 110, walked 46, and allowed 11 homers, all coming together to give him a 3.82 FIP.
He took a step back after being promoted to Gwinnett, where in four starts, Delgado threw 21 2/3 innings while striking out 25, walking 11, and allowing four homers. That is a 4.82 FIP stint in AAA.
Then in Atlanta, Delgado would get seven starts over the course of the season. Despite a 2.83 ERA, Delgado threw just 35 innings in his seven starts, striking out 18, walking 14, and allowing five homers. That's a 5.14 FIP, over two runs higher than his ERA.
At the end of the day, Delgado is a fantastic prospect, especially when you consider that he threw 174 innings over three levels at age 21. That's an admirable thing. Regardless of all that, and his low ERA in the majors last year, Delgado is absolutely not ready for the majors. He showed that he wasn't ready during his stint at Gwinnett, where he allowed too many homers and walked too many batters. But because of injuries, he was given the shot in the major league rotation, and he held his own.
With the Braves glut of starting pitching right now, Delgado is probably seventh overall among starting pitchers on Atlanta's depth chart, behind the five major league starters and top prospect Julio Teheran. I'd put him above Arodys Vizcaino due to Vizcaino's use in the bullpen last year and his unsure future as a starter or a reliever. At any rate, Delgado will be starting his year in Gwinnett, with another shot in Atlanta looming in case of an injury to one of the starters. I'd assume that the decision on whether or not to call up Teheran or him would be based on who's scheduled start is closest to the needed start, much like it was last season.
At any rate, we should be seeing Delgado again very soon. But it won't be on Opening Day at Citi Field.
Check out Delgado's projection on THT here


Photo credit to Joe Lucia
Original Story:
http://www.chop-n-change.com/2012-art...
THE BACKYARD
BEST OF MAXIM
RELATED ARTICLES
In some ways, Chipper Jones is acting his age, which is exactly what the Atlanta Braves need. In other ways, Jones is a kid again, which also is exactly what they need. Listen to what the old Jones says about working with Jason Heyward. Hes full of wisdom and advice, sounding like a hitting coach as he describes swings and mechanics. Watch him hold court in the clubhouse, the...
Julio Teheran was not yet born in 1990 when Steve Avery joined Tom Glavine and John Smoltz in the Braves rotation. Atlanta, which added Greg Maddux for the 1993 season, won six Cy Young Awards in the decade. Now Teheran, who just turned 21, is the youngest of another youth movement. Brandon Beachy, Mike Minor, Randall Delgado and Teheran combined to start 50 games as rookies last...
By Kent Covington For a second consecutive season, the Braves head into spring training uncertain of who their fifth starter will be.  For some teams, this could be a problem. It could be an indication that a team possesses no more than 3 or 4 quality starters and must head to camp hoping some AAA journeyman or mid-level prospect will pleasantly surprise and lay claim to the job...
While playing competitive baseball the summer before I started high school I had a teammate named "Rusty" who always wore an Atlanta Braves baseball cap. Although he was the best hitter on the team he was constantly bombarded with ridicule because of his choice of chapeau. Atlanta was the bottom feeder in the National League and was coming off a 65-97 season, which saw them finish...
After gaining significant helium during the 2010 off-season, prospect followers expected young left-hander Carlos Perez to firmly establish himself as the best of the next wave of young Braves pitchers. With Randall Delgado, Arodys Vizcaino, Julio Teheran and Mike Minor in the midst of breaking through at the Major League level, along with prospect fallout from the Michael Bourn...
The Braves had a terrible collapse last September. People outside of Atlanta don't hear much about it because (a) the Red Sox had a worse collapse, (b) the media loves to report on Boston teams, and (c) even Braves fans don't really care about the Braves.This offseason, the Braves didn't do much. As Jeff Passan put it in his examination of the Braves' offseason:No...
The Cardinals signed veteran reliever Scott Linebrink to a minor-league contract Friday and invited him to major-league spring training.
Reliever Scott Linebrink agreed to terms on a minor league contract with the St. Louis Cardinals, and will be among the non-roster invitees to spring training. The 35-year-old Linebrink was 4-4 with a 3.64 ERA in 64 games with the Atlanta Braves last season. He struck out 42 in 54 1-3 innings and held batters to a .235 batting average. In 607 career games, Linebrink has a 3.51...
Craig Kimbrel throws a nasty breaking ball. He grips it like a spike slider (maybe) and the ball moves like a curveball (sort of). It's a relatively short curveball, but one moving upwards of 87 mph when it leaves Kimbrel's hand. The combination of speed and drop are unparalleled in the major leagues today. Checkout the discussion and a picture of the grip in the forum...
Reliever Scott Linebrink agreed to terms on a minor league contract with the St. Louis Cardinals, and will be among the non-roster invitees to spring training. The 35-year-old Linebrink was 4-4 with a 3.64 ERA in 64 games with the Atlanta Braves last season. He struck out 42 in 54 1-3 innings and held batters to a .235 batting average.
The Cardinals' list of Spring Training non-roster invitees grew by one on Friday with the addition of Scott Linebrink, who signed a Minor League deal just eight days before pitchers and catchers are required to report to camp.
Braves News

Delivered to your inbox

You'll also receive Yardbarker's daily Top 10, featuring the best sports stories from around the web. Customize your newsletter to get articles on your favorite sports and teams. And the best part? It's free!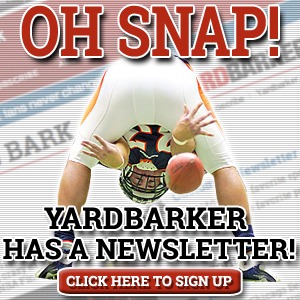 Latest Rumors
Best of Yardbarker

Today's Best Stuff

For Bloggers

Join the Yardbarker Network for more promotion, traffic, and money.

Company Info

Help

What is Yardbarker?

Yardbarker is the largest network of sports blogs and pro athlete blogs on the web. This site is the hub of the Yardbarker Network, where our editors and algorithms curate the best sports content from our network and beyond.