Found March 03, 2013 on Fantasy Baseball Tools:
PLAYERS:
Robinson Cano
,
Ben Zobrist
,
Danny Espinosa
,
Marco Scutaro
,
Dustin Pedroia
,
Ian Kinsler
,
Jason Kipnis
,
Jose Altuve
,
Rickie Weeks
,
Dan Uggla
,
Chase Utley
,
Dustin Ackley
,
Omar Infante
,
Daniel Murphy
,
Jedd Gyorko
,
Jeff Keppinger
,
Kelly Johnson
,
Gordon Beckham
TEAMS:
New York Yankees
,
Tampa Bay Rays
,
Washington Nationals
,
San Francisco Giants
,
Boston Red Sox
,
Texas Rangers
,
Cleveland Indians
,
Houston Astros
,
Milwaukee Brewers
,
Atlanta Braves
,
Philadelphia Phillies
,
Seattle Mariners
,
Detroit Tigers
,
New York Mets
,
San Diego Padres
,
Chicago White Sox
The fantasy baseball tiers at second base are a little more complex with players that also qualify at shortstop in the mix since those players, such as Ben Zobrist, Danny Espinosa and Marco Scutaro are more likely to drafted at that position instead of at second base. By using the below tiers with average draft position numbers, you should get a good feel of where certain players at second base will go in drafts. Here is a look at the 2013 fantasy baseball tiers for second basemen. Tier 1: Robisnon Cano Dustin Pedroia Ian Kinsler You could make the argument that Cano belongs in a tier by himself as a top 10 pick in the first round while Pedroia and Kinsler are going late in round two in 15 team mixed leagues. Tier 2: Ben Zobrist (ss) Jason Kipnis Aaron Hill Jose Altuve Brandon Phillips Zobrist is likely to be grabbed as a shortstop. Hill, Kipnis and Phillips have all been going within a few picks of each other in mock drafts so plan accordingly depending on where your draft position is. Tier 3: Rickie Weeks Danny Espinosa (ss) Howie Kendricks Neil Walker Dan Uggla Chase Utley Weeks is closer to a tier two player but the injury risk pushes him down to tier three. Utley has been going higher in mock drafts than all but Weeks in this group, but those owners must be projecting him for more than 400 at bats which is a big leap of faith given his past injuries.  Tier 4: Dustin Ackley Marco Scutaro (ss) Omar Infante Daniel Murphy Jedd Gyorko I have Gyorko at the bottom of this tier but I think he will be moving up as we get closer to the start of the season. The Padres need offense too much to start him in the minor leagues I think. Tier 5: Jeff Keppinger Kelly Johnson Gordon Beckham Chris Nelson Not much to pick from in this group. Johnson's at bats could be limited in Tampa Bay with the depth of the Rays roster. If you are looking for 2013 fantasy baseball projections in Excel format, check out our Fantasy Baseball Draft Guide now on sale for only $9.99. To get more great fantasy baseball analysis and advice sign up for our free newsletter! 2013 Fantasy Baseball Tiers at Second Base – Robinson Cano Tops the List is a post from: Fantasy Baseball Tools
Original Story:
http://feedproxy.google.com/~r/Fantas...
THE BACKYARD
BEST OF MAXIM
RELATED ARTICLES
The New York Yankees 2013 is already off to a rocky start with injuries and scandal already stomping on most of the optimism that they could afford to lose. Now as the Yanks try to weave their way into the longterm future of the best player Robinson Cano, they could be on the verge of a misfire in terms of how they are handling his contract negotiation. Please click here to read...
Robinson Cano's father says he expects the New York Yankees to re-sign their All-Star second baseman rather than let him leave through free agency after the season. Jose Cano says he hopes Robinson will spend his entire career in New York. Jose thinks his son will get a six- or seven-year contract. The 29-year-old Cano can become a free agent for the first time in his career...
The Yankees want this one bad. Yesterday, General Manager Brian Cashman revealed that the team has made a "significant" offer to all star second baseman Robinson Cano. Going against team policy in offering contracts during a season, the Yankees are making it well-known that they want Cano to remain in pinstripes well beyond the 2013 season. Cashman declined to comment on the...
Yankees second baseman Robinson Cano says his contract status is on his mind, though not a distraction. Cano is due $15 million in the final season of what became a $57 million, six-year deal and is eligible for free agency after the World Series. A day after Yankees general manager Brian Cashman said the team had made a significant offer during the offseason to Cano's agent...
Most young boys follow in the footsteps of their fathers.  The Yankees are hoping that is the case with Robinson Cano. Cano's father, Jose Cano, told the media on Monday that he wants Robinson to stay in pinstripes "forever."  A former major league pitcher who pitched one year with the Astros in 1989, Jose feels that Robinson will never forgive himself if he were to leave...
And so the Robinson Cano contract talks begin and, if you ask the second baseman himself, the issue is completely out of his head — except when he's thinking about it. "I just want to focus on baseball," explained Cano in his own sort of player-speak. "I'm not going to let anything get in my head or distract me or the team, because I don't want to be like...
The Yankees have a long standing policy against negotiating contract extensions for players under contract, preferring instead to wait until the player reaches free agency to hash out a new deal. They even held that line with Derek Jeter and Mariano Rivera, two of the iconic players in franchise history, so it hasn't just been selectively applied here and there. So, it was pretty...
New York Yankees outfielder Ichiro Suzuki is still adjusting to training in Florida, he has spent his previous 12 major league baseball years in Peoria, Arizona, staying comfortable in his family's house. Suzuki is facing new challenges in Florida,
What else can baseball fans do in January but dream of October? In You May Say I'm a Dreamer, the Outside Corner staff will imagine the route to a World Series in 2013 title for all 30 teams. In what many fans consider a nightmare, the New York Yankees are once again champions of baseball. The Yankees did what the Yankees have done for most of baseball history: they dominated...
The spirit of Mike Hargrove lives on in Major League Baseball. Who are today's time wasters? I'll give you three: Jonathon Papelbon, Robinson Cano and Jose Valverde. Want to know more? Then check out my latest article for Big Leagues Magazine on e-stands now.
Brian Cashman's "significant offer" to Robinson Cano may be the biggest leap of faith he has taken over the past few weeks. At least until the jump he takes Monday morning. The New York Yankees general manager will parachute over Miami early that day with the Golden Knights of the U.S. Army to raise awareness for the Wounded Warrior Project. "It's an opportunity...
One thing I can promise about Kansas City  and baseball…their fans hate Robinson Cano.  You may remember last year when fans felt like the roundish Billy Butler should have been in the home run derby even though he is more likely to win the doubles derby.  Well the fans let him know they were displeased.  I don't know if that has anything to do with how the Royals will do...
MLB News

Delivered to your inbox

You'll also receive Yardbarker's daily Top 10, featuring the best sports stories from around the web. Customize your newsletter to get articles on your favorite sports and teams. And the best part? It's free!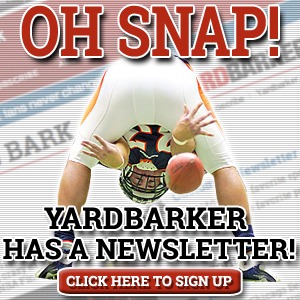 Latest Rumors
Best of Yardbarker

Today's Best Stuff

For Bloggers

Join the Yardbarker Network for more promotion, traffic, and money.

Company Info

Help

What is Yardbarker?

Yardbarker is the largest network of sports blogs and pro athlete blogs on the web. This site is the hub of the Yardbarker Network, where our editors and algorithms curate the best sports content from our network and beyond.