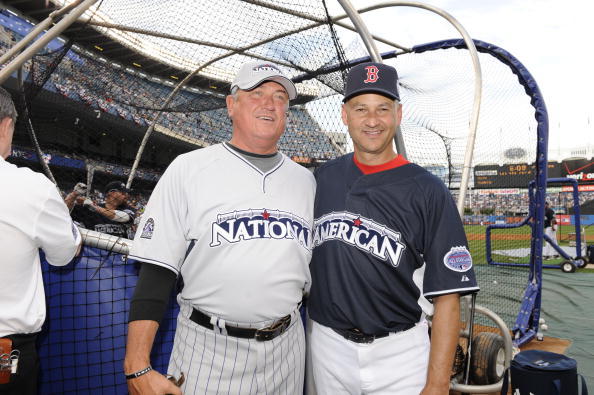 American League: Terry Francona (CLE) Francona won't sit on his laurels in continuing the Tribe's resurgenceCredit: AP Two-time World Series champion manager Terry Francona barely beat out the 2013 World Series champion John Farrell in capturing the 2013 the Baseball Writers Association of America (BBWAA) 2013 American League Manager of the Year.  Francona and Farrell both were first year managers and both showed 25 game improvements over their 2012 counterpart.  The Indians finished at 92-70 within a game of the 2012 American League champion Detroit Tigers, but lost in the American League Wild Card to a tough Tampa Bay Rays ballclub.  Francona won the World Series with the Boston Red Sox in 2004 and 2007 before taking a couple of years off, then taking over the young, but talented Cleveland Indians squad.  It was the Indians first playoff appearance in 6 years, and only their second in 12 seasons.  Next step, win the American League. National League: Clint Hurdle (PIT) Hurdle has the Pirates leaping up the NL Central StandingsCredit: AP Pittsburgh Pirates skipper did what no manager had done in two decades in Pittsburgh.  Lead the Pirates to a winning record.  But not only did the have a winning record, they also made their first playoff appearance in 21 years.  Since Hurdle took over a 105-loss team in 2011, he trimmed their losses to 90, then 83, and this year 68 (against 94 wins).  For his effort, Clint Hurdle was named BBWAA 2013 Manager of the Year.  Hurdle easily outdistanced runner up Don Mattingly (LA) and Fredi Gonzalez (ATL), who won their divisions, but had much more talent-laden squads (including those aforementioned Red Sox castoffs).  Hurdle also led the Colorado Rockies to their single World Series appearance in 2007, showing his knack for taking middle-to-low budget teams, and turning them into winners.  The next step is to see if he can hold up the Commissioner's Trophy like his AL counterpart. The announcements were made on the MLB Network during an hour-long special presentation. Tomorrow (Wednesday): Cy Young Award - David Whitlock Related Articles: 2012 MLB Managers of the Year announced Be sure to like our Facebook Page Or follow us on Twitter - David Whitlock Follow @lhd_on_sports - Blog Follow @RBTS_baseball - Sports-Kings Follow @realsportskings The post 2013 MLB Managers of the Year announced appeared first on Reading Between The Seams.
Read the rest of this story...
MORE FROM YARDBARKER
MLB News

Delivered to your inbox

You'll also receive Yardbarker's daily Top 10, featuring the best sports stories from around the web. Customize your newsletter to get articles on your favorite sports and teams. And the best part? It's free!
Best of Yardbarker
NFL News
MLB News

Today's Best Stuff

For Bloggers

Join the Yardbarker Network for more promotion, traffic, and money.

Company Info

Help

What is Yardbarker?

Yardbarker is the largest network of sports blogs and pro athlete blogs on the web. This site is the hub of the Yardbarker Network, where our editors and algorithms curate the best sports content from our network and beyond.