Did Don Mattingly really do that? Yes, yes he did. The title isn't meant to be disrespectful to the Braves, because yes, they did what they had to do and they're a good team … but it never ever should have gone the way it did. It was just ridiculously bad decision making. In the top of the seventh inning, Skip Schumaker and Michael Young somehow got on with balls they hit a grand total of like 100 feet, throw a bunt (ugh but whatever) by A.J. Ellis in between and it's 1st and 3rd with one out and Carl Crawford up against Luis Avilan. Crawford has a .551 OPS against lefties and Avilan is a good lefty. Why have Scott Van Slyke if not for situations like this? The only reason I can think of would be to stay out of the double play … which is what happened anyway. Literally any result but a double play ties the game, and he goes with the lefty outfielder who can't hit lefties. That was bad enough, but it got way, way, way worse. In the bottom of the frame, with runners at second and third and two out, the Braves pinch hit Jose Costanza. So Mattingly had a few options: 1) Pitch to Jose Costanza with Chris Withrow because he sucks. 2) Bring in Paco Rodriguez or J.P. Howell to face Costanza. 3) Bring in Paco or Howell to face Costanza, Fredi pinch hits with Reed Johnson, and you let either of them face Johnson because he's Johnson. Never did it cross my mind that he would walk REED JOHNSON intentionally to get to one of the Braves' best hitters in Jason Heyward … with two outs … with the bases loaded. It made literally no sense to me at the time. The only advantage in walking Johnson was that the force was in play, BUT THERE WERE TWO OUTS, how is that worth like 200 OPS points of a superior hitter and the possibility of walking runs in? There is no way in the world to justify it, IMO. Of course, Heyward singled to basically put the game away. To make me even sicker about this game though, Hanley did this: So it's 4-3 … when it could have easily been 3-2 or something of that sort. The blown call on Dee Gordon's stolen base was bad but it didn't cost them the game. Besides Mattingly, the real problem was probably the constant double plays that killed rallies: The Braves are good, but losing like this is just infuriating.
Original Story:
http://feedproxy.google.com/~r/ChadMo...
MORE FROM YARDBARKER
MLB News

Delivered to your inbox

You'll also receive Yardbarker's daily Top 10, featuring the best sports stories from around the web. Customize your newsletter to get articles on your favorite sports and teams. And the best part? It's free!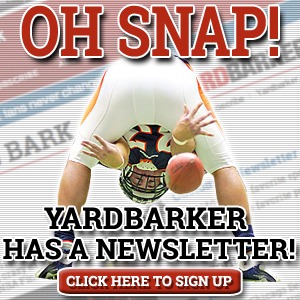 Latest Rumors
Best of Yardbarker

Today's Best Stuff

For Bloggers

Join the Yardbarker Network for more promotion, traffic, and money.

Company Info

Help

What is Yardbarker?

Yardbarker is the largest network of sports blogs and pro athlete blogs on the web. This site is the hub of the Yardbarker Network, where our editors and algorithms curate the best sports content from our network and beyond.