Found February 28, 2013 on Monkey with a Halo:
After the finest season of his career, Howie Kendrick entered 2012 with high expectations, expectations that he failed to meet, drawing the ire of many an Angel fan in the process. Can 2013 be the season of Howie's redemption? 2012 Stats: 594 PA, .287 AVG, .325 OBP, .400 SLG, 57 R, 8 HR, 67 RBI, 14 SB, 6 CS, 115 K, .316 wOBA, 106 OPS+, 2.8 fWAR 2013 ZiPS Projections: 614 PA, .272 AVG, .314 OBP, .405 SLG, 68 R, 12 HR, 70 RBI, 14 SB, 6 CS, 109 K, .309 wOBA, 102 OPS+, 3.0 fWAR 2013 Bill James Projections: 619 PA, .287 AVG, .327 OBP, .424 SLG, 73 R, 12 HR, 73 RBI, 14 SB, 7 CS, 119 K, .324 wOBA 2013 CAIRO Projections: 598 PA, .275 AVG, .318 OBP, .410 SLG, 65 R, 12 HR, 73 RBI, 12 SB, 5 CS, 110 K, .318 wOBA 2013 MWAH Projections*: 581 PA, .293 AVG, .326 OBP, .423 SLG, 72 R, 12 HR, 72 RBI, 17 SB, 7 CS, 118 K, .328 wOBA *The MWAH projections are simply my best guess based off my own personal opinion and research (my wOBA calculation is approximate) 2012 in Objective Review: The 2012 season was certainly passable for Howie Kendrick, but his numbers fell just a little shy of his career norms. In particular, Kendrick was unable to replicate the power surge he experienced in his 2011 All-Star campaign. Instead, he posted a .113 ISO, the lowest such mark of his career. Still, there was nothing particularly wrong with his numbers, they just weren't up the standards many had hoped, especially after signing a four-year, $33.5 million contract extension in the off-season. If there was one specific area where Kendrick seemed to damn himself, it was his 26 GIDPs. That total was amongst the highest totals in all of baseball, a fact that did not go unnoticed. This failing earned him the label of being unclutch and likely also contributed to his inability to stick in the two-hole as Mike Scioscia had hoped he would. His scuffling at the plate also seemed to somehow extend to the field as he had one of his worst defensive seasons according to both UZR and DRS (although it was one of his best according to FRAA, so go figure). It all added up to Howie turning in a season that looks just fine on paper but left a nasty aftertaste in the mouth of Angels fans.   2012 in Revisionist History: Let's face it, 2012 will go down as the Season of GIDPs for Howie. He just didn't get the job done. I don't care what his average, he failed to deliver on the promise of of 2011. Many of us suspected that his power surge from 2011 was not going to be repeatable, but few expected him to go the complete other way by putting up the power numbers of a slap-hitter. The problem was that something changed in Howie's swing or approach. While his line drive percentage remained relatively steady, his GB/FB ratio spiked to 2.81, one of the highest marks in the league. Kendrick has always been more of a groundball guy, but he took it to an extreme last season. Why it happened isn't clear. We now know that Howie was playing much of the season with an elbow impingement that he claimed caused him discomfort. That might have caused a change in the plane of his swing, but I'm hardly a hitting coach and could never prove that. Besides, this was a season-long issue and the elbow problem supposedly was not. We also know that Kendrick has been making efforts to improve his patience at the plate. That's great and all, but it doesn't seem to have helped as he saw his walk rate drop from 2011 while his strikeout rate, though down slightly, remained well above his career average. Given that Kendrick has never had great patience, it wouldn't surprise me to learn that he was working himself into bad counts for the sake of trying to prove he's more patient, or as I like to call it Aybar-itis. Comparing this season to last, it certainly seems that Kendrick worked his way into more pitcher's counts than in season's past, though it is hard to say if it was a significant enough amount or simply due to random fluctuation. The final option is simply that pitchers have figured him out. Kendrick feasts on fastballs and often struggles to even recognize a breaking pitch. This was the thought process behind having hit second, thinking he would get all the fastballs he could handle and thus thrive. Well, that worked, he did see more fastballs, but he didn't have more success. In fact, he flat out stunk in that role, which makes no sense at all. However, it is worth nothing that he also saw a marked increase in curves and sliders especially. Maybe pitchers just realized they could get him to either make weak contact with a fastball out of the zone or get him to chase a bender in the dirt?   Three Lingering Questions for 2013: 1) What was with all the GIDPs? One could explain the GIDPs away as a perfect storm of Kendrick hitting more with a runner on first (which is true, but not by much) and him generally putting the ball on the ground more (definitely true). Or it could be that Howie simply has a terrible approach with runners on, chasing picher's pitches designed to induce GIDPs. Either way, it is something he needs to correct. That last sentence was sponsored by Captain Obvious. 2) Where'd the power go? The thing is that his power has always been all over the map. That isn't because he suddenly lost strength or anything. In fact, he had the second highest HR/FB rate of his career in 2012. The problem, again, is that he so seldom hit the ball in the air. You can't hit homers and doubles when you're killing worms on a vast majority the balls you hit. We just got fooled into thinking that Howie had learned to get more lift on the ball in 2011, but that proved wildly wrong. 3) Will Scioscia every seriously consider my idea of platooning him against groundball pitchers? Kendrick actually did quite well versus groundball pitchers last season, but for his career, he struggles mightily against them. It makes sense, if you think about it. Howie is basically playing right into the pitcher's biggest strength. This is an out of the box idea that is probably too much for Scioscia to get his head around and perhaps one hard to justify employing considering the financial investment made in Kendrick. It probably doesn't help that they don't have a worthwhile platoon partner on the roster either. Oh well.   Three Irrelevant Questions for 2013: 1) Who hurt his feeling on Twitter and made him quit? Twitter is not for the faint of heart, but I can't recall anyone doing anything dastardly to him on the ol' Twitter Machine. If he is really that sensitive, he is right to quit the medium... although I think hitting into fewer double plays would've worked just as well. 2) Can we please stop acting like Kendrick's amateur photography hobby is actually interesting? Maybe I just don't have an appreciation for the art form, but I'm going to punch myself in the face if I see one more article that glorifies his photography. He's just a dude with an Instagram account, just like every 20-year old sorority girl with an iPhone. 3) So when are we going to get that batting title we were promised? I kid. I kid. Clearly that ship has sailed at this point. I think we'd all be happy if he just hit a hair over .300 once.   2013 in Subjective Projection: Welp. it happened again. I went into a season not planning to project a strong season for Kendrick but by the time everything was said and done, my projections came out with him having one of his better years. The thing is, I think Howie is a classic case where regression to the mean isn't always a bad thing. For four straight years, his GB/FB rate hovered between 1.90 and 2.08, pretty consistent. So when his rate jumped to 2.81, that just screams anomaly. Fewer grounders should mean power from Howie. He isn't going to be repeating his 2011 output, but at least he'll be displaying more pop than Reggie Willits. Another thing I believe Howie will have going for him is a lack of pressure. There is no logical reason he should struggle so much batting second, but he did last season and has done so all previous seasons as well. The only conclusion I can draw is that Howie changes his approach too much in that position and takes himself out of his game. This year though, it seems that the Howie batting second experiment is al but dead, so he'll be free to bat further down in the order where he has a comfort zone. It's stupid and flies in the face of conventional statistical research, but every once is a while a guy emerges who is an exception to the rules and Kendrick definitely seems like he qualifies. [follow]
Original Story:
http://www.monkeywithahalo.com/player...
THE BACKYARD
BEST OF MAXIM
RELATED ARTICLES
  By Geoff Stoddart, AngelsWin.com Director of Social Media --  Over the years, AngelsWin.com has been honored to welcome such guests as Arte Moreno, Terry Smith, Jose Mota, Rex Hudler, Jerome Williams and Victor Rojas to their Spring Training Fanfest.  These guests took the time to speak with the fans, answer questions and even pose for pictures.  They have made each year...
TEMPE, Ariz. -- Albert Pujols' daily routine hasn't changed much since spring training began 2 12 weeks ago. He's taking batting practice, fielding ground balls hit right at him and jogging on a treadmill. He has not yet run on a field, and he appears at least two weeks away from playing in an exhibition game. But the Angels first baseman, who underwent surgery to clean...
Last season, Los Angeles Angels center fielder Mike Trout put fans in awe after robbing a homer from Baltimore Orioles shortstop J.J. Hardy. Trout went a long way in tracking the baseball and eventually timed his leap perfectly to secure the would-be solo shot. It was truly a glorious sight to behold.On April 13, the Halos will commemorate the magic moment by giving away a bobblehead...
The Angels are contender at the MLB level, but can the farm system compare? Note: Avg ranking takes the average of any site I could find that had team rankings (sum of ranks divided by total sites). Comp ranking is the composite for the organization; it basically is a ranking of the averages. Rank Player Pos Avg Ranking Comp Ranking Low High 1 Kaleb Cowart...
Mike Trout says the reports that he showed up to spring training overweight are inaccurate and overblown. Many fans and analysts were concerned that Trout fell out of shape over the offseason after word circulated that the reigning AL Rookie of the Year had put on weight. The report seemed to emanate from Angels beat writer Mike DiGiovanna of the Los Angeles Times, who tweeted this...
No reliever makes Angels fans more nervous than Kevin Jepsen, but no pitcher might be more important to the Halos in 2013. Needless to say, it is going to be quite the interesting year, either good or bad or maybe both, from the up-and-down reliever. 2012 Stats: 44.2 IP, 3-2, 2 SV, 3.02 ERA. 3.21 FIP, 39 H, 12 BB, 3 HR, 38 SO, 0.84 GB/FB, 0.6 fWAR 2013 ZiPS Projections: 58...
TEMPE, Ariz. -- Although two prominent managers recently have called for a ban on collisions at home plate, Angels Manager Mike Scioscia said he is not convinced a rule change is in order. "It's a tough thing to legislate with any kind of rule," Scioscia said. San Francisco Giants Manager Bruce Bochy and St. Louis Cardinals Manager Mike Matheny former catchers each...
By Brian Waller,  AngelsWin.com Columnist --  This is the time of year all baseball fans look forward to. The weather is warming up, spring training games have started and each of us, no matter which team we support, have at least a glimmer of hope that this could be the season our favorite ballclub makes the post season. As fans look forward to the upcoming season, managers...
The February 27th, 2013 edition of daily news for the Los Angeles Angels including Callaspo reported to camp overweight, Hamilton makes his spring debut and much more... The Story: Alberto Callaspo showed up to camp 20 pounds overweight, but has already lost most of it. The Monkey Says: It seems Alberto was nursing a shoulder problem in the off-season so he didn't work...
The MWAH prospect countdown marches on with a slugging outfielder who is hoping to make a name for himself. Randal Grichuk Position: OF  Highest Level: High-A Bats: Right Throws: Right  Height: 6'1" Weight: 195 lbs. Age: 22  Born: 8/13/91 2012 Season Stats High-A: 575 PA, .298 AVG, .335 OBP, .488 SLG, 30 2B, 9 3B, 18 HR, 71 RBI, 92 SO, 16 SB, 6 CS, .329...
Tweet   Last June eventual American League Rookie of the Year Mike Trout made one the defensive plays of the season when he robbed Orioles shortstop J.J. Hardy of a would-be home run in Baltimore. Re-watching the video never gets old, but if you would like another way remember the moment these will be available [...]
Mike Trout's 2012 season is much like a fishing story. It just seems to get more extravagant with each telling of the tale. I've heard the fables, "Oh man, I caught this 12 lb walleye in my bath tub!"; when in reality the guy probably dropped a 12 lb turd in his toilet after eating Taco Bell. The plastics and tainted horse meat will do that to a guy. You'll...
Angels News

Delivered to your inbox

You'll also receive Yardbarker's daily Top 10, featuring the best sports stories from around the web. Customize your newsletter to get articles on your favorite sports and teams. And the best part? It's free!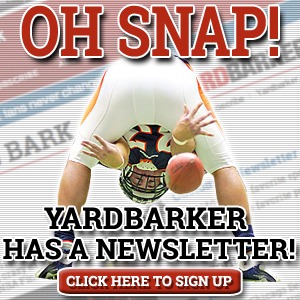 Latest Rumors
The Backyard

Today's Best Stuff

For Bloggers

Join the Yardbarker Network for more promotion, traffic, and money.

Company Info

Help

What is Yardbarker?

Yardbarker is the largest network of sports blogs and pro athlete blogs on the web. This site is the hub of the Yardbarker Network, where our editors and algorithms curate the best sports content from our network and beyond.