Found March 13, 2013 on Monkey with a Halo:
It didn't seem possible for a player to have a breakout season and a concerning decline all in the same year, yet Mark Trumbo found a way to pull it off. Will the Trumbo of 2013 be more like the Trumbo of the first half that made the All-Star Game or the Trumbo of the second half that lost playing time to Vernon Wells? 2012 Stats: 586 PA, .268 AVG, .317 OBP, .491 SLG, 66 R, 32 HR, 95 RBI, 4 SB, 5 CS, 153 K, .346 wOBA, 126 OPS+, 2.4 fWAR 2013 ZiPS Projections: 596 PA, .263 AVG, .310 OBP, .481 SLG, 67 R, 31 HR, 94 RBI, 6 SB, 5 CS, 144 K, .337 wOBA, 119 OPS+, 1.8 fWAR 2013 Bill James Projections: 584 PA, .266 AVG, .315 OBP, .495 SLG, 71 R, 31 HR, 98 RBI, 5 SB, 3 CS, 130 K, .344 wOBA 2013 CAIRO Projections: 586 PA, .258 AVG, .312 OBP, .467 SLG, 66 R, 28 HR, 95 RBI, 6 SB, 4 CS, 135 K, .335 wOBA 2013 MWAH Projections*: 580 PA, .262 AVG, .314 OBP, .484 SLG, 70 R, 31 HR, 84 RBI, 5 SB, 3 CS, 140 K, .345 wOBA *The MWAH projections are simply my best guess based off my own personal opinion and research (my wOBA calculation is approximate) 2012 in Objective Review: For the first half of the 2012 season, Mark Trumbo looked like he was going to blossom into a legitimate star in the league. Despite initially starting the season as a part-time utility player, Trumbo simply hit too well for Mike Scioscia (or Jerry Dipoto, depending on which rumors you believe) to justify not having him in the lineup everyday. His experiment as a third baseman was an epic failure, but the Angels managed to find room for him in the outfield and were rewarded with a .965 OPS in the first half from Mark who in turn was rewarded with an All-Star Game selection and a spot in the Home Run Derby. The second half was a completely different story, however. Be it the post-Derby slump so many experience or a side effect of a dislocated rib suffered in July, Trumbo bottomed out. His much improved plate discipline went out the window and he began striking out at an alarming rate while posting a horrific .552 OPS the final two months of the season. Things got so bad by the end of the year that Trumbo found himself back where he started, in a part-time role ceding at-bats to Vernon Wells of all people.   2012 in Revisionist History: Trumbo was amazing in the first half of the season, but a big part of that was a totally unsustainable first two months of the season where his BABIP was nearly .400. His .260/.313/.587 slash line in June though seemed like a much more representative sample of the level of performance he could sustain, which I think everyone can live with. His 22 first half dingers got him the most attention but the most impressive part of his evolution was the plate discipline that he magically developed over the off-season. Trumbo was an out machine in 2011, but he worked hard to be more selective at the plate last season and propped his walk rate to 7.0% in the first half, which is nothing special, but enough for him to carry an acceptable OBP and move into the middle of the order. The problem is that almost all of his good work went out the window the final two months of the season for some reason. It all seemed to start with his rib/back injury and then just snowballed from there. His walk rate in the second half was 5.1%, which is still better than his 2011 number, but he began striking out in nearly a third of his plate appearances having apparently fallen back into his bad habits of swinging at everything and struggling to identify breaking balls.   Three Lingering Questions for 2013: 1) How much of Trumbo's second half struggles were related to the rib/back injury he suffered? That's the million dollar question, isn't it? His decline seemed to coincide exactly with his injury, but it lasted so long, beyond a point where the team was claiming the injury was an issue, that it is possible that it never did affect him. It is also possible that Trumbo is just a gamer and didn't mention the injury anymore because he didn't want to have an excuse, even though it would be a perfectly valid one. 2) Can he adjust to being a full-time DH? Well, kind of full-time. The odds are that he will probably play the field once or twice a week to give guys a semi-day off by letting them DH instead. I personally don't get why moving to DH is considered to be a big deal, but the Angels beat reporters and Trumbo have talked about it enough to lead me to believe that it is at least something that Mark is worried about. The good news is that he seems to be planning ahead for this move and doing a lot of prep work to get acclimated to his new role. 3) Was his temporarily improved plate discipline a mirage? Trumbo got a lot of credit for improving his plate discipline last season, but it seems like a lot of that stemmed from one good month. April was the only month of the season where his walk rate was over 7%, once you remove intentional walks. What he did do though was swing a lot less, especially at pitches outside of the zone. The caveat there though is that his swinging strike rate actually went up, while his contact rate was down a whopping 6% overall and down 11% out of the zone. So, basically he swung at less bad pitches, but missed more of the ones he did swing at, which is progress of some sort I suppose.   Three Irrelevant Questions for 2013: 1) How embarrassed am I that I actually though Trumbo was going to pull off the move to third last season? Incredibly embarrassed, but not so embarrassed that I won't remind everyone of what an idiotic prediction that was. 2) How embarrassed are the Angels that the even tried to move Trumbo to third last season? I suppose they deserve some points for creativity, but that really was an incredibly dumb idea in retrospect. There is a reason that they didn't even think about revisiting that plan this off-season. 3) Can we have the Mark Trumbo parody account on Twitter erased from the planet Because if we can, that would be great. Death to parody accounts.   2013 in Subjective Projection: I was a the number on proponent of trading Trumbo last off-season, but I take all that back now. I have been converted to the Trumbo camp after seeing how he is able to dedicate himself to refining his craft like he did with his improved plate discipline. It is perhaps for that reason that I think his second half slump was an anomaly caused by his injury. I'm no hitting coach, but Trumbo looked to me like a guy who was trying to compensate for the pain in his side by cheating. He swung at everything because he was guessing at the plate instead of reacting, which he couldn't do because of the injury. That would also explain why he didn't drive the ball much either since his impaired swing just wasn't able to generate his normal power in the event he did guess right. He never owned up to this being the case, nor did the team, so I'm taking this one on faith. What I really like though is that it looks like Mark's plate coverage vastly improved with his new approach. To demonstrate, here is his 2011 heat chart by True Average: And now here is his 2012 heat chart: You'll notice that there is a hell of a lot more red inside the zone in 2012 as opposed to a smattering of purple all over like in 2011. Mark was hitting pitches well inside and outside in 2012 whereas most of his success came on the inner half in 2011. That is a huge step forward for him and one that should serve him well if he could maintain it. That, of course is the question. For the sake of not having another giant chart, I will exclude the heat map for the second of 2012, but basically everything on that map is blue except for the are below the belt and on the inner half. Again, I'm taking it on faith that his second half was tainted by his injury. If I'm right, Trumbo probably won't quite approach All-Star level again, but he should be pretty good and capable of holding down the fifth spot in the order. If I'm wrong, well, get ready for a whole lot more Vernon Wells. [follow]
Original Story:
http://www.monkeywithahalo.com/player...
THE BACKYARD
BEST OF MAXIM
RELATED ARTICLES
QUITE THE HONOR
Millville High School (N.J.). is honoring one of its most famous alums by renaming its baseball field after Los Angeles Angels of Anaheim phenom Mike Trout.
Welcome to our annual series of 'best player by position' per division across all of Major League Baseball. Our goal in this set of articles was to set forth the player from each position that is the best in the division right now. No weight was given to a player's glorious or dubious past. These are our opinions as to who is most likely to represent the division in top-tier...
Los Angeles Angels superstar Albert Pujols is back on the bases. Pujols, who underwent offseason right knee surgery, played in only his fourth Cactus League game Wednesday against the San Diego Padres. But it represented a landmark of sorts: Pujols ran the bases for the first time, rather than exiting for a designated runner, as had been the arrangement for his first three games...
Albert Pujols wobbled as he ran Wednesday. It was seen as a sign of progress. Such is life in the Angels' unstable universe. Pujols, 33, underwent right knee surgery during the offseason. He wasn't cleared to run the bases in a competitive setting until this, the Angels' 17th game of the Cactus League season. And when he reached base -- twice, on a fielder's choice...
The March 13th, 2013 edition of daily news for the Los Angeles Angels including Angels predicted to win the World Series, Pujols is done as an MVP candidate and much more... The Story: A site called "The Prediction Machine" predicts the Angels to be the most likely World Series winner. The Monkey Says: Not be a particularly overwhelming amount though and, frankly...
For the first time in six weeks, the new closer for the Los Angeles Angels has thrown off a mound.  After suffering a UCL tear and undergoing Tommy John surgery, Madson was working his way back this year.  He looked ready for Opening Day until he had a setback.  Now, he's trying to get back into shape and ready for Opening Day. According to Kevin Baxter of the Los Angeles...
Hi. I'm Jeremy Elwood. Let me introduce myself; I'm a new writer to this site, I'm a huge Angels Fan, and I'm a professional comedian and TV writer. Oh, and I live in New Zealand. Figure that out in your own time.   So, as my introduction to Monkey With A Halo, I thought I'd use my slightly removed position to do a short series on the guys who aren't dominating...
The MWAH prospect countdown finally crosses the finish line with the top prospect in the entire system and only Angel prospect to crack into any of the Top 100 prospect lists. Kaleb Cowart Position: 3B  Highest Level: High-A Bats:Switch Throws: Right  Height: 6'3" Weight: 195 lbs. Age: 20  Born: 6/2/92 2012 Season Stats Low-A: 290 PA, .293 AVG, .348 OBP...
Los Angeles Angels first baseman Albert Pujols has been participating in spring training contests for the past week, but he ran the bases for the first time this exhibition season yesterday, according to Jon Paul Morosi of FOX Sports. Pujols underwent surgery on his right knee in October. He had been suiting up as the Angels' designated hitter during his initial spring...
The March 12th, 2013 edition of daily news for the Los Angeles Angels including Madson throws 20 pitch from a mound, C.J. Wilson talks politics, PEDs and Star Wars and much more... The Story: Ryan Madson threw a half-speed 20-pitch bullpen session on Monday. The Monkey Says: That doesn't sound like much, but it is progress and that's really all the Angels can ask...
Mike Trout had a double and a triple and Peter Bourjos homered as the star-studded Los Angeles Angels knocked the San Diego Padres around early but blew a lead late in an 8-6 loss Wednesday. Bourjos' two-run homer in the fourth inning off Clayton Richard put the Angels ahead 5-2. Richard allowed five runs and nine hits in five innings. Los Angeles starter Joe Blanton allowed...
Kill the disbelieving squint Mark Trumbo, you're no. 7 Photo Credit: Keith Allison   Normally, the term "first base" is synonymous with "failure" for handsome sooth-sayers like myself. Yet when we are talking fantasy baseball, the word takes on a more positive connotation. First base is deep; always has been.    Sure the league-wide drop...
Angels News

Delivered to your inbox

You'll also receive Yardbarker's daily Top 10, featuring the best sports stories from around the web. Customize your newsletter to get articles on your favorite sports and teams. And the best part? It's free!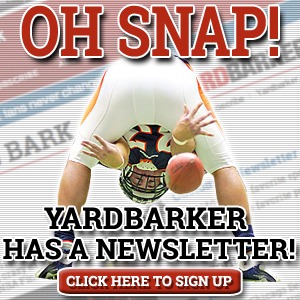 Latest Rumors
Best of Yardbarker

Today's Best Stuff

For Bloggers

Join the Yardbarker Network for more promotion, traffic, and money.

Company Info

Help

What is Yardbarker?

Yardbarker is the largest network of sports blogs and pro athlete blogs on the web. This site is the hub of the Yardbarker Network, where our editors and algorithms curate the best sports content from our network and beyond.