Found February 11, 2013 on SF Lunatic Fringe:
I was thinking of doing this a couple of weeks ago, but with that football Bowl thing going on, it got pushed back.  Now that it's Spring Training time, we'll kick off the spring with this series. For those who don't know, I spent a decade covering the farm system of the San Francisco Giants for SFDugout.com.  Along with other writers, we watched the rise of nearly all the young Giants from draftees to the World Series champions they are today.  I may not do it professionally anymore, but I still keep an eye on these kids, and bring a unique (and firsthand) view of these kids that you won't get from those nationwide magazines and systems based on the east coast. So behind the snark, there are some good opinions here.  You might see some different perspectives.  And baseball is just around the corner. 10. Francisco Peguero – I love Peguero.  He's an incredibly talented player, and has perhaps the best raw tools of anyone in the system.  He's an ideal right fielder at AT&T Park, and has a swing like Pablo Sandoval's, where he can square up pitches even outside of the strike zone. The problem is, he'll swing at all those pitches outside of the zone, and he keeps having knee problems.  One wants to dismiss his less than stellar 2012 due to a preseason knee surgery, and he was only allowed to attempt one steal all year in the minors.  But health aside, he needs to learn which pitches to lay off.  Perhaps a spring with Pablo will help with that, but if he can't learn it by now, he never will. 9. Mike Kickham – I'm not the biggest fan of Kickham, from what I've seen of him, but he sure proved a lot of people wrong while skipping San Jose and ending up in Richmond.  Kickham doesn't get the strikeouts or have the control that make one a top starting pitcher prospect, but he got the job done at a high level, which says something. Kickham is a guy who needs to learn to pitch to contact, without giving up hard contact.  He's a ground ball guy who features a low-90's sinking fastball, and a bunch of breaking balls.  He did the job in Double-A after not being able to do it as well in Augusta the previous season.  The problem is that he doesn't have much of a track record to know well enough if he's on an improving trend or had one good year in a pitcher's park and league.  However, his potential is good enough to be a mid-rotation reliever. 8. Brett Bochy – I've gotten ripped for including middle relievers in lists in the past, but my thinking works like this: Sometimes, a high floor beats a high ceiling that's unlikely to make it (See: Fairley, Wendell and Rodriguez, Rafael).  Bochy's been used only partially as a closer in each of his two minor league seasons, but he's been very effective, even after skipping High-A. Bochy doesn't have an overwhelming fastball, sitting 88-91, but it's deceptive in speed, and he can put all sorts of cuts and spins on it.  He also has a strong slider that he can vary.  His tools profile similarly to Sergio Romo, but he doesn't have Romo's killer instinct or fire.  I don't know if that's a plus for Bochy or a minus.  I don't see Bochy being a future closer, but I do see a guy who has the talent to be an important part of a major league bullpen, and who is very likely to make it.
Original Story:
http://www.sflunaticfringe.com/2013/0...
THE BACKYARD
BEST OF MAXIM
RELATED ARTICLES
  Credit: Steven Robles – SFGiantsBaseball.net With all the players that we had access to Friday; here are more notes from San Francisco Giants Media Day. Ryan Vogelsong believes there has to be a transition period for players to stop focusing on winning the World Series, and focus on the upcoming season. "Obviously we're riding high from the World Series, but the one thing...
The San Francisco Giants held their 2013 Fan Fest over the weekend, and as expected the World Series champions seemed to enjoy answering many of the questions they were asked. At one point, Tim Lincecum was asked to do his impression of Hunter Pence, which was captured on the Giants World Series DVD and became an instant hit. Lincecum was shy at first and said he didn't want to...
San Francisco Giants Tim Lincecum is McLovin Meme The post San Francisco Giants Tim Lincecum is McLovin Meme appeared first on THEHUSKER.COM.
Sergio Romo raced down a tunnel inside AT&T Park on Saturday, slapping hands with a line of supporters chanting his last name during Fan Fest. He danced with some, posed for pictures with others and riled up the rest. San Francisco's new bearded closer has no trouble in the limelight. After a dominant and demonstrative performance throughout October, Romo's role for...
Giants fans everywhere were in for a bit of a shock today as their star pitcher revealed that he's chopped off his signature long locks. Lincecum is coming off a horrible year, by anyone's standards, especially his for someone who's won two Cy Youngs and was apart of the world series winning team. USA Today  posted the pictures of a very sleek-looking Lincecum as he reported...
When Barry Zito signed with the Giants in 2007, it was a coup. Why shouldn't it be? He was a Cy Young award winner with a curve ball that looked like it was falling off the dinning room table. Zito was in the prime of his career. Big named markets, including New York, courted him. Barry Zito couldn't be beat. San Francisco had a bright future on its hands. That future became...
Asking a player how he's over-performed his peripherals is a tricky thing. I settled on a toe in the water: "Have you ever heard of FanGraphs? WAR? FIP?" From Ryan Vogelsong's responses to those inquiries at Giants' Media day ("No, but Wins Above Replacement I have, all those stats, yeah" he replied), it seemed clear that the right-hander might need a little introduction...
The San Francisco Giants decided to bring back the core of players that carried them to the 2012 World Championship. Angel Pagan was one of those players.It took Pagan a long time to finally earn a full-time job in the majors as his age-31 season in 2013 will be just his fourth full year, but don't hold that against him. He makes living mostly with his legs and has developed a...
Pablo Sandoval has missed significant time in each of the last two seasons, and in the year before that he was underwhelming to say the least. His 2009 campaign, his first year as a full-time starter, was easily his best as Sandoval put up top-50 numbers, and now all fantasy owners really want is a modicum of stability. I've always thought of Sandoval as a switch-hitting version...
San Francisco Giants first baseman Brandon Belt took a shot at the free-spending Los Angeles Dodgers while speaking at the team's "FanFest" event at AT&T Park Saturday. According to CSN Bay Area, Belt was asked about the Dodgers spending loads of money over the offseason and responded "All I can say is, you can't buy chemistry." Since purchasing the Dodgers last...
The San Francisco Giants emerged as World Series champions last season after winning four games in a row over the Detroit Tigers.Recently, a rematch of sorts transpired as two opposing players from that series went at it each other once again, but this time the competititon involved Connect 4.The spectacle occurred during an annual event for the Fresno Grizzlies, the Triple-A affiliate...
Giants News

Delivered to your inbox

You'll also receive Yardbarker's daily Top 10, featuring the best sports stories from around the web. Customize your newsletter to get articles on your favorite sports and teams. And the best part? It's free!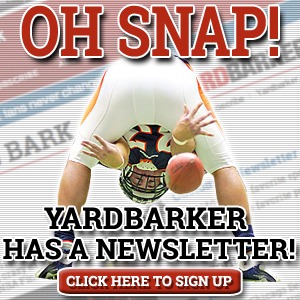 Latest Rumors
Best of Yardbarker

Today's Best Stuff

For Bloggers

Join the Yardbarker Network for more promotion, traffic, and money.

Company Info

Help

What is Yardbarker?

Yardbarker is the largest network of sports blogs and pro athlete blogs on the web. This site is the hub of the Yardbarker Network, where our editors and algorithms curate the best sports content from our network and beyond.