Found February 07, 2013 on Fox Sports South:
PLAYERS:
Stephen Strasburg
,
Gio Gonzalez
,
Justin Verlander
,
Max Scherzer
,
Jordan Zimmermann
,
Johan Santana
,
Matt Harvey
,
Mat Latos
,
Johnny Cueto
,
Homer Bailey
,
Matt Cain
,
Madison Bumgarner
,
Tim Lincecum
,
John Smoltz
TEAMS:
Atlanta Braves
,
Washington Nationals
,
Detroit Tigers
,
New York Mets
,
Cincinnati Reds
,
San Francisco Giants
,
Chicago White Sox
With the Super Bowl in the history books, it's time to reacquaint ourselves with baseball specifically the nuances and quirks of the Atlanta Braves' 162-game schedule. Here are 20 notable twists fromthe 2013 slate: 1. Citing last year's standings as a reference, the Braves' easiest months for 2013 theoretically shouldcome in September and April, when they play 14 and 15 games against clubs with sub-.500 records. Conversely, Atlanta's most difficult month would be May,with 13 meetings against teams with winning marks in 2012. 2. The Braveslaunch the season with a three-game set against the Phillies at Turner Field (April 1-4), with an off day on April 2 in case of inclement weather. 3. From April 8-28, the Braves will play 16 of 18 games on the road with a quick, two-game home set against the Royals sandwiched between trips to Miami, Washington, Pittsburgh, Colorado and Detroit. 4. Assuming Stephen Strasburg (15-6, 3.16 ERA, 197 strikeouts 48 walks) and Gio Gonzalez (21-8, 2.89 ERA, 207 Ks) draw starts in the Nationals' season-opening series (against the Marlins), and Washington commits to a five-man rotation in the first month, the Braves most likely will face Strasburg and Gonzalez on April 13-14 and April 30-May 1. 5. For theweek of April 28-May 4, the Braves could conceivably see Justin Verlander or Max Scherzer (Tigers), Strasburg, Gonzalez, Jordan Zimmermann (Nationals), Johan Santana and Matt Harvey (Mets) in a seven-day period. 6. The following week (May 5-11), Atlanta could run into another gauntlet of HarveySantana (Mets), Mat Latos, Johnny Cueto, Homer Bailey (Reds) and then Matt Cain, Madison Bumgarner, Tim Lincecum (Giants). 7. Times are subject to change, of course. But the Braves are slated for 11 back-to-back day games, with five at home and six on the road. Digging deeper, Atlanta won't have any back-to-back matinees during the weekdays this year. Theonly back-to-back-to-back day games occur on a weekend trip to Wrigley Field in September. 8. Speaking of the Cubs, their lone visit to Turner Fieldcomes in the season's inaugural weekend (April 5-7). 9. For the first time in 52 years, the Braves and Astros (or Colt .45s) won't face each other during the regular season. During the offseason, Houston switched to the American League West balancing out the teams (five apiece)for Major League Baseball's six divisions. 10. Because of the Astros' switch to the AL, the MLB schedule will have at least two interleague series for every week of the season. In turn, Atlanta will have at least one interleague series for April, May, June, July and August but not September. 11. The Braves have scheduled four "getaway games" for the season a Wednesday or Thursday home tilt during the day (12 noon or 1 p.m. ET), allowing the club to travel for the upcoming road trip that evening. In turn, the Nationals won't host a single 12 noon or 1 p.m. ET midweek getaway game at least one that directly precedes a road trip. 12. Atlanta's longest road trip: 10 games against the Reds, Giants and Diamondbacks (May 6-15). 12a. Most difficult road trip (on paper): At the Reds, Giants and Diamondbacks (May 6-15). 13. Longest homestand: Nine games against the Marlins, Phillies and Nationals (Aug. 9-18). 14. Shortest homestand: Two games against the Royals (April 16-17). 15. Most difficult homestand (on paper): Tie Blue Jays, Nationals and Pirates (May 29-June 5), and Brewers and Phillies (Sept. 23-29). 16. For interleague play, the Braves will face every team from the American League Central (Royals, Tigers, White Sox, Indians, Twins) and then theBlue Jays. 17. Speaking of which, for the first time since 1980 (perhaps going further back), MLB has scheduled home-and-home series featuring the same teams running back to back. From May 27-30, all 30 teams will engage in a four-game series with a singular opponent, split between two cities. The Braves and Blue Jays will partner up in this cool interleague experiment, starting in Toronto (May 27-28) and ending in Atlanta (May 29-30). 18. Atlanta has a four-pack of four-game series on the home docket Washington (April 29-May 2), New York Mets (June 17-20), Cincinnati (July 11-14) and Philadelphia (Sept. 26-29). 19. Bottom line: The Braves are one of the fortunate teams without a quirky road trip. The most "taxing" voyage entails the roadie to Pittsburgh, Colorado and Detroit one series in the Eastern Time Zone, one in the Mountain Time Zone and then back to Eastern. All in all, not too daunting. 20. On June 25 and 26, the Braves will do something that John Smoltz never experienced in 21 MLB seasons (20 with Atlanta): Play a regular-season game at Kansas City's Kauffman Stadium. Given the fact baseball has had interleague play since 1997, it's unfathomable to believe a 26-year-old Royals fan living in Missouri has never seen the Braves at hisher home ballpark.
Original Story:
http://www.foxsportssouth.com/02/07/1...
THE BACKYARD
BEST OF MAXIM
RELATED ARTICLES
The Atlanta Braves won't have C Brian McCann won't be in the lineup when the season starts in 2013. McCann is recovering from a surgically repaired right should and will not be ready when the regular season begins. His surgery was undertaken in October and McCann told reporters that he has just recently started hitting off a tee again. "Just started hitting off a tee. I started...
ATLANTA -- As a fully formed adult (6-foot-4, 205 pounds), Braves pitcher Mike Minor bears a closer resemblance to Hall of Fame-bound pitcher Randy Johnson than Hall of Fame-boundace Tom Glavine. And yet, during Minor's formative years in Chapel Hill, Tenn., a town of 1,500 people nestled between Nashville and Chattanooga, he opted to emulate the style of Glavine -- in terms...
Evan Gattis has tremendous power A few weeks ago, Braves farm hand Evan Gattis was all the rage in the media.  His colorful personal journey was told, and re-told, and his daily exploits in the Venezuelan league were tracked like the Dow Jones. We learned that the 6'3″ 235 pound Gattis was nicknamed El Oso Blanco "The White Bear" by the Venezuelans, and that he was a serious...
Atlanta Braves catcher Brian McCann said his shoulder is feeling good, but doctors won't clear him for "full-on playing in games" until April 15, reports David O'Brien of The Atlanta Journal-Constitution. McCann underwent shoulder surgery in October which carries with it a six-month recovery period. He's approaching the four-month point, and the middle of April...
B.J. Upton's big contract means big expectations There is no question that the addition of the Upton brothers, to the Braves, was done to increase power in the lineup from the right side of the plate.  At first glance, it looks like this deal is going to do just that, but after looking at the numbers, maybe not. Let's first talk about B.J. Upton.  Last year he hit .246, with...
Kris Medlen has opening day talent Be interesting to see how Braves manager Fredi Gonzalez sets up his starting rotation this season.  He's got three starters, arguably four, that could potentially start Opening Day. My guess is that either Hudson, or Medlen, will be the Opening Day starter.  Probably Hudson, for the simple reason that Braves managers generally give the nod to...
As the possibility of Michael Bourn landing in Queens seems more and more like a reality, there are a faction of fans who feel Bourn wouldn't be such a necessity, had the Mets simply resigned Jose Reyes.  On the surface, they're correct, however as is the case with everything New York Mets, there is always more to it.  Its easy to compare the two players.  Both center their...
According to Andy Martino of the Daily News, while the Mets remain very motivated to sign free-agent center fielder Michael Bourn, they won't make a deal if it will cost them their first round draft pick. It turns out that the decision about the draft pick would be in hands of an independent arbitrator, not the commissioner's office. Here is how the process could work: The...
Not to be a party pooper, because I know how some people love drama ... and perhaps some of you who read this nonsense like drama ... but can we figure out if the 11th pick is going to be protected or not already? We're starting to get to that area of this story where I just don't care anymore. It's kinda like that area of time right after the Manti Te'o story was...
If you're unfamiliar, I answer Bowman's inbox Q&As as if anyone cares about my opinion. Here's a link to his most recent inbox, with the questions and my answers below...   How do you compare last year's starting lineup to this year's, which will be without Martin Prado, Michael Bourn and Chipper Jones? -- Jerry A., Gainesville, Ga. Objectively speaking...
Here are two significant updates from Jim Bowden of ESPN XM Radio: "With Victorino getting an average annual salary of $13 million," Bowden says. "And with Bourn turning down a qualifying offer of $13 million, it only makes sense that he would get north of that." A team source (presumably the Mets) also told Bowden that if the Mets were able to sign Michael Bourn, negotiations...
MLB News

Delivered to your inbox

You'll also receive Yardbarker's daily Top 10, featuring the best sports stories from around the web. Customize your newsletter to get articles on your favorite sports and teams. And the best part? It's free!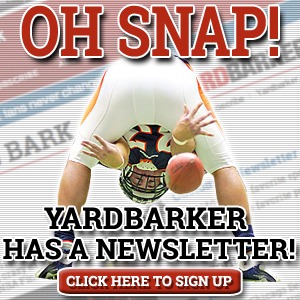 Latest Rumors
The Backyard

Today's Best Stuff

For Bloggers

Join the Yardbarker Network for more promotion, traffic, and money.

Company Info

Help

What is Yardbarker?

Yardbarker is the largest network of sports blogs and pro athlete blogs on the web. This site is the hub of the Yardbarker Network, where our editors and algorithms curate the best sports content from our network and beyond.