Found August 11, 2012 on Fox Sports North:
PLAYERS:
Cal Ripken
,
Joe Dimaggio
,
Brian Duensing
,
Glen Perkins
,
Roger Clemens
,
Nick Blackburn
,
Mariano Rivera
,
Tyler Robertson
,
Anthony Swarzak
,
Nolan Ryan
,
Cole Devries
TEAMS:
Minnesota Twins
,
New York Yankees
,
Texas Rangers
MINNEAPOLIS Earlier this season, we asked the Minnesota Twins hitters which of baseball's records they felt were the most unbreakable. The two clear-cut answers were Cal Ripken, Jr.'s consecutive games streak of 2,632 and Joe DiMaggio's 56-game hitting streak.This time around, Minnesota's pitchers were polled on which pitching record they believe will be the toughest to break. There was no overwhelming favorite as with Ripken and DiMaggio's streaks, but Cy Young's 511 career wins received the most votes. A look at what Minnesota's pitchers had to say about some of baseball's most impressive pitching records:LHP Brian Duensing: Walter Johnson's 110 shutouts"To actually have that many shutouts, it's ridiculous. It's so incredibly hard nowadays with all the video and stats and all the stuff that both hitters and pitchers are able to get their hands on. To be able to throw a shutout is hard. That's one thing that's going to be really hard to do. You've got so many specified roles in the bullpen also where if it's a close game and the starter's got 90 pitches thrown in the sixth or seventh (inning), it's tough to talk a manager nowadays into keeping you out there to throw 115, 120 pitches."LHP Glen Perkins: Cy Young's 511 wins"It's obviously Cy Young, with the wins. I'll argue against wins all day, but what did he have, 511? That's never going to happen. How many games a year did he start? He probably started 50 games a year, and they pitched the whole game. If you win 20 games a year for 20 years, you're not going to get there. You're still going to be five years away. And no one's going to win 20 games a year for 20 years. I think those guys, (Greg) Maddux and Roger Clemens that got to 350, it's going to get even harder to get to 300 the way things are trending now. That's really the only one for me as far as pitchers go. To me, (Johnny Vander Meer's consecutive no-hitters) isn't really a record. But as far as something that a guy can accomplish in a career, I think that's the records that you look at. Records I think are something that happens throughout a guy's career or a single season. I don't see anyone even getting close to (Cy Young's record) ever."RHP Cole De Vries: Cy Young's 511 wins "I think it has to be Cy Young's 511 wins. I don't know how anyone today is going to break that. Back then, what did they throw, every third day? They threw way more innings. They didn't have any pitch counts or know anything about that. I just don't see it. Even today, it's a pretty big accomplishment in anyone's career just to get 500 starts, let alone 500 wins. That one has to be the one that sticks out."RHP Nick Blackburn: Mariano Rivera's 603 career saves "I feel like save records will always be a little bit tougher just because a lot of it depends on the team. The team puts you in position to have enough opportunities to get a save. A good closer is always going to find a winning team." LHP Tyler Robertson: Jesse Orosco's 1,251 games pitched and Orel Hersheiser's 59 consecutive scoreless innings"I can think of two off the top of my head. The games pitched by Jesse Orosco, that one, that's a lot. And the scoreless innings streak will probably never get broken either. A lot of things have to go right for that to happen. (Mets pitcher R.A.) Dickey was absolutely dealing when he had his, and he was still like 20 innings short. Orosco threw in so many and played for so long. For you to be able to do that, you have to be called up (early). I don't know how old he was when he made his debut, but I'm guessing around 20 and he pitched for 20 years. Just the longevity of that."RHP Anthony Swarzak: Cy Young's 511 wins "I think obviously Cy Young's all-time wins (record) is going to be real hard to beat. I think Nolan Ryan's seven no-hitters, I think that'll be pretty hard to beat as well. I don't think anybody will come close to that. You're not getting as many starts now. Back then, (Young) was probably pitching every two or three days and pitching whenever he could, just getting more starts and more opportunities to win games. I feel like nowadays, you're not going to get as many opportunities to win. You're lucky to win 300, let alone 500."RHP Jeff Manship: Tim Keefe's season ERA of 0.86 "I'm going to say probably the ERA record. I think that's one that's going to stand for a while. I think one through nine, the hitters, it's very tough now. People are better prepared, too. I think that's one of the bigger things is everybody knows what you're going to throw and they have all this data that breaks down which pitch you're likely going to throw in a certain count. I think it's a lot harder for a pitcher to be successful like that every single game. If you have a sub-1.00 ERA, you're almost flawless. It's tough to be flawless. Shoot, more power to those guys back in the day that they were able to do that."Follow Tyler Mason on Twitter.
Original Story:
http://www.foxsportsnorth.com/08/11/1...
THE BACKYARD
BEST OF MAXIM
RELATED ARTICLES
The Minnesota Twins' hitters have been incredible since the All-Star break as they lead the Majors with a .285 batting average.  The Twins are also a much improved 13-13 since the All-Star break.   How good have the Twins' hitters been?  How about four guys who have played in just about every game since the All-Star break are hitting over .300.  Ben...
MINNEAPOLIS A lot went through Twins shortstop Brian Dozier's mind as he fielded a slow roller off the bat of Rays third baseman Jeff Keppinger in the 10th inning Sunday. With the bases loaded and one out, Dozier had options -- and a choice to make. He could have tried for the force out at home for the second out with speedy Desmond Jennings at third. He could have tried to...
Minnesota Twins center fielder Denard Span has left Sunday's game against the Tampa Bay Rays in the top of the seventh inning because of right shoulder pain. The Twins say he will have a precautionary X-ray. Span made a diving attempt at Jeff Keppinger's line drive with two outs in the top of the sixth inning, driving his shoulder into the ground after missing the ball...
MINNEAPOLIS After facing just three batters Saturday night, it appeared highly unlikely that Twins starter Nick Blackburn would pitch deep into the game against Tampa Bay.But unlike starter Cole De Vries the night before, Blackburn was able to make adjustments after his three-run first inning. The Twins right-hander settled down and pitched into the seventh inning. He exited the...
MINNEAPOLIS Tsuyoshi Nishioka surely hoped he would make a better return to Target Field than this. But Minnesota's infielder will make his season debut in the Twins' home park after what was a series to forget in Cleveland.Nishioka was charged with three errors and had several other miscues in the field during Minnesota's three-game series against the Indians. He also...
James Shields might not be having the stellar season his Tampa Bay teammate David Price is enjoying, but the right-hander has pitched like an All-Star of late. After Price became the majors' third 15-game winner, Shields goes for a third consecutive winning start Sunday when the visiting Rays try to match a season high with a sixth straight victory and complete a sweep of the...
The Twins hope they're close to regaining the services of third baseman Trevor Plouffe, who was sent out on a rehab assignment with Class AAA Rochester after the team's 12-6 loss to Tampa Bay on Friday.Plouffe hasn't played since suffering nerve damage in his thumb while batting in a 2-1 victory at Kansas City on July 20. "The last couple days, we've been...
Wow. Late links. Sorry. If you want to do some NBA style shopping…. Subway is contributing to the obesity problem in Buffalo. Why has Scott Diamond been a success? SCOREBOARD MLB (Saturday) Oakland 9, Chicago 7 – Again. Playoff preview. Tampa Bay 4, Minnesota 2 – Crap. (Sunday) Chicago 7, Oakland 3 – I'm having a tough time finding something to say about this game Tampa...
MLB News

Delivered to your inbox

You'll also receive Yardbarker's daily Top 10, featuring the best sports stories from around the web. Customize your newsletter to get articles on your favorite sports and teams. And the best part? It's free!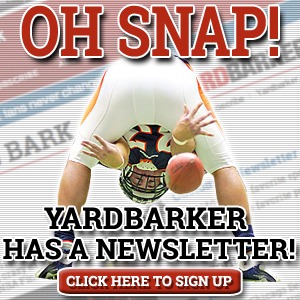 Latest Rumors
The Backyard

Today's Best Stuff

For Bloggers

Join the Yardbarker Network for more promotion, traffic, and money.

Company Info

Help

What is Yardbarker?

Yardbarker is the largest network of sports blogs and pro athlete blogs on the web. This site is the hub of the Yardbarker Network, where our editors and algorithms curate the best sports content from our network and beyond.