Found September 30, 2012 on SF Giants Nirvana:
PLAYERS:
Tim Lincecum
,
Everth Cabrera
,
Logan Forsythe
,
Yasmani Grandal
,
Hector Sanchez
,
Barry Zito
,
Bruce Bochy
,
Joaquin Arias
,
Gregor Blanco
,
Ryan Theriot
,
Xavier Nady
,
Francisco Peguero
,
Hunter Pence
,
Sergio Romo
TEAMS:
San Francisco Giants
,
San Diego Padres
Greetings from the Petco Park press box, where hahahahahahaha I can't believe the Giants actually won that game. Okay, sorry, I'll pull myself together — I just watched the Giants wrap up their 159th game of the season. They pulled off a pretty spectacular comeback win, but Tim Lincecum pitched poorly (more on that later); and this was my last chance to see the 2012 Giants in action, as I won't be able to make it to any postseason games. So, ultimately, it was a bittersweet day.
This game was, in a word, eventful. Let's start with Lincecum, the latest concern as the Giants look ahead to the playoffs. He's sort of pitched better in the second half, with 3.93 runs allowed per nine innings since the all-star break — compared to a first-half RA/9 figure of 6.70. Except, he sort of hasn't. (And, really, how hard was it to improve upon those dreadful first-half numbers anyway?)
Lincecum got off to a promising start today, with a 1-2-3 first inning. He followed that up with a scoreless second inning. Okay, so now we're rolling. In the third, he walked Everth Cabrera, who proceeded to steal second and third. And then the Padres started to do their damage: Logan Forsythe homered on the eighth pitch of his at-bat to put two runs on the board. It wasn't a good pitch, but it wasn't exactly a meatball. It was on the innermost part of the top of the strike zone, and really, it was pretty impressive that Forsythe was able to get around on it.
But Lincecum wasn't done there. In the fourth, he served up a leadoff homer to Yasmani Grandal, on a pitch placed squarely over the middle of the plate. In the fifth, he walked Everth Cabrera, who again proceeded to steal second and third, only this time he came around to score on an overthrow to third from Hector Sanchez. And in the sixth, once again, Lincecum served up a leadoff homer on a pitch right down the middle.
Lincecum finished his day with the following line: six innings, four hits, four strikeouts, two walks, and a whopping three homers allowed (at Petco Park, no less!). I guess those two walks were somewhat of a silver lining, and hey, he drew a couple walks himself. But it's pretty hard to feel confident about Lincecum starting a postseason game at this point. According to Andrew Baggarly, it would have taken a "truly bad" showing from Lincecum for him to forfeit his spot in the playoff rotation. I'm guessing that today's outing, bad as it was, didn't do the job. And, like it or not, the Giants have no better options. The Reds have mashed against left-handed pitching to the tune of a 106 wRC+, the third-best mark in the majors. Suffice it to say, a Barry Zito start against that lineup would probably not end well. (And while we're on the topic, I'm not sure what value Zito is going to have as a reliever.)
Given the uncertainty surrounding the Giants' starters, and Bruce Bochy's own managerial tendencies, it's odd to see that the Giants are leaning toward putting 11 pitchers (instead of 12) on the postseason roster. Bochy loves to mix and match with his bullpen, and unsurprisingly, Giants relievers have the lowest average innings pitched per appearance of any 'pen in the majors. In fact, no team is particularly close. Coming into today, that mark stood at 0.86, with the next lowest being the Mets bullpen's mark of 0.91. Given his style, I'm guessing he'd have more use for an extra arm than a designated pinch runner. Plus, as @SFBleacherGirl points out on Twitter, the Giants could play as many as three games in Cincinnati's homer-happy home park; in other words, pitching will come at a premium.
Anyway, back to today's game. The Giants got thrown out at home twice in the same inning. Hector Sanchez, as noted earlier, threw the ball over Joaquin Arias' head in an attempt to gun down Everth Cabrera, which allowed him to score. Gregor Blanco struck out with the bases loaded. Ryan Theriot was caught stealing second to end the third inning. There was just a lot of sloppy baseball played by the Giants in general.
Yet they entered the ninth inning with just a one-run deficit, and against one of the toughest closers in the majors, they miraculously mounted a comeback. The sequence: Xavier Nady solo homer, Francisco Peguero single, Hunter Pence two-run homer. Sergio Romo came in, closed the door, and that was that — a 7-5 Giants win, salvaged rather miraculously. The Giants have now won 93 games, their most since 2003.
Original Story:
http://feedproxy.google.com/~r/Splash...
THE BACKYARD
BEST OF MAXIM
RELATED ARTICLES
by Hannah Miller, special to 22gigantes.com It might be a bit hard to think that a two-time Cy Young Award winner still in his 20s might not be an integral part of a team's playoff push. However, Tim Lincecum has had an overall rough 2012 campaign. In fact, during the first half of the season, he was one of the worst starting pitchers in all of baseball. Even though he has turned...
Looks like Tim Lincecum is in the San Francisco Giants' playoff rotation. So says Timmy himself. The two-time Cy Young Award winner delivered the news in his postgame Q&A with reporters on Sunday after the Giants beat the Padres 7-5. Lincecum gave up three homers and didn't look sharp, but he looked sharper than in his previous start. And that apparently was enough...
Tonight starts the San Francisco Giants final series of the 2012 regular season. The good thing is it's against the rival Dodgers (should make these games exciting) in Los Angeles, and the even better thing is the Giants can officially knock the Dodgers out of the Wild Card race with a win tonight! Tim Lincecum has come off back-to-back shaky outings, but says he's been told...
It was not the best season for San Fransisco Giants pitcher Time Lincecum but the two time Cy Young award winner will be a part of the rotation when the playoffs begin. Lincecum was better after the all-star break compiling a 7-5 record to go with a 3.83 ERA and a .243 batting average against. "He's tough mentally," manager Bruce Bochy said. "He finds a way." The San Jose...
Before this season began, I pegged the Giants to win anywhere from 88 to 90 wins in 2012. Despite Buster Posey back and the starting five looking dominant as ever, I thought they would still struggle to compete with the Arizona Diamondbacks for the top spot in the NL West. Boy, things are looking a little different. The Giants have three games left this season – all agaisnt the...
Buster Posey may have lost his voice, but he won't lose playing time.  The San Francisco Giants catcher was hit in the throat by a pitch that battery-mate Ryan Vogelsong bounced in the dirt last night. Posey remained in the game and says he will play today. The incident happened in the second inning of last night's game against the San Diego Padres and was a scary...
Others have begun to discuss Buster Posey and his case for the 2012 National League MVP award, and as should surprise nobody (especially since I've mentioned this before), I'm also on the "Posey for MVP" bandwagon. The competition for NL MVP is rather tight, with several players standing out as strong candidates. The contenders can reasonably be cut down to the following...
It's hazing time, rookies. Days after the Rays dressed their rookies like women -- and forced them to sing "Call Me, Maybe" -- the Giants forced their rookies to dress up in spandex suits for their last road trip of the season. More #SFGiants Rookies.San Diego, here we come twitter.com/SFGiants/statu… — San Francisco Giants (@SFGiants) September 27, 2012 Needless...
Over at Bay Area Sports Guy I wrote up a post comparing the 2010 and 2012 teams. I was pretty surprised that the 2010 team came out ahead but maybe I shouldn't have been with the superior pitching. Here is the conclusion. Check out the full post for the whole thing. Cumulative Fangraphs Numbers2010 Giants hitting (fWAR): 32.52010 Giants pitching (fWAR): 18.42010...
Pinch hitter Xavier Nady homered off Huston Street to tie the game with one out in the ninth and Hunter Spence hit a go-ahead, two-run shot as the San Francisco Giants rallied to beat the San Diego Padres 7-5 Sunday. The stunning rally got Tim Lincecum off the hook for the loss, but the righty still had his second straight shaky start for the NL West champion Giants. Lincecum allowed...
SAN DIEGO -- Xavier Nady, who has struggled all season, first with the Washington Nationals, then with the San Francisco Giants, slugged a pinch-hit home run to tie the game in the ninth inning and Hunter Pence followed with a two-run shot as the Giants rallied from three runs down after seven innings to beat the San Diego Padres 7-5 Sunday afternoon. The Giants, who scored two...
Chase Headley hit his 30th home run and had three RBIs to tie Ryan Braun for the NL lead with 112 and the San Diego Padres beat Buster Posey and the NL West champion San Francisco Giants 7-3 on Saturday night. Posey, who started at catcher a night after being hit in the throat with a wild pitch, went 2 for 2 with a to raise his average to .337 and increase his lead in the NL batting...
MLB News

Delivered to your inbox

You'll also receive Yardbarker's daily Top 10, featuring the best sports stories from around the web. Customize your newsletter to get articles on your favorite sports and teams. And the best part? It's free!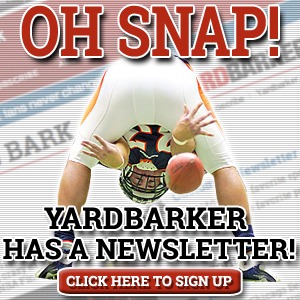 Latest Rumors
The Backyard

Today's Best Stuff

For Bloggers

Join the Yardbarker Network for more promotion, traffic, and money.

Company Info

Help

What is Yardbarker?

Yardbarker is the largest network of sports blogs and pro athlete blogs on the web. This site is the hub of the Yardbarker Network, where our editors and algorithms curate the best sports content from our network and beyond.