Found September 01, 2012 on dodgerfan.net:
So as I was listening to the first part of the game tonight, I heard Vin mention that Chad Billingsley is having a form of Platelet Rich Plasma (PRP) therapy to help his ailing elbow.  I happen to know a little about PRP, as I'm set to undergo the procedure myself in just under two weeks.  Important note: I am NOT a doctor…this is a layman's assessment of PRP for the purposes of this blog post and nothing more.
For me, I have a degenerative tendon in my knee that just isn't healing through traditional physical therapy.  I also love to run, and being in my early 40s and not able to do so just isn't an option that I want to consider right now.  Fortunately my sports medicine doctor (who also happens to be a team physician for the Seattle Mariners) knows the PRP procedure, and we decided it was something to consider after much discussion.
Here's what it is (per the info I've received from my doctor's office): "PRP is an emerging treatment in a new health sector called 'Orthobiotics.' The philosophy is to merge cutting edge technology with the body's natural ability to heal itself.  Blood is made of RBC (Red Blood Cells), WBC (White Blood Cells), Plasma and Platelets.  Platelets were initially known to be responsible for blood clotting.  In the last 20 years, we have learned that when activated in the body, platelets release healing proteins called growth factors.  There are many growth factors with varying responsibilities, however cumulatively they accelerate tissue and wound healing."  With PRP, blood is drawn from the patient, "spun" until it's rich in the good healing platelets, and then those platelets are injected back into the patient's ailing part (in my case, my tendon).
Interestingly, PRP was initially used over 20 years ago in the dental field to enhance wound healing in cancer patients with jaw reconstruction.  Soon afterwards its applications extended across many fields of medicine from cardiovascular surgery to orthopedics.
It's not a treatment that works 100% of the time (and it apparently hurts a lot), but it doesn't take a lot of time, has a relatively quick recovery period when compared with surgery and is popular with many pro athletes.  In addition to Bills, I read today that David Ortiz is having a version of this treatment done.  Other athletes that are reported to have had similar treatments include Kobe Bryant, Rafael Nadal, Hines Ward, Alex Rodriguez and Tiger Woods, among others.  Jonah Lehrer at Grantland and Elizabeth Lopatto at BusinessWeek both wrote great overviews of PRP that I highly recommend.
Anyway, this is probably more information on PRP than you really wanted, but given Billingsley's treatment and the popularity of it among pro athletes, I suspect it's something we're going to be hearing a lot about in the years to come.
Oh, and I'll also keep you posted on my experiences with PRP in the coming weeks…it should be interesting!
Original Story:
http://dodgerfan.net/a-primer-on-plat...
THE BACKYARD
BEST OF MAXIM
RELATED ARTICLES
The Los Angeles Dodgers have clearly demonstrated that this is a new day, and that they have absolutely no qualms about going out and making trades that they feel will bolster their team's chances to reach the postseason and advance in the 2012 MLB Playoffs. Already having acquired Hanley Ramirez, Adrian Gonzalez, Shane Victorino, Josh Beckett and countless others...
Los Angeles Dodgers starting pitcher, Chad Billingsley, was abruptly sent to the 15 day DL last Saturday, August 25th due to inflammation in his pitching elbow. The big news surrounding Billingsley came out in a report last night from the Los Angeles Times concerning Dodgers CEO Stan Kasten and his unease over Billingsley's return this season. However, the report did indicate...
Chad Billingsley has arguably been the Los Angeles Dodgers' best pitcher since the All-Star break, but the club could be without him for the rest of the season, if not longer. The right-hander received an injection of platelet-rich plasma in his right elbow on Thursday. The move was an attempt to see if Billingsley can pitch again this season. An initial MRI showed enough...
The Dodgers are not sure whether Chad Billingsley will pitch again in 2012, and in effort to increase his chances of pitching this season he had a platelet-rich plasma injection in his injured right elbow Thursday, MLB.com reported. The Dodgers have not specified the nature of Billingsley's injury, calling it "inflammation." Dodgers CEO Stan Kasten hinted the problem...
The Dodgers are concerned that the injured Chad Billingsley might not return this season, apparently explaining why the team remains in search of starting pitching even after acquiring Josh Beckett last week. Stan Kasten, the Dodgers' president and chief executive officer, said Thursday night that he fears Billingsley is done for the year. Kasten spoke at a fan discussion...
MLB News

Delivered to your inbox

You'll also receive Yardbarker's daily Top 10, featuring the best sports stories from around the web. Customize your newsletter to get articles on your favorite sports and teams. And the best part? It's free!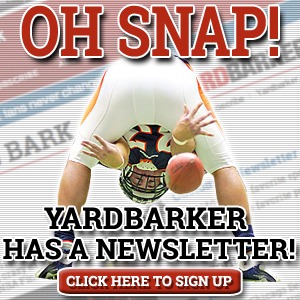 Latest Rumors
The Backyard

Today's Best Stuff

For Bloggers

Join the Yardbarker Network for more promotion, traffic, and money.

Company Info

Help

What is Yardbarker?

Yardbarker is the largest network of sports blogs and pro athlete blogs on the web. This site is the hub of the Yardbarker Network, where our editors and algorithms curate the best sports content from our network and beyond.