Found April 10, 2013 on Fox Sports Midwest:
ST. LOUIS Matt Adams watched from the top step as Bronson Arroyo wound up, kicked high and threw one perplexing pitch after another. For five innings, the Cincinnati Reds starter had been untouchable. No, perfect. Fifteen Cardinals walked to the plate. Fifteen returned empty-handed. "I just watched from the dugout the whole game," the Cardinals pinch-hitter would say later. "He was throwing off speed the majority of the time." The observation was important. After Daniel Descalso spoiled Arroyo's perfect game with a leadoff double to start the sixth inning, Adams who made his first plate appearance of the evening when he entered the lineup for starting pitcher Lance Lynn hammered an Arroyo curveball 403 feet into the Cardinals' bullpen. The two-run blast was the momentum shift the Cardinals needed to roll to a 5-1 victory over the Reds on Tuesday evening at Busch Stadium. But it was more than just that. Adams' bomb was proof the 24-year-old has transferred the power he showed in spring training over to this young season, a sign his inexperience won't keep him from finding success in one of baseball's most-challenging roles. "My hat is off to him," Cardinals manager Mike Matheny said after the game. "He's never been in this situation before. He's done a nice job." "Big City?" David Freese asked when asked about Adams. "Well, he's a big boy that can rake. We had been searching for a nickname for him for a while. At Spring Training, somebody yelled, 'Big City'. I guess it fit. Because the guy can flat-out hit." And having that kind of power in a pinch-hitter? "It's huge," Freese said. "Not only to have a guy that can come in and compete and succeed. But somebody with so few at bats in the big leagues. Pinch hitting is one of the toughest things to do, offensively. It looked easy for him tonight. He was facing a really good pitcher, got a pitch to hit, and did what he need to do with it." What he did was make his third career home run the first pinch-hit home run the Cardinals have had since Lance Berkman did it in May 2012. What he did was create an expectation that pinch-hit home runs might come a little more often now. "I don't know about necessarily having home runs the rest of the time I'm a pinch-hitter," Adams said. "Just making sure I'm able to get a pitch and able to get the job done is what helps the team not me hitting home runs." He's right. But the home run he hit Tuesday night certainly seemed well-received. You can follow Ben on Twitter @Ben_Fred or email him at Frederickson.Ben@gmail.com
Original Story:
http://www.foxsportsmidwest.com/mlb/s...
THE BACKYARD
BEST OF MAXIM
RELATED ARTICLES
St. Louis Sports Co is pleased to announce that St. Louis Cardinals pitcher Joe Kelly will be signing autographs in the store this Thursday, April 11 from 6:30 p.m. until 8:00 p.m. $20 autograph tickets are on sale exclusively from St. Louis Sports Co – conveniently located two doors down from Cheesecake Factory in the Chesterfield Mall. Bring in your own item to be signed or...
On Tuesday, Dayn Perry over at CBS Sports published a list of the top 10 hitters and the top 10 pitchers for the 2013 MLB season. And two Reds deservedly were included in the rankings. Joey Votto took the No. 3 spot among hitters, while Johnny Cueto finally received some respect from a national columnist by coming at No. 6 among pitchers. An important note to remember about...
St. Louis Cardinals' starter Jake Westbrook was magnificent on the hill while shutting out the talented and explosive Cincinnati Reds offense in the Cardinals' 10-0. Westbrook went the distance and dispatched the Reds with ease, giving the Cardinals the series victory and the team's bullpen a much needed extra day off. It was the second gutsy performance in two tries...
ST. LOUIS When Mike Matheny pulled Jaime Garcia, the Cardinals manager knew the starting pitcher had done enough to earn a win. "He did a nice job taking us deep," Matheny said. "That's where we wanted to be." Garcia had gone 6 23 innings. He had notched a career-high 10 strikeouts, and surrendered just three runs. The Cardinals led by one, and the team...
Louisville lost 7-2. Box Score Billy Hamilton went 4-5 with 2 RBI and 3 steals (6). Mike Hessman went 0-3 with 2 walks. Denis Phipps went 0-2 with 3 walks. Konrad Schmidt went 0-3 with 2 walks and a run. Ray Chang went 2-4 with a double and a run. Nick Christiani threw 2.1 shutout innings with 3 strikeouts. Clay Hensley threw a perfect inning with a strikeout. Kevin Whelan threw...
Stats from April 9th vs Reds - Matt Adams hit the Cardinals 1st pinch homerun of the season they had just one pinch homer in 279 plate appearances last season - the Adams homerun was the 1st by a Cardinal since the 7th inning of game 3 in Arizona last week they went 41 consecutive innings without a homer - Lance Lynn fanned 10 batters Tuesday night his 4th career 10 strikeout...
Louisville won 4-0. Box Score Henry Rodriguez went 3-4 with 2 RBI. Felix Perez went 1-4 with a run. Mike Hessman went 1-4 with a 2-run HR (5). Corky Miller went 1-4 with a double. Tony Cingrani threw 6.1 shutout innings with a walk and 7 strikeouts. Justin Freeman threw 1.2 shutout innings with a walk and 2 strikeouts. Clay Hensley threw a shutout inning of relief. Game Notes The...
Jake Westbrook for Cy Young.  Ok. Enough Cardinals talk. Because in comparison to what's going on with the Cubs, well... let's just go to the news: ITEM 1: Cubs prospect attacks visiting dugout with a bat! Oh, the Cubs. At least it's not like this guy is signed for 9 years or 30 million dollars and is a top prospect, right? Ooof. Considering how many...
I went through the Cincinnati Reds Media Guide and compiled a list of everyone that the Reds signed last year during the international signing period, including guys who signed this year and were listed. I also added Jacob Constante to the list, who must have missed the deadline for the Media Guide as he signed in late January. The list has 26 players on it. Twenty of the signees...
The MLB does not generally allow commemorative baseballs, but have made an exception for Stan Musial and the St. Louis Cardinals.
ST. LOUIS (AP) -- Jake Westbrook pitched a five-hit shutout and the St. Louis Cardinals backed him with four home runs Wednesday in routing the Cincinnati Reds 10-0. Jon Jay, Carlos Beltran and Matt Adams homered in a span of seven at-bats off Homer Bailey as the Cardinals took two of three from the NL Central champions. Matt Carpenter added a two-run homer on a four-hit day. Adams...
St. Louis Cardinals starter Lance Lynn is much skinnier this year, but he still carries with him a heavy, mid-nineties fastball. Lynn dished out a heavy dosage of those fastballs on Tuesday night, striking out 10 Reds' hitters in six innings to pick up the victory in the Cardinals 5-1 win over Cincinnati. Lynn was excellent on Tuesday night. He pounded the strike zone with...
MLB News

Delivered to your inbox

You'll also receive Yardbarker's daily Top 10, featuring the best sports stories from around the web. Customize your newsletter to get articles on your favorite sports and teams. And the best part? It's free!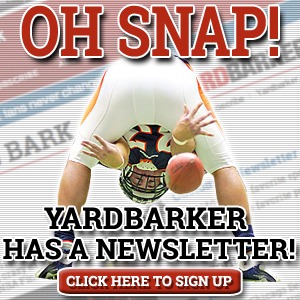 Latest Rumors
The Backyard

Today's Best Stuff

For Bloggers

Join the Yardbarker Network for more promotion, traffic, and money.

Company Info

Help

What is Yardbarker?

Yardbarker is the largest network of sports blogs and pro athlete blogs on the web. This site is the hub of the Yardbarker Network, where our editors and algorithms curate the best sports content from our network and beyond.