Found July 01, 2012 on hardballchat.com:
PLAYERS:
Cole Hamels
,
Zack Greinke
,
Jim Thome
,
Adrian Beltre
,
Josh Hamilton
,
Jon Daniels
,
Yu Darvish
,
Matt Harrison
TEAMS:
Philadelphia Phillies
,
Texas Rangers
,
Milwaukee Brewers
,
San Francisco Giants
,
St. Louis Cardinals
The Texas Rangers became the first team in the majors to reach 50 wins last night. The Rangers have been an offensive juggernaut this season on the diamond, scoring with proficiency as evidenced by the +102 scoring differential, the best in the majors. Leading in virtually every offensive category, the Rangers also possess the best home record in the majors at 27-14.
The Rangers are first in runs scored (426), first in team batting average (.284), first in on base percentage (.346) and first in slugging percentage (.461). In their 50 wins, Texas has scored seven or more runs, 23 times. Very impressive. You would think that the Rangers would be content to cruise into post season play with the current roster of two starting pitchers with at least 10 wins nearing the All-Star break and an offense which seemingly can score at will. Not so fast.
Although advancing to the World Series in each of the last two seasons, the Texas Rangers have no championship to show for their efforts. Texas was outed by the San Francisco Giants in five games in 2010 and by the St. Louis Cardinals in six games last season. It appears that the Rangers might be willing to double down and put their foot on the gas in order to finally bring home a championship this season.
According to Fox Sports, the Rangers are currently scouting both SP Zack Greinke of the Milwaukee Brewers and Philadelphia Phillies starter, Cole Hamels. The Fox Sports report reveals that the Rangers were scouting Brewers pitcher Greinke last Wednesday night during his start. Both Greinke and Hamels are in the last year of their contract. The Brewers might try to reach a deal with Greinke prior to the end of the trade deadline but the recent trade of Jim Thome by the Philadelphia Phillies, might suggest they are in fire sale mode at 10 games out of first place.
The perceived sticking point in a trade for Hamels from the Phillies is that Philadelphia is likely going to want Texas' top prospect at third base in return. Philadelphia is going to need a replacement at third next season and could very well be eying Rangers prospect, Mike Olt. Olt appears ready for the majors, but is currently blocked by the strong play of 33-year old Adrian Beltre. Beltre has shown no signs of slowing down this season and can likely post season ending numbers which will rival his 2011 season with the Rangers (32/105/.296).Beltre is currently signed through the 2016 season. Olt is stuck in the minors and is currently 24.
Also what needs to be factored into the discussions about what the Rangers plan to do before the trade deadline is the future of OF Josh Hamilton. Hamilton will be a free agent after this season and while he has injury issues and a cloudy past, he is on pace for 51 home runs and 150 RBIs this season. Regardless of his past, he is going to command a monster contract next season and some team will be willing to take the risk if he posts those numbers. The Rangers could be unable to retain him after this season and those kind of production numbers will be difficult to replace.
Jon Paul Morosi of Fox Sports reports that he has heard Texas Rangers G.M. Jon Daniels "is not messing around" as we head towards the July 31st trade deadline.
I would suggest that the Rangers pull out all the stops in order to acquire Hamels. 3B Mike Olt is a prospect. Yes, you like to have deep farm systems, but the opportunity to win a World Series does not present it self all the time. Trade Olt and rent Hamels for the remainder of this year. Hamels is 10-4 with a 3.08 ERA this season. He has 12 quality starts in 16 games started and has recorded a strike per inning pitched this year.
The offensive production of the Texas Rangers coupled with a three man pitching rotation of Yu Darvish, Matt Harrison and Cole Hamels all capable of posting a 20-win season this year, makes the Rangers the clear cut favorite to win the 2012 World Series.
Original Story:
http://www.hardballchat.com/2012/07/a...
THE BACKYARD
BEST OF MAXIM
RELATED ARTICLES
The Philadelphia Phillies, considered a contender when the season began, have been making inquiries with teams about the possibility of trading pitcher Cole Hamels, CBSSports.com reported Sunday. Hamels is 10-4 with a 3.08 ERA, but he is a free agent after this season. The Phillies, who are struggling through an injury-plagued season, are testing whether there is any interest...
Trading Cole Hamels for the Phillies may come down to deciding whether to part ways on his terms or theirs. It's not a popular opinion, but it is the bottom line. The Philadelphia Phillies trading Cole Hamels may be a necessary evil. I've said all along that there is value in a 28 year old left hander with his best days ahead of him. I just didn't think that value would...
Mike Stanton played a part in all of the Marlins runs today. He looks like he'll be a terror for Phillies fans for years to come. (AP) The month of June has not been very friendly to the Phillies, and it would be more of the same today as they lost a second straight game to the Marlins 3-2. COLE GOES FISHING - So far this season, the Miami Marlins have owned Cole...
Cole Hamels is available from the Philadelphia Phillies as a big-ticket item.  Will some organization be willing to overpay for a rental or make long-term commitment? TAL'S HANDY CAPS   WELCOME, NEWCOMERS: I will publish after every battle that is not washed out.  I will have many season-long highlights of puzzle pieces, especially important after drubbings and defeats.  If...
The Philadelphia Phillies will send 3 players to Kansas City for the All Star Game. Pitchers Cole Hamels and Jonathan Papelbon were both selected. Most importantly, catcher Carlos Ruiz, who leads the majors in hitting and has been the Phillies MVP this year, was also selected by manager Tony LaRussa. Phillies'ace Roy Halladay threw a bullpen session this week that went very well...
The 2012 Pirates are not unlike the 2008 Brewers, trying to end a long drought, trying to win over a skeptical city. What did those Brewers do? They traded for left-hander CC Sabathia and reached the postseason for the first time since 1982. What should these Pirates do? Make like the Brew Crew, pull off a franchise-altering move and trade for either Brewers right-hander Zack Greinke...
Well last night wasn't the start we were looking for. Cliff Lee was lit up for six earned and the Phils only produced two runs themselves. It wasn't a good game at all, and for Cliff Lee it hasn't been a good season at all. The Marlins now hold a 4-3 record against the Phillies this year, as well as sitting 2 1/2 games ahead of them in the divison standings. This afternoon...
Clearly, one deep-in-the-game arm is Cole Hamels of the Philadelphia Phillies.  How does Miami compare after their ace has worked?  The Apocalyptic Horsemen Stats are in my daily coverage. TAL'S HANDY STATS   WELCOME, NEWCOMERS: I am alternating a game-day 2012 ERA For The NL East and a 2012 ERA For The MLB 5. See link section below. In each publication, the number after the...
The Miami Marlins have had little success this month, except when they've faced the Philadelphia Phillies. Hoping to beat Cole Hamels for a third straight time this season, the Marlins look for a fourth consecutive win over the visiting Phillies on Saturday. Josh Johnson threw six strong innings and outfielder Justin Ruggiano had three hits and two RBIs as Miami (36-40) beat...
Reports came out today that Ruben Amaro has made some phone calls regarding Cole Hamels.  Amaro said yesterday he was not ready to do a "fire sale", but he has asked around to see the interest surrounding Hamels. Buster Olney, ESPN MLB Analyst, has reported that the Phillies would be looking for 4-5 prospects, some of them being top A+ prospects.  Whether the Phillies...
1. Cole Hamels (Philadelphia Phillies, 100% owned) 2. Justin Verlander (Detroit Tigers, 100% owned) 3. Clayton Kershaw (Los Angeles Dodgers, 100% owned) 4. Zack Greinke (Milwaukee Brewers, 100% owned) 5. Felix Hernandez (Seattle Mariners, 100% owned) 6. David Price (Tampa Bay Rays, 100% owned) 7. Matt Cain (San Francisco Giants, 100% owned) 8. Stephen Strasburg (Washington...
MLB News

Delivered to your inbox

You'll also receive Yardbarker's daily Top 10, featuring the best sports stories from around the web. Customize your newsletter to get articles on your favorite sports and teams. And the best part? It's free!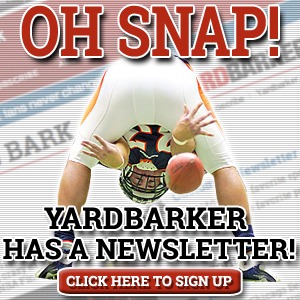 Latest Rumors
The Backyard

Today's Best Stuff

For Bloggers

Join the Yardbarker Network for more promotion, traffic, and money.

Company Info

Help

What is Yardbarker?

Yardbarker is the largest network of sports blogs and pro athlete blogs on the web. This site is the hub of the Yardbarker Network, where our editors and algorithms curate the best sports content from our network and beyond.