Via Hardball Chat:
Boston Red Sox first baseman Adrian Gonzalez is frustrated. He isn't hitting as well as anyone expected, and the Red Sox continue to dwell in the cellar of the American League East. After going 0-for-4 in another tough division loss for the Sox against the Tampa Bay Rays last night, Gonzalez voiced his frustration about his struggles this season.
"I do have a question," Gonzalez said after the game. "How are you supposed to have a professional at-bat with these umpires nowadays? Gosh. The first pitch in my last at-bat wasn't even close. You're up there, trying to have a professional at-bat and look for a pitch to hit and that's called?
"So it puts you in swing mode, the guy throws a good split and all of a sudden you're 0-2. It should have been 1-0 and then he probably doesn't throw a split. Unbelievable.
"In that at-bat I went up there looking for a fastball middle away. I got a fastball way away. You can't swing if it's not a strike. You're looking for a pitch middle away, and it's away and you know you can't swing because it's off and you're 0-1."
Batting just .279 with only 2 home runs, Gonzalez is starting to press. In fact, his 31 strikeouts this season are second only to Cody Ross on the Red Sox this season. Now, it appears as if his struggles are beginning to get to him on another level.
Gonzalez is not generally a complainer. He is quiet after most games, and has nothing to say about anyone else in terms of opponents or umpires or fans or anyone else, at least in a negative fashion. But every man has his boiling point. Gonzalez may very well be approaching his as of late.
After ripping the umpires, Gonzalez did something that he may have regretted in the heat of the moment. When asked if he is upset and struggling because he has hit just two home runs this season, Gonzalez replied with the following.
"No. I'll start hitting home runs. I'll hit a homer tomorrow."
For those keeping track, Boston plays one more game against Tampa Bay Thursday night, with the first pitch scheduled for 7:10 PM. Gonzalez will get a chance to prove good on his guarantee against Rays phenom Matt Moore. The last time Gonzalez faced Moore, he went 1 for 4 with a single on April 15 of this season.
Also from Hardball Chat:
Major injuries are beginning to affect MLB teams

A Look at the Anti-2012 MLB All-Star Teams
MORE FROM YARDBARKER
MLB News

Delivered to your inbox

You'll also receive Yardbarker's daily Top 10, featuring the best sports stories from around the web. Customize your newsletter to get articles on your favorite sports and teams. And the best part? It's free!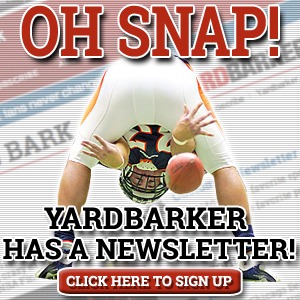 Latest Rumors
Best of Yardbarker

Today's Best Stuff

For Bloggers

Join the Yardbarker Network for more promotion, traffic, and money.

Company Info

Help

What is Yardbarker?

Yardbarker is the largest network of sports blogs and pro athlete blogs on the web. This site is the hub of the Yardbarker Network, where our editors and algorithms curate the best sports content from our network and beyond.