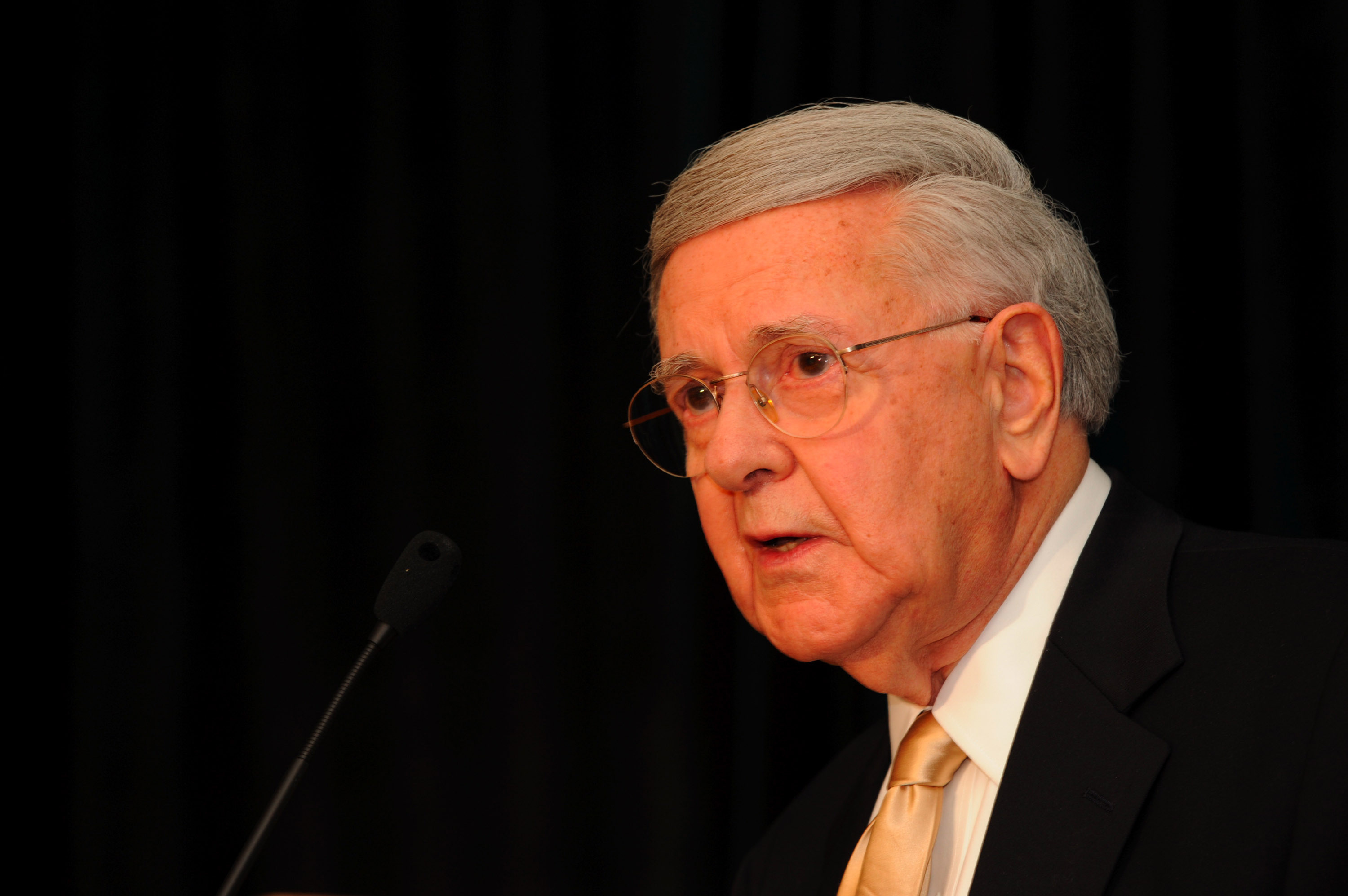 Wolff, one of only two broadcasters to be honored by both the Baseball and Basketball Hallfs of Fame.
David Dow/Getty Images
You may not have heard of Bob Wolff, but you may know the games he called. A pioneering broadcaster, Wolff was behind the mic for Don Larsen's perfect game in the 1956 World Series, as well as the 1958 NFL Championship Game known as "The Greatest Game Ever Played," which is credited for sparking the league's popularity on TV. Wolff died Saturday at the age of 96 in South Nyack, NY.
In addition to his work in the early days of television, Wolff worked in cable for News 12 Long Island when the channel was launched in 1986 and remained there until this past February.
Wolff also called games for the New York Knicks during their NBA championship runs in 1970 and 1973. He also was honored by two Halls of Fame as a broadcaster (baseball in 1995 and basketball in 2008).
He began his career in 1939 while attending Duke University, broadcasting games on radio. In 1946, he was the first sportscaster for Washington D.C.'s WTTG-TV and started calling Washington Senators baseball games in 1947 at a time when TV sets were not all that common in homes.
He remained with the Senators, but also received assignments to call the World Series on radio in 1956, 1958, and 1961. Wolff called the Senators until 1960 and stayed with the team when it moved to Minnesota in 1961 to become the Twins, but he left in 1962 to join NBC to call the Baseball Game of the Week with Joe Garagiola.
Wolff had a commendable level of versatility, calling games for the Knicks and Detroit Pistons of the NBA, the New York Rangers in the NHL, the NFL's Baltimore Colts, Cleveland Browns, and Washington Redskins, and even the Tampa Bay Rowdies of the North American Soccer League back in the 1970s. He's one of two broadcasters credited with calling teams from all four major sports (Dale Arnold of WEEI in Boston is the other).
Wolff also was the host of the Westminster Kennel Club Dog Show at Madison Square Garden for over thirty years and was appointed as the play-by-play man for all events that were held at MSG, including track and field and college basketball.
Reaction to Wolff's death spread throughout the many generations who watched or worked with him:
At @MSGNetworks in 1982, Bob Wolff took me under his wing. He was a great mentor, a super broadcaster & a wonderful man. RIP Bob.

— Bruce Beck (@BruceBeck4NY) July 16, 2017
My friend Bob Wolff, 1920-2017, at our 10th Yankees' Old Timers Day in-stadium "broadcast," 2010. The definition of humility and generosity pic.twitter.com/svMCO0mNH2

— Keith Olbermann (@KeithOlbermann) July 17, 2017
This is Bob Wolff's scorecard from Don Larsen's perfect game. It is displayed on the broadcast level at Nationals Park. RIP Bob. pic.twitter.com/J2mmGRhdE1

— Sweeny Murti (@YankeesWFAN) July 17, 2017
Bob Wolff would call before and after every weekend sportscast I anchored at News12LI. He cared. A legend, a mentor, a friend. #RIPBobWolff

— Sam Ryan (@SamRyanMLB) July 17, 2017
The New York Yankees issued this statement:
"Bob Wolff's iconic, Hall-of-Fame broadcasting career was matched by his class and character. Beyond his lifetime of professional acccomplishments, he was a man of great grace and dignity, serving his country with honor, and proudly calling New York home. Bob was a dear friend of the Yankees organization and he will be deeply missed."
In 2012, the Guinness Book of World Records noted that Wolff had the longest career of any sportscaster. Given that his career reached eight decades of work, it's hard to see anyone surpassing his time in sports broadcasting any time soon.
MORE FROM YARDBARKER
MLB News

Delivered to your inbox

You'll also receive Yardbarker's daily Top 10, featuring the best sports stories from around the web. Customize your newsletter to get articles on your favorite sports and teams. And the best part? It's free!