Found December 27, 2012 on Monkey with a Halo:
Coming on the heels of trading Kendrys Morales for Jason Vargas, it seems as though the Angel's starters are set.  Barring injury, Jered Weaver, CJ Wilson, Tommy Hanson, Jason Vargas and Joe Blanton will open the season in the rotation.  There is even some decent depth behind them with Jerome Williams (Bullpen), Garrett Richards (AAA), Nick Maronde (AA) and, after a surprise Arizona Fall League stint, Bobby Cassevah (AAA) now waiting in the wings.  There is one problem however; no one is all that excited about the #3-5 spots in the rotation.  For one reason or another Hanson (injuries), Vargas (perceived mediocrity) and Blanton (insert your reason for dislike) have left fans yearning for a proven #2 or 3 type starter.  Between the declining velocity and ailments that Weaver has suffered in the last year and the minor surgery that Wilson underwent, there are even more questions.  Do not fret Angel fans, things are not as bad as they might seem.  First of all, if healthy, the rotation is going to surprise some people.  It will not be lights out, but it will get the job done.  A very good offense and a much improved bullpen will definitely help.  Second of all, one should not worry about that rock at the top of the rotation, as he compares favorably to an all-time great, drop in velocity and all. Let's start with 3 sets of numbers: Player A has a career ERA of 3.24, an ERA+ of 128 and a WHIP of 1.144.  Player B has a career ERA of 3.16, an ERA+ of 132 and a WHIP of 1.143.  It's pretty easy to deduce that one of those players is Weaver since I mentioned him.  Any guesses about who the other player is and whether Weaver is A or B?  Well Weaver is Player A and the other player is none other than future Hall of Famer Greg Maddux.  Those numbers are strikingly similar and, to be perfectly honest, the comparisons don't end there.  The graph below shows some other commonalities in the stats; Maddux's numbers are split into his numbers for his first 7 full seasons and then his career numbers.   Weaver (After 7 Full Seasons) Maddux  (After Full 7 Seasons) Maddux (Career)   Age Entering Age 30 Season Entering Age 28 Season   42 Wins 102 115 355 IP 1,320 1,709 5,008 K's 1,119 1,134 3,371 ERA 3.24 3.19 3.16 ERA+ 128 122 132 WHIP 1.144 1.221 1.143 H/9 7.9 8.3 8.5 BB/9 2.4 2.7 1.8 HR/9 1.0 0.5 0.6 K/9 7.6 6.0 6.1 K/BB 3.17 2.24 3.37 If you compare both pitchers after 7 full seasons then one could argue that Weaver has been the more effective pitcher.  The only real edge that Maddux has over the first part of his career is the amount of innings he pitched and his HR/9 rate.  However, Maddux only got better with age and he was able to keep winning ballgames until he was 42, for a grand total of 355 wins.  Weaver will likely end his career somewhere around 250 wins, but that doesn't mean some of his other numbers won't match up with those of Maddux.  If Weaver can maintain most of his numbers and slightly cut down on the walks and his HR/9 rate, he could put up similar career totals.  Due to having almost perfect mechanics, Maddux was able to stay relatively injury free.  Longevity will be Weaver's biggest opponent as he does not have great mechanics, although he does have a bigger frame.  Maintaining his current numbers will be no easy task as Weaver has been amazingly good the last several years and many worry of some decline due to loss in velocity.  On the other hand, yet another similarity between the two should have Angel fans confident that Weaver will age gracefully.       The link that might put the most calm in the hearts and minds of most Angel fans is the fact that Maddox also experienced a drop in velocity just as Weaver has.  When he came into the league, Maddux sat in the 93 MPH range.  In the early part of his big league career Maddox began to experience a drop in velocity, eventually settling in around the 88-90 MPH range.  Amazingly, Maddux rarely threw over 90 MPH in his prime.  But due to pinpoint control, a devastating 2-seam fastball and an equally overwhelming change-up, Maddux did not miss a beat.  Sound familiar?  Weaver has also lost velocity, possesses a very good 2-seam fastball and an even more devastating change-up.  On top of that, Weaver has two very good breaking balls that he uses more than Maddux used his breaking ball.  One could argue that Maddux simply didn't need to use his curve ball as much during his prime.   As he got older Maddux threw the curveball with more regularity and also developed a cutter.  It stands to reason that Weaver is a step ahead in the aging process since he already has two plus breaking balls that he uses.  Where Weaver has a little catching up to do is in the control category.  At this point, Weaver has great control, but Maddux might have had the best control out of any pitcher EVER!  Maddux lived on the black.  Check that, Maddux lived two inches off the black.  Pinpoint control would probably be the first words most would use describe Maddux.  But if you look at the numbers, Weaver's BB/9 is actually better than Maddux's.  Who's to say that Weaver doesn't improve on that number even further?  Now look, in no way does this article claim that Weaver is going to be better than Greg Maddux or even as good as Maddux.  But with similar stuff, similar numbers, and a bigger frame, Weaver is equipped to continue to put up numbers in line with Maddux.  As I said, the question will be health and longevity.  Do not be alarmed by a loss in velocity.  If Weaver can age even close to as exceptionally as Maddux did, this rotation will have an ace for many years to come.   [follow]
Original Story:
http://www.monkeywithahalo.com/2012-a...
THE BACKYARD
BEST OF MAXIM
RELATED ARTICLES
The December 28th, 2012 edition of daily news for the Los Angeles Angels of Anaheim including the Vernon Wells dilemma, new batting practice caps and much more... The Story: The dilemma that is Vernon Wells. The Monkey Says: It actually is a tough spot for the Angels.  They obviously don't want Wells, but they kind of need him too.  He is essentially the primary back...
The December 26th, 2012 edition of daily news for the Los Angeles Angels of Anaheim including Angels tops amongst 2013 storylines, Dipoto's transformation of the Angels and much more... The Story: Trout and the Angels lead the top storylines headed into 2013. The Monkey Says: Storylines, aka the narrative that the media is going to try to ram down our throats even if...
By Rob Goldman - AngelsWin.com Historical Writer With the acquisition of Reggie Jackson in 1982, the Angels drew closer to the to top then they ever had. The four team MVP's- Jackson, Don Baylor Fred Lynn and Carew-proved a diverse and potent mix. While they were putting up big numbers in the box score, their equally big egos had to share space in the clubhouse, Carew says the...
By Rob Goldman - AngelsWin.com Historical Writer "He won't dare come in on me." Carew thought to himself as he got down in his stance to face Frank Viola." If it's a Breaking balls outside- I'll take it the other way, aim for the gap." Viola ran the count 1-2 and Carew knew he'd be seeing more breaking balls. Viola didn't have his best stuff this inning. He...
The December 27th, 2012 edition of daily news for the Los Angeles Angels of Anaheim including Angels year in review, Angels and Dodgers to battle for LA and much more... The Story: Reviewing the key storylines of 2012 for the Angels. The Monkey Says: The troubling part of this is that a lot of those same storylines, specifically the negative ones, have a pretty good chance...
What's that you say?  There's no Angels new you say?  Well, of course not.  It is the annual holiday lull in baseball, which makes things pretty had on us blogger sorts.  This year seems to be even more difficult, for me at least, since Jerry Dipoto has already wrapped up his off-season shopping, put a bow on it, stuck it under the tree, had the recipient open the gift...
Here's a look back at one of the many highlights of 2012 that we will be bringing awareness to over the next few weeks.  Our 2012 annual AngelsWin.com softball game featuring AngelsWin.com founder Chuck Richter, Angels Broadcaster Victor Rojas, Fox Sports Analyst Chris McGee, Riley Breckenridge from the popular band Thrice and AM 830 Angels Talk show host Jason Brennan. ...
Angels News

Delivered to your inbox

You'll also receive Yardbarker's daily Top 10, featuring the best sports stories from around the web. Customize your newsletter to get articles on your favorite sports and teams. And the best part? It's free!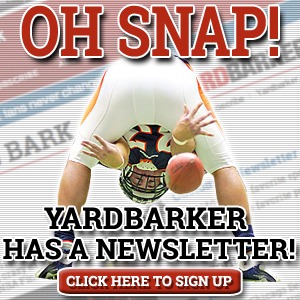 Latest Rumors
Best of Yardbarker

Today's Best Stuff

For Bloggers

Join the Yardbarker Network for more promotion, traffic, and money.

Company Info

Help

What is Yardbarker?

Yardbarker is the largest network of sports blogs and pro athlete blogs on the web. This site is the hub of the Yardbarker Network, where our editors and algorithms curate the best sports content from our network and beyond.