Found September 27, 2013 on Fox Sports North:
MINNEAPOLIS -- If the last two months have been an audition for Andrew Albers, he left the job interview with a sour taste in his mouth. Pitching in his final game of the 2013 season, the Twins left-hander allowed four runs -- three earned -- on seven hits in 5 innings Thursday as Minnesota fell 6-5 to the visiting Cleveland Indians. Albers has been up and down since making his major league debut on Aug. 6, but the last few outings have been trending in the wrong direction for someone hoping to make the club in 2014. Still, Albers viewed his 10 starts with the Twins in a positive light when reflecting on the season after Thursday's loss. "It was a lot of fun. It's nice being up here, no question about that," Albers said. "Obviously there's some room for improvement, and it's something I've got to take into the offseason and talk with (pitching coach Rick Anderson) and talk with (manager Ron Gardenhire) and those guys and see where they think I can improve and really work on those aspects of my game in the offseason." One bad inning did Albers in on Thursday, and it started when he was called for a balk after he stepped off the pitching rubber when he had already come set in his windup. Albers said he wanted to change the sign but was too far into his delivery when he stepped off the rubber. There was no argument from him when the umpire called a balk. That eventually resulted in Ryan Raburn scoring on first baseman Chris Colabello's error when Colabello couldn't field a throw to first by Albers. Asdrubal Cabrera bunted in front of the plate and Albers attempted to make a sliding stop of the ball. After finally picking up the ball, he fired to Colabello, who missed the throw. One batter later, Indians catcher Yan Gomes made Albers and the Twins pay when he launched a two-run homer to left field for a 3-0 Cleveland lead. It was the sixth home run Albers has allowed this season, and this one capped the Indians' three-run fourth inning. "In this game, two things can happen," said manager Ron Gardenhire. "You make an error, you pick each other up and you get them out, or you make a bad pitch and it ends up more, and that's what happened. He just got a pitch where the guy clicked on it and put it in the seats. Errors can always lead to that, but sometimes a pitcher's got to make a better pitch than that." Gardenhire took Albers out with one out in the sixth inning. The left-hander allowed a leadoff single to Raburn, who came around to score Cleveland's fourth run. Albers was charged for four runs on seven hits along with a pair of walks and two strikeouts in his 5 23 innings of work. Albers, a 27-year-old Saskatchewan native, joined the Twins' organization in 2011 after spending time in the Milwaukee and San Diego organizations as well as a stint with Quebec in the Canadian-American Association. Albers burst onto the big league scene in early August when he began his Twins career with two scoreless outings of 8 13 and nine innings, respectively. Even though his fastball tops out at 88 mph, the crafty lefty was able to hit his spots and deceive batters enough to keep them off balance. Following those first two starts, though, teams started to figure out Albers. He gave up five runs in each of the next two outings as his numbers came back to earth a bit. Entering his final start Thursday, Albers was 2-4 with a 3.98 ERA. After Thursday, Albers finished the season with a 4.05 ERA and a 2-5 record. Still, he had shown enough to catch the attention of the Twins' front office, especially as Minnesota enters the offseason with plenty of question marks in the starting rotation. "It's exciting, just to see a kid come up from where he's been and kind of go through our organization and do what he's done and come up here and put it out on the field," Gardenhire said. "It gives us another option. He's a competitive guy. He doesn't have the overpowering stuff, let's put it that way, but he knows how to pitch." Albers now has 10 major league starts to look back on this offseason, and he said he'll use them as motivation. Also motivating him is the fact that Minnesota has five rotation spots next year, with many of them up for grabs. One of them could certainly be his for the taking. "We're going to see what happens. It's going to be interesting," Albers said. "Hopefully I'll be in the mix. There's obviously no guarantees. I'm going to have to work hard and I'm going to have to get better if I want to pitch up here next year, there's no question about that." Follow Tyler Mason on Twitter
Original Story:
http://www.foxsportsnorth.com/mlb/min...
THE BACKYARD
BEST OF MAXIM
RELATED ARTICLES
Dick Bremer who is the play-by-play voice for the Minnesota Twins got a little frisky during Thursday's Twins game. The 'kiss-cam' at Target Field ended up focusing on the play-by-play booth and Dick took the opportunity to land a surprise kiss on the cheek to former Twins pitcher Bert Blyleven. The reaction from both guys are great. [@CJZero] Article found on: Next Impulse Sports
MINNEAPOLIS -- Sunday marks the last day of Major League Baseball's regular season. For the players on teams not in the postseason, that means a bit of downtime -- finally -- after a long 162-game season. Not for Chris Herrmann. The Twins catcheroutfielder will head to the Dominican Republic early next month to report to his winter ball team, Estrellas de Oriente. That means...
MINNEAPOLIS -- Prior to Friday, no Twins pitcher had struck out eight batters in a game. Right-hander Liam Hendriks finally ended that drought -- as a reliever. Hendriks pitched 4 23 innings and struck out eight in Friday's 12-6 loss to the Cleveland Indians. Minnesota needed help early from its bullpen after starter Pedro Hernandez lasted just 1 23 innings. Shairon Martis came...
As a Minnesotan and a several-year-suffering Minnesota Twins fan, it feels like Dick Bremer and Bert Blyleven have been the dynamic duo of Twins television broadcasts for what seems like an eternity. Bremer has been around in some capacity since the early '80s and Blyleven joined him in the booth in 1996. Bremer's dulcet tones […]The post Bert Blyleven kissed by Twins broadcast...
There's not much to watch this year in Minnesota as the Twins limp their way to the finish line. During Thursday night's 6-5 loss to the Indians, Twins broadcasters Dick Bremer and Bert Blyleven were featured on the Kiss Cam at Target Field. Of course, Bremer planted a huge kiss on the side of Blyleven's head before a bewildered Blyleven realized they were on the Jumbotron...
Twice within a week, the Minnesota Twins have watched an opponent celebrate their entry into baseball's postseason at their expense. They were on the losing end when the Athletics clinched a playoff spot. But that was on the road. Wednesday night it happened in the Twins' own backyard. While some Twins players trudged to the home clubhouse, a handful of others sat in the...
Ron Gardenhire is running out of chances to reach another career milestone. The former American League Manager of the Year who has led the Minnesota Twins to six AL Central Division titles is two victories shy of 1,000. After the Twins lost 6-5 to the Cleveland Indians on Thursday night, he has three games remaining in Minnesota's disappointing 66-93 campaign. ''When...
To finish the regular season, your Cleveland Indians (88-70) head off to dreaded Target Field to take on the struggling Minnesota Twins (66-92). To begin the year, the Twins were one of the more surprising teams in the American League; that hasn't been the case for the last three months. Overall, the Indians are just 14-19 (.424) at Target Field, which opened as the new home for...
With a 1-0 win over the hapless Minnesota Twins on Wednesday night at Target Field, the Detroit Tigers clinched the team's third-straight American League Central title. And as the champagne and beer flowed and showered the division champs, skipper Jim Leyland first got emotional, then he got down. And I mean he really got down. […]The post Shoulda done 'The Charleston': Jim...
One-time rotation prospect Liam Hendriks was called on Friday night to mop up the mess that turned into the Minnesota Twins' 12-6 loss to the surging Cleveland Indians. Instead of going through the motions as his team plays out a dismal season, the right-hander took the opportunity to have one of his best outings. Sure, the scorecard shows he allowed five runs and eight hits...
MLB News

Delivered to your inbox

You'll also receive Yardbarker's daily Top 10, featuring the best sports stories from around the web. Customize your newsletter to get articles on your favorite sports and teams. And the best part? It's free!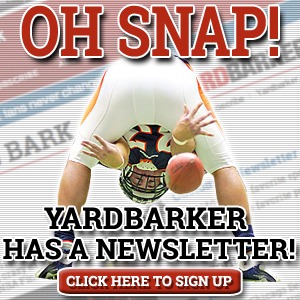 Latest Rumors
The Backyard

Today's Best Stuff

For Bloggers

Join the Yardbarker Network for more promotion, traffic, and money.

Company Info

Help

What is Yardbarker?

Yardbarker is the largest network of sports blogs and pro athlete blogs on the web. This site is the hub of the Yardbarker Network, where our editors and algorithms curate the best sports content from our network and beyond.