Found October 23, 2012 on CJ Sports NASCAR Talk:
PLAYERS:
Alex Rodriguez
,
Nick Swisher
,
Curtis Granderson
,
Robinson Cano
,
Joe Girardi
,
Keith Olbermann
,
Heath Bell
,
Brian Cashman
,
Jose Reyes
,
Mark Buehrle
,
Vernon Wells
,
Josh Vitters
,
Ian Stewart
,
Alfonso Soriano
TEAMS:
New York Yankees
,
Detroit Tigers
,
Miami Marlins
,
Arizona Diamondbacks
,
Los Angeles Angels
,
Chicago Cubs
,
Kansas City Royals
Alex Rodriguez sharing his thoughts on a called strike. Photograph by Googie Man (Photo credit: Wikipedia) Well, last week, we witnessed something no one ever thought would happen. A sweep of epic proportion, and the possibility of the ending of a second dynasty. Major changes appear to be in store for the New York Yankees. They are, and have been, considered the "titan" of Major League Baseball (on the field and off it). They have been the "Big Boy" on the block. But this past Thursday in Comerica Park, the Yankees' season ended with an 8-1 thumping (drubbing, destruction, whatever you want to call it) to the Detroit Tigers in the American League Championship series. Not only did New York fail to advance to the World Series, they were swept — marking the first time since 1980 (Kansas City Royals – ALCS, when it was still a best 3-out of-5) that they failed to win a game in a postseason series. The Yankees' high-priced batting order failed to live up to expectations in the playoffs. New York hit .188 in the postseason, which represents the lowest batting average for any team in history through at least seven postseason games. While nearly the entire team struggled at the plate, Alex Rodriguez has taken the brunt of the criticism. With just three hits in 25 at-bats in the playoffs, the 14-time All-Star was benched in three games and pitch-hit for on multiple occasions. (Although it is easy to blame ARod, you cannot ignore that Nick Swisher, Curtis Granderson, Robinson Cano, Mark Texieria, et al., didn't help matters in the least) With manager Joe Girardi's decision to sit Rodriguez in the most important games of the season, rumors have started that the Yankees are looking to trade the future Hall of Famer. Rodriguez has reiterated that he wants to return to New York, but the team seems to believe that he may have over-stayed his welcome in the Bronx. It won't be easy to trade Rodriguez. He's owed $114 million over the next five years, and has a no-trade clause in his contract. Still, the Yankees could pay the majority of his salary, or take on another bad contract, in order to send him packing. Here are the most likely trade destinations for A-Rod: Miami Marlins Rumors began circulating about Rodriguez being traded to Miami before New York was knocked out of the ALCS. Political commentator Keith Olbermann reported that the Yankees and Marlins had already discussed a deal that involved reliever Heath Bell (which will not happen with the three team deal that took place this past weekend with Arizona and Oakland). Though Yankees general manager Brian Cashman denied the report, a trade with Miami could make sense for both clubs. Rodriguez is from South Florida, and the Marlins might be one of the few teams where he would accept a trade. The Marlins perpetually have had trouble drawing fans, and they might be interested in obtaining another star to boost attendance. Jose Reyes or Mark Buehrle could also be involved in a deal. The Marlins gave both players lucrative contracts in the offseason, expecting to compete for a title. Miami ended up in last place in the NL East and could be ready to sell off some of their most expensive assets. Los Angeles Angels Just as the Yankees had a disappointing finish to their season, the Angels fell short of expectations. After adding two high-priced free agents in the offseason, Los Angeles failed to reach the playoffs. The Angels could be looking to make a move to ensure the same thing doesn't happen again in 2013. Vernon Wells would likely be part of a potential deal. The outfielder has two years remaining on his contract, and will make almost as much money as Rodriguez in 2013 and 2014. If the Yankees acquire Wells and his two-year, $42 million deal, they may not have to pay much of Rodriguez's remaining deal. While Rodriguez's struggles are recent, Wells has been unproductive for quite some time. In the last two seasons, Wells has batted .222. Chicago Cubs The Cubs have two of the biggest requirements for a team that might be willing to trade for Rodriguez: a big hole at third base, and a player with one of the worst contracts in baseball. In 2012, Cubs third basemen were the worst in the league — combining for a .201 batting average, 50 runs scored and 184 total bases. Rookie Josh Vitters had trouble with major league pitching, and Ian Stewart struggled when healthy. The Yankees could re-acquire Alfonso Soriano, after dealing him to Texas for Rodriguez in 2004. Soriano is set to earn $18 million over the next two seasons. While he had a bounce back year in 2012 with 32 home runs, Soriano remains highly overpaid. The outfielder hasn't had an on-base percentage of over .322 since 2008. Now, will I think this will happen. I don't. Rodriguez has pretty much told everyone within earshot that he is coming back to right the wrongs of the past 3 seasons. We have seen this before, and it would be foolish to ever count out ARod, but the law of averages have stated otherwise to aging stars in the past. It might be best for a clean break, and a new slate. Besides, does ARod really want to hear all this again and again next season from fans and pundits alike??? I guess we all shall find out this offseason.   Read More Here!
Original Story:
http://110sportztalk.com/alex-rodrigu...
THE BACKYARD
BEST OF MAXIM
RELATED ARTICLES
TAKE MY 3B, PLEASE
Brian Cashman admits that Alex Rodriguez is no longer a superstar and that it would be incredibly difficult to deal the aging slugger, but he's certainly willing to give it a try.
Alex Rodriguez is not a Camaro. He's not even a sports car anymore. Maybe a Fiat? But the idea of buying a classic Camaro at a bottom-dollar price isn't all that different from taking a chance on a future Hall of Fame infielder who has seen better days. Less than a week ago, while the New York Yankees were in the process of being swept out of the playoffs for the first time in...
Now that the World Series matchup is set, it's time to get back to the real business at hand.What's the latest with Alex Rodriguez and those chicks he was hitting on during the ALCS?Well, apparently, nothing.  According to the Thirty Mile Zone the New York Yankees slugger hit the sidewalks of Miami with his gal pal Torrie Wilson.  No word as to whether or not "A-Rod...
(source feed provided no summary content for this entry)
New York Yankees general manager Brian Cashman said during a radio interview on Sunday that trading Alex Rodriguez would be "unrealistic," and he expects Rodriguez to be the Yankees' starting third baseman next season. During his interview on ESPNNewYork 98.7 FM, Cashman admitted Rodriguez is no longer a superstar and also said he would listen to offers for Rodriguez...
Alex Rodriguez is no longer a superstar, and while a trade is "unrealistic," all offers for the high-priced slugger will be considered, Yankees GM Brian Cashman said Sunday. Cashman, speaking on "Sunday Morning with Ian O'Connor" on ESPNNewYork 98.7 FM, said there's "no doubt" in his mind that Rodriguez will be the Yanks' starting third...
Let me start by saying, because I don't think I can really stress this enough, that I really, utterly, totally, absolutely, genuinely, without equivocation, loathe Alex Rodriguez. This is very important knowledge for you, the reader, to have in your head before you read further, because there will be moments whilst you read the rest of this, that you will think I am defending Alex...
Brian Cashman is going to get asked a lot of questions this offseason. Some will be about the New York Yankees' postseason struggles. Some will be about the future of Robinson Cano and a new contract. Some will revolve around the return of Andy Pettitte. Some will center around the health of C.C. Sabathia. But the majority of questions Cashman will be forced to deal with on a daily...
With the questions surrounding the New York Yankees stemming from their embarrassing four game sweep at the hands of the Detroit Tigers, has the Evil Empire fallen for the last time? What kind of issues await the Yankees this offseason in terms of Alex Rodriguez, Derek Jeter and the rest of the cast? Listen in on this weeks episode of Around the Diamond as the crew takes takes a...
MLB News

Delivered to your inbox

You'll also receive Yardbarker's daily Top 10, featuring the best sports stories from around the web. Customize your newsletter to get articles on your favorite sports and teams. And the best part? It's free!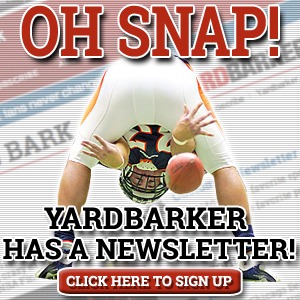 Latest Rumors
The Backyard

Today's Best Stuff

For Bloggers

Join the Yardbarker Network for more promotion, traffic, and money.

Company Info

Help

What is Yardbarker?

Yardbarker is the largest network of sports blogs and pro athlete blogs on the web. This site is the hub of the Yardbarker Network, where our editors and algorithms curate the best sports content from our network and beyond.