Found April 18, 2012 on Midwest Sports Fans:
Alexei Ramirez has been one of the White Sox most consistent players throughout the last few seasons. He's been an everyday starter for four seasons now and has averaged a .278 BA, 19 HR, and 77 RBI per year. What's most impressive is that these statistics have not been skewed by extreme numbers in any given year; in each of his seasons he had stats right around those averages. It's hard to come by a franchise shortstop that can be the informal captain of the infield on defense who also puts up consistent offensive numbers, but the White Sox have found just that with the former Cuban star. Alexei Ramirez has been one of the few consistent hitters on the Chicago White Sox the last few seasons. (Photo by Keith Allison via Wikimedia Commons) Despite a typically slow start at the plate this year, I see pretty much a lot of the same from Ramirez in 2012. I can't think of any reason why he wouldn't continue this consistent streak of offensive output. He will hit in the .270s and club around 20 HR with 80 RBIs, give or take. While that would be perfectly fine, I do think there are a couple areas in which Alexei could step up. As opposed to statistics, it involves more of a situational explanation. Alexei has proven to be one of the best offensive and defensive SSs in the league, but for most of his 4-year career he has done it while being comfortably placed around the 7-hole in the lineup. I think it's time for him to step up and move into the 2-hole, which is a clear need on offense for the Sox. Chicago's primary guy in that spot now is Brent Morel, and while you normally want someone to hit there who takes a lot of pitches and battles through at bats, neither Ramirez nor Morel fits that description, so you may as well let the more accomplished Ramirez have the crack at it. In a previous post on GrabSomeBench.com I said that I think Gordon Beckham deserves a chance at the 2-spot. Despite his own awful start to the season, I'll stand by that. Ramirez has notoriously struggled in the early-goings, so I think that lines up perfectly for the two of them. Let Gordon hit there now while Ramirez gets his feel for the season, and if Beckham does well, you can leave Ramirez down around the 6 or 7 hole where he has been most comfortable. However, if Beckham doesn't perform well enough, you move Alexei up to the 2-spot, having already given him a while down lower in the order to get his feel. It lines up perfectly for the two middle infielders to see how they'll help our lineup best in 2012. Secondly, I want to see Ramirez start to perform in the early-goings of the marathon we call the regular season. I don't want to complain too much about his offense, but with how good his numbers have already been, imagine what they would be with strong performances in April and May. We may be looking at 25-30 home runs and upwards of 90 RBI's. That's something we'd all like to see. So, sinch it up and hunker down, Alexei! You're due! *****
This article originally appeared at GrabSomeBench.com, where Zach blogs about the Chicago White Sox. He also tweets about them regularly at @Grab_Some_Bench.
Original Story:
http://www.midwestsportsfans.com/2012...
THE BACKYARD
BEST OF MAXIM
RELATED ARTICLES
CHILD'S PLAY
There are plenty instances of fans who want their 15 seconds of fame and get it by running on a field during a live sporting event. Usually they range from 21-40 and they are helped by some sort of liquid courage. Today during the Chicago White Sox and Baltimore Orioles game a fan ran onto the field and the game was halted momentarily. The culprit was not our usual fan looking...
I had just stopped watching the White Sox/Orioles game when I noticed this tweet pop up on one of my columns on Tweetdeck: A small child was just running around in left field. He's being carried off by security. No tackling or tasering. That was bizarre. — Brittany Ghiroli (@Britt_Ghiroli) April 19, 2012 Yes, that sounded bizarre enough for me to tune back in and go...
In the early stages of the season, I've done a lot of talking about the trio that I have labeled "the comeback kids": Alex Rios, Jake Peavy, and of course Adam Dunn. These three players were at one point All Stars at the top of the league, but they recently have struggled to contribute to the White Sox winning ball games. I've mentioned in previous posts that I have very...
Just because the name is White Sox Off Day doesn't mean we always have to wait for off days to bring you in-depth, entertaining White Sox discussion. We had our first "getaway day special" today, and UGod from South Side Sox was kind enough to give us an hour of his time and expertise talking all things White Sox. Among the many topics we covered: General impressions of the...
It's not technically an off day since the White Sox play this afternoon, but it is getaway day…which means no Good Guys to watch tonight. So we'll give you something to do instead, with Episode #4 of White Sox Off Day. The esteemed UGod from South Side Sox joins Kevin and Jerod to break down the rather schizophrenic series against the Orioles, which concludes at 1:10 at U...
Slumping slugger Adam Dunn lined a three-run double, A.J. Pierzynski homered and the Chicago White Sox snapped a three-game slide with an 8-1 victory over the Baltimore Orioles on Wednesday night. Dunn was jeered by the crowd of 13,818 when he swung and missed for his 19th strikeout in the first inning, dropping his average to .175. But the designated hitter walked and scored in...
A young boy found his way onto the field during Thursday's Chicago White Sox home game against the Baltimore Orioles. (DISCLAIMER: Holdout Sports does not condone this type of behavior. Kids, running onto the field is not allowed. Parents, don't let your kids do this). Your browser does not support iframes. It happened in the top of the seventh inning. White...
MIAMI - Daniel Martinez is willing to forgive Ozzie Guillen. He believes his five-game suspension was suitable for the comment he made praising Fidel Castro. But if Martinez ever has a chance to talk to the Miami Marlins manager, he would have some pointed remarks. "My comment to him would be he knows nothing," Martinez said through a translator. "You have to experience...
About two dozen protesters are outside Marlins Ballpark, expressing their displeasure with manager Ozzie Guillen. The demonstration Thursday came before Miami's afternoon game with the Chicago Cubs. Many waved Cuban flags, held signs and used a megaphone to criticize the manager. Guillen's comments lauding Fidel Castro in a Time magazine interview sparked anger within the...
Chicago's Paul Konerko is off to a strong start, but the White Sox are struggling a bit. Facing the Seattle Mariners should expedite the first baseman's hot hitting and help his team get out of its funk. Konerko and the White Sox look to continue their dominance over the Mariners in Friday's series opener at Safeco Field. Chicago (6-6) arrives in Seattle after striking...
Ozzie Guillen will be in the news again tonight, only this time it won't be for anything he said. Guillen is set to make his return as manager of the Miami Marlins at Marlins Park, as they take on the Chicago Cubs. Ozzie served a five game suspension for comments he made about "loving" and "respecting" Fidel Castro.
White Sox News

Delivered to your inbox

You'll also receive Yardbarker's daily Top 10, featuring the best sports stories from around the web. Customize your newsletter to get articles on your favorite sports and teams. And the best part? It's free!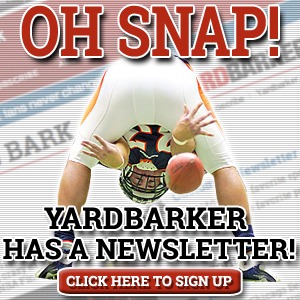 Latest Rumors
Best of Yardbarker

Today's Best Stuff

For Bloggers

Join the Yardbarker Network for more promotion, traffic, and money.

Company Info

Help

What is Yardbarker?

Yardbarker is the largest network of sports blogs and pro athlete blogs on the web. This site is the hub of the Yardbarker Network, where our editors and algorithms curate the best sports content from our network and beyond.