Found September 28, 2012 on The Majors National:
The members of the Baseball Writers' Association of America (BBWAA) definitely have their work cut out for them when it comes to picking this year's American League recipient of the Kenesaw Mountain Landis Memorial Baseball Award, better known as the Most Valuable Player award. For me, the case is undeniably murky. Still, if I had a vote to submit, I would lean ever-so-slightly towards Detroit Tigers' Miguel Cabrera. Let me explain… When reviewing the criteria for the AL MVP award, a few thoughts came to mind. Don't worry, I didn't hurt myself. But, in my opinion, there were some glaring points that the members of the BBWAA take into consideration that drastically hurt both Mike Trout, of the Los Angeles Angels of Anaheim, and Miguel Cabrera. I bet you didn't think I was going to go there! But, of course, detractors on both sides of the fence seem keen to harp on these issues. The three criteria, which can be found on the BBWAA's website are:
1. Actual value of a player to his team, that is, strength of offense and defense.
2. General character, disposition, loyalty and effort.
3. Number of games played.
No one can argue against the offensive prowess of either Cabrera or Trout. It's Cabrera's level of defensive play that raises scrutiny. The unfortunate thing for Cabrera is that Trout is the cream of the crop in centerfield for the Angels. Hold on- Miguel Cabrera is one of best and most-feared hitters of this generation let me back that train up real quick: I should have said 'thing(s)', plural. Here's why: Cabrera's problem is that he is no longer at first base. Let me make this real clear… His willingness to go to third base, in order for the Detroit Tigers to sign Prince Fielder, will be the bane to his MVP candidacy. Cabrera went from being a plus-defender as a first baseman to being, at best, an average third baseman. Don't get me wrong; he is still serviceable. He makes the routine plays, he has a strong throw to first, and he can start double plays to second, all while committing few errors. But, he has a huge lack of range, and, when sizing him up defensively against Trout, he falls short. I don't like to speculate with 'if scenarios', but if he was at first base, that defensive mountain would not be as high to climb for Cabrera. Regardless, there may be light at the end of this tunnel: his willingness to play third base for the sake of the organization may also help him when it comes time to vote. Looking beyond the game of baseball, Miguel Cabrera has kept his nose clean, from a legal standpoint since his DUI conviction in 2009. Additionally, he is clearly dedicated to helping his team win at whatever cost. Cabrera returned to his former position at third base to open the door for the Detroit Tigers to sign first baseman Prince Fielder in the past offseason. He did it willingly, and he did it eagerly. During a presser in January, Tigers' skipper Jim Leyland stated that when he made the initial Sunday phone call to Cabrera asking him about the organization's plans to sign Prince Fielder, Cabrera was "100 percent on board". So much so, that he lost upwards of 20 pounds in order to more effectively man the position. Effort? Check. And, if the recent video that has surfaced of Miguel Cabrera 'stealing' a fan's sign that read, "Fire Leyland" is of any consequence, then his loyalty is definitely not in question. Anyone that has watched a Tigers' game or postgame interview can attest to the fact that Cabrera is always wearing a smile and being a positive influence on his teammates. Mike Trout has proven to be versatile in all aspects of the game. However, the 9.5 WAR (Wins Above Replacement) that Mike Trout currently sports, could easily overshadow those elements of Cabrera's argument. WAR is an attempt to analyze a player's batting, fielding and base running statistics into one comparable statistic. Cabrera's WAR is hanging out at 6.7. That's excellent, but, still lacking in the increasingly popular sabermetric department. The crux of Trout's case lies in the fact that, in Major League Baseball, where divisions and wildcards are determined by 1, 1.5, or even 2 games, there's going to be a tough time garnering validation as the 'Most Valuable Player'. You see, Trout having missed the first 22 games of the season is the most negative aspect of his shot at being the American League MVP. When you miss a game, you hold zero- mark that- ZERO value to your team. There is a major difference having an 0-4 night at the plate, from a statistics standpoint, and still manning your position on defense. But, for Trout, he wasn't even playing in the other half of those 198 innings; he contributed absolutely nothing to his team either offensively or defensively. Yes, it's not his fault, but it does matter. Cabrera has played a good part of the second half of the season in pain due to problems with his ankle and lower leg. But, he has not taken a single trip to the disabled list this year (or his career for that matter), and only missed a grand total of 1 game. Naturally, and I agree, this MVP race will likely be decided in the final weeks of the season. This race is, at this point, just too close to call. If the Detroit Tigers make the playoffs, Cabrera is your MVP. If the Angels make it, Trout's your guy. However, if Cabrera fails to win it this year, he'll join Eddie Murray as the only players to finish in the top five of the MVP voting six times yet never win. What a testimony to Cabrera's consistency, and what a travesty that would be. American League MVP: The murky case for Miguel  
Original Story:
http://themajors.net/?p=6418
THE BACKYARD
BEST OF MAXIM
RELATED ARTICLES
Miguel Cabrera hit a three-run homer to move into at least a tie for the lead in all three triple crown categories and Justin Verlander struck out eight in seven innings to help the Detroit Tigers stay in front in the AL Central with a 6-4 victory over the Minnesota Twins on Saturday.
Miguel Cabrera is batting .326, he has hit 42 home runs, and has 133 RBIs.  These numbers are particularly significant this season as they give him a legitimate chance at being the first Triple Crown winner since Carl Yastrzemski in 1967.  Cabrera leads the American League in both batting average and RBIs, but trails Josh Hamilton by one home run.  So Cabrera sounds like a lock...
Miguel Cabrera hit his 43rd home run of the season as the Detroit Tigers defeated the Minnesota Twins 6-4 Saturday afternoon taking another big step in securing the AL Central title. Cabrera also took another big step in his quest for the Triple Crown. With his 43rd home run this afternoon, Cabrera moved into a tie with Texas' Josh Hamilton for the AL lead. Currently Cabrera leads...
No hitter has won baseballs Triple Crown since Carl Yastrzemski in 1967. You probably knew that already. Here, though, is an even more telling piece of information about one of the hardest achievements in professional sports: Until Detroits Miguel Cabrera recently held the American League lead in batting average, home runs and RBI, only one player since Yaz Dick Allen in 1972 ...
Miguel Cabrera and Mike Trout. The AL MVP race is pretty much a two-horse race at this point. It's the explosive rookie phenom vs. the man chasing the elusive Triple Crown. Those who decry baseball as "boring" would be hard pressed to explain the tension present in this sudden rivalry. Almost overnight, it seems every sports media outlet in existence has their cameras trained...
The Detroit Tigers' pursuit of a second straight Central Division title took a major step forward on Saturday afternoon. Miguel Cabrera hit a big three run home run and the pitching staff did just enough to hang on, downing the … Continue reading →
The WAR (Wins Above Replacement) has been a very popular and controversial stat this year, especially when given the argument over who should be the AL MVP, Mike Trout of the Angles or our own Miguel Cabrera. Now if your asking yourself what exactly is the WAR statistic FanGraphs describes it as such… WAR basically looks at a player and asks the question, "If this player got...
Matt Shepard of WDFN in Detroit joins Fox Sports Tonight to discuss Miguel Cabrera's quest for the Triple Crown.
On an edition of SportsCenter Wednesday afternoon, Rob Parker and Keith Law had a debate about the AL MVP award. I can't find any video online to share the ridiculousness, but essentially, Law provided rational arguments arguing for Mike Trout while Parker took a page from the Skip Bayless book and made his point in favor of Miguel Cabrera by being loud. After the debate...
BOSTON (AP) -- Former Red Sox outfielder Carl Yastrzemski thinks that being in a pennant race will help Detroit's Miguel Cabrera in his attempt to win the Triple Crown. And Yaz should know: He's the last player to lead his league in batting average, homers and RBIs in the same season. "In 67, the Triple Crown was never even mentioned once," Yastrzemski said Wednesday...
The Detroit Tigers finally have a little bit of breathing room in what has been an air-tight AL Central title race. Miguel Cabrera has no such luxury as he tries to become the first Triple Crown winner in 45 years. Prince Fielder hit a two-run homer in the eighth inning to lift Detroit to a 2-1 victory over the Minnesota Twins on Sunday, moving the Tigers to a season-high three...
The Detroit Tigers are on the verge of clinching back-to-back postseason berths for the first time in 77 years and could use a better performance from Rick Porcello if they want to pull off that feat Monday night. While Porcello will try to earn his first win in nine starts, Miguel Cabrera will continue his pursuit of history when the Tigers open a three-game road series against...
MLB News

Delivered to your inbox

You'll also receive Yardbarker's daily Top 10, featuring the best sports stories from around the web. Customize your newsletter to get articles on your favorite sports and teams. And the best part? It's free!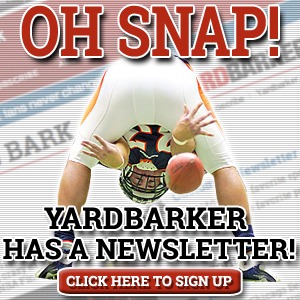 Latest Rumors
Best of Yardbarker

Today's Best Stuff

For Bloggers

Join the Yardbarker Network for more promotion, traffic, and money.

Company Info

Help

What is Yardbarker?

Yardbarker is the largest network of sports blogs and pro athlete blogs on the web. This site is the hub of the Yardbarker Network, where our editors and algorithms curate the best sports content from our network and beyond.