Found July 16, 2012 on With Leather:
During Saturday's game in Reading, R-Phils outfielder Jiwan James scaled the wall to rob Bowie Baysox slugger Jonathan Schoop of a home run. The crazy thing about it is that he doesn't catch it with his glove … he loses his glove completely and comes down with the ball in his bare hand. It's one of the best (and most serendipitous) catches you'll ever see, topping SportsCenter's top plays and turning a double-A minor leaguer into an online sensation.
The only problem is that with the modifier "online" comes skeptics, and YouTube refuses to believe he caught the ball.
Theory 1: He trapped it.
ball definitely hits the wall…if you constantly hit pause and play at Around the 7 second mark of the video, you can see the ball go past his glove, and hit the wall at around the 8 second mark…hard to see, but its there (user chosen1soulja)
Looks like it falls into his chest and he either traps it against the wall and grabs it on the way down or he catches it off of his chest on the way down for the grab. (user pjfan14)
Theory 2: The ball he caught was a fake.
Where the f**k did his glove go? Looks like the ball ripped it off his hand and he pulled an extra ball from his pocket. (user arenpeterso)
Or stuck, in his elbow/armpit. Something along those lines (user TheBryceBrown)
The alternative is he pulled that **** out of his shirt. See the stretch in the fabric as he's coming down? The ball went behind the fence and he pull the 'backup' ball from his shirt before he hit the ground. (user jmccrackenbriley)
Theory 3: A WIZARD DID IT/He was using cheat codes.
SORCERY (user MECWIHS)
hax. The ball went behind the wall, you can see it clearly. He even loses his glove over the side of the wall! and pulls magic ball out of his right hand!!! (user fuunguus)
Theory 4: He made the catch, shut up.
F**k off he made the catch (user ThePensBurgh)
They all seem like valid explanations, especially the one about him carrying around a second ball in his armpit at all times. We want to know what you think — did Jiwan catch the ball, did he trap it, is he a street magician or are there a bunch of angels in the park flapping their arms and giving him special Heaven powers?
[via Philly.com Sports]
Original Story:
http://feedproxy.google.com/~r/uproxx...
THE BACKYARD
BEST OF MAXIM
RELATED ARTICLES
I've watched the video of this supposedly ridiculous catch by Double-A Reading Phillies outfielder Jiwan James and I'm still not completely sold on it.  James appears to climb the wall and rob Bowie Baysox second baseman Jonathan Schoop of a home run with an amazing catch with his non-gloved hand, while losing his glove over the wall in the process. James sells it like he caught...
Reading Phillies (AA) CF Jiwan James robbed Bowie Baysox' 2B Jonathan Schoop of a hit last night when he climbed the wall, lost his glove, and appeared to catch the fly with his bare hand. Bowie... Full story at Bob's Blitz ~ http://www.bobsblitz.com
Reading Phillies (Double A) outfielder Jiwan James made quite the athletic catch, perhaps not robbing a home run, but snagging a ball at the wall nonetheless... with his bare hand. (Hat tip to BuzzFeed)
If you are looking for the catch of the year, check out Jiwan James of the Double-A Reading Phillies robbing Bowie Baysoxs Jonathan Schoop of a home run back on Saturday. Watch as James climbs the tall wall in center field to steal the home run away as he appears to bat the ball with his glove into his bare hand to make the play:
Phillies prospect made an amazing catch in last night's Reading Phillies game. Your browser does not support iframes.  It's also worth noticing that Phillies 1B prospect Darin Ruf was in left field next to him.  Blocked at first base, the Phillies could be looking at options to get him into the Phillies' lineup down the line. Check out Danielle's interview with...
You try explaining this one. Here's what we can decipher. Reading Phillies centerfield Jiwan James gets a great jump on a flyball. He times his leap well. He reaches over the fence. From there, your guess is as good as ours. Regardless of how it happened, James ends up on the ground with his glove on the other side of the outfield wall and the ball in his bare right hand. The call...
((HT: BuzzFeed/Mehalick)) Here's a different way to save a home run from being a home run... Watch carefully... and it has nothing to do with reading Phillies' CF Jiwan James and the glove on his left hand... ((HT: lostwalletMP)) How's that for your Monday...???
Orioles News

Delivered to your inbox

You'll also receive Yardbarker's daily Top 10, featuring the best sports stories from around the web. Customize your newsletter to get articles on your favorite sports and teams. And the best part? It's free!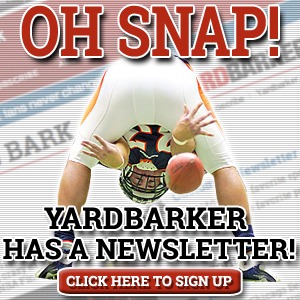 Latest Rumors
Best of Yardbarker

Today's Best Stuff

For Bloggers

Join the Yardbarker Network for more promotion, traffic, and money.

Company Info

Help

What is Yardbarker?

Yardbarker is the largest network of sports blogs and pro athlete blogs on the web. This site is the hub of the Yardbarker Network, where our editors and algorithms curate the best sports content from our network and beyond.