Found December 05, 2012 on Pirates Prospects:
ANDY OLIVER LEFT HANDED PITCHER Born: December 3, 1987 Height: 6'3″ Weight: 210 Bats: Left Throws: Left Drafted: 2nd round, 58th overall, 2009 (Tigers) How Acquired: Trade from Tigers (for Ramon Cabrera) College: Oklahoma State University Agent: Scott Boras WTM'S PIRATE PLAYER PROFILES Oliver ran into controversy before he turned pro.  He was drafted out of high school by the Twins and his agent, Tim Barratta, had discussions with the Twins, but Oliver didn't sign.  Under NCAA rules, an athlete can have an "adviser," but that person can't negotiate with a professional team.  This rule is, of course, universally ignored in baseball.  When Oliver later switched to Scott Boras as his representative, Barratta ratted him out to the NCAA, which suspended Oliver.  (It's hard to decide which is the slimier hypocrite, Barratta or the NCAA.)  Oliver sued and got reinstated, along with $750,000, through a settlement. Oliver eventually went to the Tigers in the 2009 draft.  He was considered a first round talent but fell to the second round, and signed for a bonus that was more than double the slot amount.  At the time he threw a 92-94 mph fastball that reached the upper 90s, along with a very good curve.  The Tigers rushed him to the majors in June of his first pro season and he's increasingly struggled with his control since then.  He also no longer throws the curve, instead throwing what Baseball America describes as a subpar slider and an uneven change.  In the majors his fastball has averaged nearly 94 and reached 97.  His inability to locate it, though, has made it hittable.  The Pirates acquired him for catcher Ramon Cabrera. 2010 AA:  6-4-0, 3.61 ERA, 1.28 WHIP, 77.1 IP, 2.9 BB/9, 8.1 K/9 AAA:  3-4-0, 3.23 ERA, 1.28 WHIP, 53.0 IP, 4.2 BB/9, 8.3 K/9 MLB:  0-4-0, 7.36 ERA, 1.77 WHIP, 22.0 IP, 5.3 BB/9, 7.4 K/9 Oliver signed too late to play in 2009, then debuted in AA in 2010.  He pitched very well there, with good walk and K rates, and moved up to AAA after 14 starts.  The Tigers called him up to the majors in late June and he made five starts.  The first went well, but he struggled in the next four, partly due to poor control.  He finished up in AAA, where he put up mostly good numbers, but with a high walk rate. 2011 AAA:  8-12-0, 4.71 ERA, 1.56 WHIP, 147.0 IP, 4.9 BB/9, 8.8 K/9 MLB:  0-1-0, 6.52 ERA, 1.97 WHIP, 9.2 IP, 7.4 BB/9, 4.7 K/9 The Tigers sent Oliver to AAA for all of the season, other than a two-start callup in late May.  He struggled to throw strikes in the two starts and also had a high walk rate in AAA.  He at least had a good K rate. 2012 AAA:  5-9-0, 4.88 ERA, 1.62 WHIP, 118.0 IP, 6.7 BB/9, 8.5 K/9 Oliver spent the season in AAA and had more trouble than ever with his control.  He moved to the bullpen in July and pitched only moderately better, with no improvement in his walk rate. Oliver is an interesting acquisition for the Pirates, but unless I've miscalculated his options they're going to have a tough time getting him to a point where he can pitch effectively in the majors.  His control and secondary pitches are both significant issues, and he also has little experience pitching in relief.  The Pirates may try to have him start, but he doesn't seem nearly ready for that. STATS Baseball Reference–Majors Baseball Reference–Minors Fangraphs MLB.com MiLB.com CONTRACT INFORMATION 2013: Major league minimum PLAYER INFORMATION Signing Bonus: $1,495,000 MiLB Debut: 2010 MLB Debut: 6/25/2010 MiLB FA Eligible: N/A MLB FA Eligible: 2018 Rule 5 Eligible: N/A Added to 40-Man: 6/25/10 Options Remaining: 0 (USED:  2010, 2011, 2012) MLB Service Time: 0.034 TRANSACTIONS June 6, 2006: Drafted by the Minnesota Twins in the 17th round, 516th overall pick. June 9, 2009: Drafted by the Detroit Tigers in the 2nd round, 58th overall pick; signed on August 17. June 25, 2010: Contract purchased by the Detroit Tigers. December 5, 2012: Traded by the Detroit Tigers to the Pittsburgh Pirates for Ramon Cabrera.
Original Story:
http://feedproxy.google.com/~r/Pirate...
THE BACKYARD
BEST OF MAXIM
RELATED ARTICLES
The Pittsburgh Pirates have acquired left-handed pitcher Andy Oliver from the Detroit Tigers in exchange for catcher Ramon Cabrera. More details to come.
As the Winter Meetings came to close the Tigers made a relatively low-key move Wednesday night sending LHP Andy Oliver (a once coveted pitching prospect) to the Pittsburgh Pirates for minor league catcher Ramon Cabrera. The 23-year-old switching hitting Cabrera batted .276 in 2012, with three home runs, 50 RBIs, and 22 doubles in 112 games and offers some catching depth after losing...
The Pirates announced something not quite a blockbuster today.  They have traded AAA catcher Ramon Cabrera to the Detroit Tigers for LHP Andy Oliver. Cabrera had a pretty good year as a 22 year old at Altoona this season, eventually being promoted for a backup stint in AAA. Year Tm G PA AB R H [...]
The Detroit Tigers have traded starting pitcher Andy Oliver to the Pittsburgh Pirates in exchange for switch-hitting catcher prospect Ramon Cabrera. Continue reading →
NASHVILLE, Tenn. (AP) -- The Detroit Tigers traded left-hander Andy Oliver to the Pittsburgh Pirates for catcher Ramon Cabrera. The 25-year-old Oliver was 5-9 with a 4.88 ERA in 19 starts and nine relief appearances this year at Triple-A Toledo. Cabrera, 23, hit .276 with 22 doubles, three homers and 50 RBIs at Double-A Altoona. The swap was announced Wednesday.
The Pittsburgh Pirates have traded switch-hitting catcher prospect Ramon Cabrera to the Detroit Tigers in exchange for starting pitcher Andy Oliver.
Stay current with all the roster movement and personnel decisions with the TigsTown Transaction Blog. The Tigers shipped out left-hander Andrew Oliver in exchange for catching prospect Ramon Cabrera from the Pirates.
Mark Appel didn't sign with the Pittsburgh Pirates, but we'll probably be hearing about him at least until the 2013 draft is over. Scott Boras addressed the media today at the Winter Meetings, and Rob Biertempfel had the following quote about the Pirates' chances of signing Appel: "There was no communication with us (before draft). We certainly would've let them know we...
The Detroit Tigers, at least as far as Jim Leyland and GM Dave Dombrowski have let on, have not chased Rafael Soriano much yet, if at all. Continue reading →
NASHVILLE The Dodgers offered a long-term contract to South Korean left-hander Ryu Hyun-jin on Tuesday that was promptly rejected, General Manager Ned Colletti said. Predictably, it fell a tad short, Colletti said. Colletti said he didnt know how the Dodgers would proceed in the negotiations. UPDATE 5:35 p.m.: Ryu's agent, Scott Boras, said he presented the Dodgers with a...
Phils, Mariners In On Michael Bourn Per Jon Heyman of CBS Sports, the Phillies are "in" on Michael Bourn. It was also reported today that the one major free agent the Mariners had not been interested in, Michael Bourn, was contacted through agent Scott Boras today. In the recap from yesterday, the suddenly-aggressive Mariners had been linked to just about everyone. We also...
MLB News

Delivered to your inbox

You'll also receive Yardbarker's daily Top 10, featuring the best sports stories from around the web. Customize your newsletter to get articles on your favorite sports and teams. And the best part? It's free!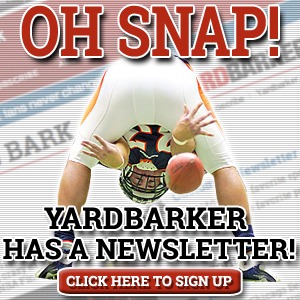 Latest Rumors
The Backyard

Today's Best Stuff

For Bloggers

Join the Yardbarker Network for more promotion, traffic, and money.

Company Info

Help

What is Yardbarker?

Yardbarker is the largest network of sports blogs and pro athlete blogs on the web. This site is the hub of the Yardbarker Network, where our editors and algorithms curate the best sports content from our network and beyond.