Found April 12, 2013 on Fox Sports West:
PLAYERS:
Mark Trumbo
,
Mike Scioscia
,
Mike Trout
,
A.J. Griffin
,
Evan Scribner
,
Alberto Callaspo
,
Erick Aybar
,
Jered Weaver
,
Jason Vargas
,
Kevin Jepsen
TEAMS:
Los Angeles Angels
,
Oakland Athletics
,
Houston Astros
ANAHEIM, Calif. If the Angels hadnt already experienced this before, it would seem incomprehensible. But they know all about horrendous starts. They went through the same thing last year, and now here they are again, nine games into the new season and its starting again. The Angels 8-1 loss to the Oakland As on Thursday night was their fourth loss in a row and left them with a 2-7 record the franchises worst mark after nine games since its inaugural season in 1961 when it started 1-8. But the Angels dont have to go that far back to recall such a disappointing start to the season. Last year, they were 3-6 after nine games, 8-15 at the end of April and on their way to a third-place finish in the American League West. It has an eerily familiar feeling. I guess in a way, a little bit, designated hitter Mark Trumbo said. Weve obviously shown were capable of coming out of it. Its just a matter of doing a few of the small things, and hopefully that will lead to some bigger things. Before the game, manager Mike Scioscia tried shaking up his batting order, dropping phenom Mike Trout from leadoff to No. 2 as a way to bunch his power hitters in the lineup. But thats not the problem with the Angels; its everything else. They have yet to have a starting pitcher work into the seventh inning. Their bullpen has been less than steady. Their offense was limited to five hits and none after the fourth inning -- against As starter A.J. Griffin and reliever Evan Scribner. And as if all that werent bad enough, now theyre dealing with a new injury. Third baseman Alberto Callaspo, who was elevated from seventh in the batting order to first, experienced tightness in his right calf and left the game after the seventh. The Angels are already short an infielder with shortstop Erick Aybar out with a contusion in his left heel, and No. 1 starter Jered Weaver is out a few more weeks while a broken bone in his left elbow heals. The silver lining? The Houston Astros, universally considered the most woeful team in the majors, is coming to town for three games. But right now, the Angels need to figure out how to find some consistency on offense and some reliability in the bullpen. Starter Jason Vargas couldnt make it out of the sixth inning, leaving with a 3-1 deficit, but reliever Kevin Jepsen gave up a two-run double to the first batter he faced, Chris Young, that padded Oaklands lead. Theyre just not getting it done the way they have the capabilities to, Scioscia said. Right now, theres a lot of things out of sync on the pitching side, and we need to get each guy where they need to be. It will have to come soon. There were boos again from an Angel Stadium turnout of 43,533, and the crowd had dwindled to less than half full by the eighth. It was already clear the Angels looked lifeless with no chance to catch up. So what now? You have to be optimistic, Trumbo said. We have too much talent to not be. Its very unfortunate that were in the place we are, but thats the reality. We look forward to keep grinding things away and weather the storm until we click and start taking it to people. Maybe it will happen against the Astros. If it doesnt, the Angels will dig themselves a hole just as they did in 2012. I dont think anybody likes to lose, Vargas said. Everybody gets frustrated when that happens, but I think everybody believes in the team weve got here and understands that weve got a lot of good players. Its going to turn around and were going to have some fun.
Original Story:
http://www.foxsportswest.com/mlb/los-...
THE BACKYARD
BEST OF MAXIM
RELATED ARTICLES
Want to win a Josh Hamilton Louisville Slugger bat? Tweet us a picture of your baseball bat and show us why youre in need of an upgrade using hashtag LouisvilleSluggerUpgrade. Then, tune-in to Angels Live on Sunday at 12:30 p.m. to see if you are one of the two winners chosen at random to win an authentic Hamilton bat straight from the factory in Louisville.
It's Angels home opener day! But it's off to a bad start already this morning as multiple reports have confirmed that Jered Weaver has been placed on the disabled list with a non-displaced radial head fracture on his left elbow and Angel fans woe. What does this mean for the Halos? Yes, they lose their ace and leader in a crucial start of the season. The Dream Weaver (whose...
ST. LOUIS The 40-year-old closer who saved 300 games in the big leagues carefully watched the kid on the mound. "Your whole body is over here," Jason Isringhausen said, stepping to the left of the red dirt hill to stand in the spot where the kid's follow-through had stopped. The Southern Illinois University Edwardsville pitcher prepared to throw again. This time...
Everyone knows Mike Trout the baseball player. But what about his personal side? Here's 10 things you may not know about the Angels' slugger: Quarters are kind of his thing No, not the drinking game. We went out to dinner one night, just a bunch of us from the team and I had to pick somebody to pay for it so I picked Jered (Weaver), Trout said. He paid me all in quarters...
By Danny Farris, AngelsWin.com Contributor - Please allow me to introduce myself. My name is Danny Farris and I'm a huge Angels fan. My first Angels game was when I was 5 and I witnessed JT Snow hit a bomb. I learned that not only was he a local kid, he went to the same high school that I was going to go to. Ever since that day I was absolutely hooked. And because of THAT moment...
Since 2000, Mike Scioscia has been the manager of the Angels. He has compiled a record of 1156-928, good for a 55.4% win rate (an average record of 89-73). In his 14 seasons, the Angels have only had 3 seasons where they finished sub .500. Only one of which has come since 2003. Under Scioscia's tutelage, Angel fans have been spoiled. Angel fans have become adjusted to the...
By Jessica Melendez, AngelsWin.com Staff Writer - There's no way to sugar coat this: the start of this season has sucked.  I'm a generally optimistic person, but even I'm having a hard time finding the silver linings in this particular black cloud.  Sometimes good things come out of bad starts.  I know you've heard the comparison before, but the 2002 year did...
When approached by The Hall last year to write about someone for the "HOVG Heroes" project, I chose Nick Adenhart, the young Los Angeles Angels pitcher who was killed by a drunk driver four years ago this week. Unfortunately, I'm writing again about a special member to baseball's big family that lost their life before they should have. Friend and fellow ballhawk Matt...
At what point does the old axiom "it's early" stop being true? Just when we thought the Angels couldn't sink any lower in this young season, along comes tonight's game. This was the very definition of a mail it in affair. The starting pitching was atrocious again and the hitters had no interest in even being at the plate. More concerning I feel is the overall...
By Glen Mckee, AngelsWin.com Columnist -  No really, despite the horrible start - what, is this 2012 again? - the Angels can be good for you!  You just have to have a plan.  I've had a plan that I have used for a few years, but usually taper off and on.  "The Angels Push-up Plan!"  In the past it was simple: do 10 push-ups for every run the Angels score.  Easy...
The April 11th, 2013 edition of daily news for the Los Angeles Angels including losing Weaver could be a blessing, Madson making progress and much more... The Story: Jered Weaver's injury could be a blessing in disguise. The Monkey Says: I like the optimism, but I think it is grasping at straws. There is a notion out there that Weaver is dealing with some sort of issue...
"Deja vu is usually a glitch in the Matrix. It happens when they change something." -Trinity, "The Matrix".   If deja vu happens when something is changed, then one wonders how the Angels have managed to achieve it without changing a thing. After all, at this time last year, we were asking ourselves most of the same questions. In 2012 it was "Albert Pujols ain't...
MLB News

Delivered to your inbox

You'll also receive Yardbarker's daily Top 10, featuring the best sports stories from around the web. Customize your newsletter to get articles on your favorite sports and teams. And the best part? It's free!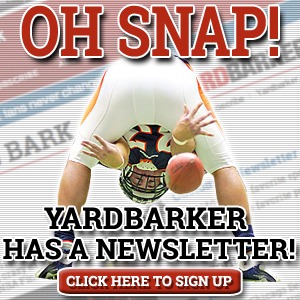 Latest Rumors
The Backyard

Today's Best Stuff

For Bloggers

Join the Yardbarker Network for more promotion, traffic, and money.

Company Info

Help

What is Yardbarker?

Yardbarker is the largest network of sports blogs and pro athlete blogs on the web. This site is the hub of the Yardbarker Network, where our editors and algorithms curate the best sports content from our network and beyond.