Found April 29, 2012 on Fox Sports West:
Albert Pujols came to the plate four times Sunday afternoon, and four times he made outs. Ground ball to third. Ground ball to short. Ground ball to third. Strikeout. Condense the Angels' offensive malaise into one batter and that's what you get. Pujols struggles, his teammates struggle. The Angels return home Monday after going 1-5 on a road trip through Tampa Bay and Cleveland. They hit a collective .165 on the six games, scored just nine runs and seemed to fail continually with runners in scoring position. No one symbolizes their offensive struggles more than Pujols, who is hitting .216 this season and now has gone without a home run in 88 consecutive at-bats. Despite his own protestations that he's not feeling the pressure of producing for his new team, there is little question that's exactly what is happening. If it weren't, he wouldn't be pulling so many pitches on the ground. Pujols was 0 for 4 in the Angels' 4-0 loss to the Cleveland Indians on Sunday and ended the trip in a 3-for-23 funk. Maybe it's a reach to assume that if Pujols breaks out in a big way his teammates will follow, but that's sometimes how teams break slumps: Someone has a big game and everyone around them relaxes and starts hitting. Right now, no one is hitting. The Angels totaled just three singles off 38-year-old Indians starter Derek Lowe, who pitched into the eighth. And they did it on a day in which their own starter, Ervin Santana, finally pitched well. Santana was winless in four decisions this season, but he gave the Angels seven strong innings that were spoiled when right fielder Torii Hunter lost a ball in the sun. It's a play that is usually ruled a hit, but Major League Baseball told official scorers at the start of the season that outfielders who lose sight of a ball in the sun should be given an error. Hunter's miscue on Asdrubal Cabrera's high fly came after Santana gave up a one-out infield single and a walked to put runners at first and second base. Two unearned runs scored on the play, and suddenly the Angels were behind. They had a chance to get even in the eighth, but Howie Kendrick struck out with the bases loaded when he chased a fastball by reliever Vinnie Pestano that was up and out of the strike zone. That's how badly things are going. Santana's problem this season has been spotting his fastball, but he had few of those lapses against the Indians. And although he hasn't pitched well this season, giving up 19 earned runs in his first four starts (a 7.23 ERA), he also hasn't been supported. In his past four starts, including Sunday, the Angels have failed to score a run -- a stretch of 28 consecutive innings. Pitchers who worry they won't have an offense behind them often try to be too fine with their pitches, concerned that giving up one run might be enough to beat them. That's not necessarily what has happened to Santana, but his reaction to seeing Hunter's error spoke volumes. He looked skyward, as if to say, "What next?" The Angels' two struggling starters, Dan Haren and Santana, have now pitched two effective back-to-back games. Haren won his first game of the season Saturday, giving up just one run in eight innings in a 2-1 win. But now that they're on track, the offense looks like a 98-pound weakling. The Angels are coming home with a 7-15 record, equaling the worst 22-game start in their history. Will they get better at home? It remains to be seen, but here's a guess: As soon as Pujols starts hitting, the rest of the offense will follow.
Original Story:
http://www.foxsportswest.com/04/29/12...
THE BACKYARD
BEST OF MAXIM
RELATED ARTICLES
At some point this season, Albert Pujols is going to turn it on. He has to. Through 23 games this season, Pujols has yet to hit his first homerun as a member of the Angels and has only four RBIs. He is hitting .217 with an on-base percentage of .265. Albert is one of the reasons Los Angeles is off to an 8-15 start, and he will probably be one of the reasons they go on a tear at some...
The St. Louis Cardinals lost a huge part of their offense when Albert Pujols signed a 10-year, $240-million deal with the Los Angeles Angels of Anaheim, but that also forced the team to build a more balanced lineup. Now every spot in the order consistently pushes across enough runs to put the Cardinals atop the NL Central as April comes to a close. But, the margin for error is much...
Los Angeles Angels hitting coach Mickey Hatcher did not reveal any deep, dark secrets to the media, but Albert Pujols was a bit annoyed that Hatcher talked publicly about what was said during an Angels' hitting meeting. Pujols, who is experiencing one of the worst slumps of his career, was one of the Angels players who spoke at the meeting on Monday before the series opener...
There have been many excuses made for the incredibly slow start by Albert Pujols to the 2012 season. In his first season after signing a 10 year, $240 million contract with the Los Angeles Angels, Pujols is homer-less through his first 22 games and is hitting just .217 with four RBI's on the young season.It is easily the slowest start to any season in Pujols eleven year career...
After their biggest stars left town this past offseason, the St. Louis Cardinals and Milwaukee Brewers had plenty of doubters. That'll happen when two of the best hitters in baseball now, and maybe ever are no longer in your lineup. And despite signing other power hitters to try filling those enormous gaps, both teams had consented there was no replacing an Albert Pujols or...
Ryan Howard (left) and Albert Pujols (Photo credit: Wikipedia) The New York Yankees are not the only team happy that April is finally over, as a few other MLB teams are hoping to turn things around in May. So, here is a quick list of the Yankees and three other troubled teams who should be much better than they were in April: 1 -  Back in Spring Training, the New York Yankees were...
Every year, we hear advice about how it's time to "buy low" on struggling stars like Albert Pujols, Giancarlo Stanton and Robinson Cano. "Get them now for cheap before they heat up!" Except that the market for superstars - at least in competitive leagues - usually doesn't move much after one bad month. (Whether it should in these cases is another question...
Do you see that guys?? That number up there, look at it! The Angels scored more runs then the Twins! That means we won a game guys! Won a game guys, and not through sheer luck either! They actually played baseball today, strong fundamental baseball! We out baseball'd the Twins! (I know that doesn't mean THAT much, but woooooooooo). Pujols actually had an extra base hit...
Each Tuesday during the fantasy baseball regular season Mike Harmon and John Halpin hop on the internet to talk all things baseball in their weekly Fantasy 15 podcast. This week assistant fantasy editor Joel Beall joins the guys to talk about Evan Longoria's injury, Albert Pujols' struggles at the dish and other fantasy baseball news and notes. >> Listen to Fantasy...
CLEVELAND (AP) -- Dan Haren pitched eight strong innings for Los Angeles though Albert Pujols remained homerless as the Angels defeated the Cleveland Indians 2-1 on Saturday. Torii Hunter hit a solo homer for Los Angeles, which snapped a five-game losing streak after a cold drizzle delayed the start of the game 147 minutes. Pujols went 1 for 4 with his single during a first-inning...
Dan Haren pitched eight strong innings for Los Angeles though Albert Pujols remained homerless as the Angels defeated the Cleveland Indians 2-1 on Saturday. Torii Hunter hit a solo homer for Los Angeles, which snapped a five-game losing streak after a cold drizzle delayed the start of the game 147 minutes. Pujols went 1 for 4 with his single during a first-inning rally giving the...
Derek Lowe pitched three-hit ball into the eighth inning and the Cleveland Indians scored three runs on Angels errors to beat Los Angeles 4-0 Sunday. Lowe (4-1) retired 12 batters on ground balls, including Albert Pujols three times. Pujols also struck out against reliever Chris Perez, extending his career-long homerless streak to 117 at-bats. Ervin Santana (0-5), in his first...
MLB News

Delivered to your inbox

You'll also receive Yardbarker's daily Top 10, featuring the best sports stories from around the web. Customize your newsletter to get articles on your favorite sports and teams. And the best part? It's free!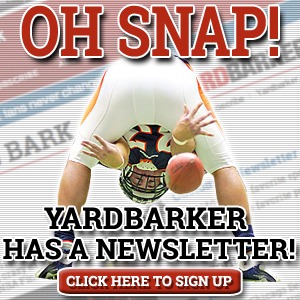 Latest Rumors
The Backyard

Today's Best Stuff

For Bloggers

Join the Yardbarker Network for more promotion, traffic, and money.

Company Info

Help

What is Yardbarker?

Yardbarker is the largest network of sports blogs and pro athlete blogs on the web. This site is the hub of the Yardbarker Network, where our editors and algorithms curate the best sports content from our network and beyond.