Found February 19, 2013 on Fox Sports Detroit:
LAKELAND, Fla. Just like their father, Jadyn and Haven Fielder love baseball. They wear his No. 28 on their junior-sized Detroit Tigers uniforms and are constantly playing pickup games or catch on any patch of vacant grass they can find at Marchant Stadium or the TigerTown complex. Sometimes they accompany their father, Prince, to batting practice to watch him swat balls into the pine trees or parking lots beyond the fields. Between rounds, he will toss a ball around with them or assure that they are standing behind the cage and out of harms way. It takes me back to Prince following his own father, Cecil, around the clubhouse and field at Tiger Stadium. Tony Phillips, the spark-plug infielder, befriended Prince and would horse around with him. There was the time when Phillips deposited him in a trash can, and youve probably seen the video of Prince taking batting practice at the old ballpark and hitting some out before he was even a teenager. Watching his kids play now makes me wonder if there wont be a third generation of Fielders in the big leagues somewhere around 2030. Jadyn, 8, has an ultra-quick stroke and Haven, 6, has power. For now, theyre playing Little League baseball in Windermere, an affluent community located between downtown Orlando and Disney World. They both began swinging their mothers brush when they were 2, Prince said with a proud smile. I never taught them how to swing. They just knew how to swing. "To play the game in general for them is inherited. It was that way for me, too. His father, Cecil, played 13 seasons and hit 245 of his 319 homers for Detroit. Cecil was a two-time American League home-run champion, hitting a career-high 51 in 1990. Prince has 260 homers in eight seasons and led the National League with a career-high 50 in 2007 with the Milwaukee Brewers. Jadyn is lean and plays center field and second base. Haven is built like his father and plays second base and third base. Jadyn, hes good, and Haven is the strongest kid on a 9-and-under team, Prince said. I love watching them play and having them here. I still want them with me during the season. Little League play in Florida begins in January and winds up in May, along with the school year, so that makes it easy to split for Detroit in the summer with Dad and Mom. Prince's wife, Chanel, loves watching her sons on the field with their father. The boys are 17 months apart and that makes it easy for them to play together, she said. Prince said there will be plenty of time for his sons to play in summer leagues as they get older. For now, he said there are great advantages in having them learning the routine of a major leaguer. I still want them with me, Prince said. You dont have to play baseball all year round at this point. And I know what they will gain from being in here and around these players and coaches. "I learned so much. And now this is giving my kids the same experiences. They play with some of the big kids of other players and coaches, too. Tony Phillips was my guy back in the day. I could not wait to see him and was always running around. I would wrestle with Tony, and one day he threw me in the trash can. Prince leaned back on his clubhouse stool, and his eyes sparkled at the memories. The video of young Prince taking cuts in the batting cage at Tiger Stadium has been used by the Tigers in television promotions. Cleveland Indians manager Terry Francona, then a Tigers coach, was the one getting taken deep by the prodigy. Im 11 or 12 in that one, and theres a lefty batting practice pitcher in that video, Prince said. Terry Francona came up to me last year and told me it was him. I said, How about that! Oh, it was you. "I was the same size as I am now, man. Thats unbelievable. I was short and was supposed to grow taller. Cecil was 6-foot-3, 230 pounds in his playing days, and Prince is 5-11, 275 pounds. Father and son have had their differences in recent years, but Prince cherishes the good times and knows that growing up in a major-league atmosphere contributed to him breaking in with the Milwaukee Brewers five weeks after turning 21. Knowing what it was like in the major leagues, I wanted to get out of the minors as fast as I could, Prince said. The buses you ride and everything, whew. "The game was tough in the majors, but I knew what to expect. I knew what the big leagues were, wow. And I wanted to get out of there. Prince was a first-round pick out of Eau Gaille High in Melbourne, Fla., and spent four years riding the buses at Ogden, Beloit, Huntsville and Nashville. I knew where I wanted to be, Prince said. I hope my sons get the same chance someday.
Original Story:
http://www.foxsportsdetroit.com/02/19...
THE BACKYARD
BEST OF MAXIM
RELATED ARTICLES
2012 was a year of joy, torment, success, and embarrassment all wrapped into one odd little package for the Detroit Tigers. Overall, the team made it to the World Series, which is a huge accomplishment and a great revenue generator for the franchise. Losing in lackluster fashion via sweep at the hands of the Giants was a black eye on the season. The Tigers needed nearly the full...
Might Nick Castellanos make the opening day roster? Only if he'll see plenty of playing time. A few weeks ago, we analyzed the five most important Detroit Tigers' pitchers to watch during spring training. This week, we're taking a look at positional players. In the infield, things are set with Miguel Cabrera, Prince Fielder and Omar Infante. In the outfield there's a bit...
LAKELAND, Fla. Octavio Dotel said he apologized to Miguel Cabrera and his teammates as a group on Wednesday morning for published comments that Dotel believes were misinterpreted. "You have to step up and say something," Dotel told by Eric Adelson of Yahoo! Sports. "Miggy's more about his game. I don't see him as a leader." I asked Dotel if that was...
The Tigers won the AL pennant off the bat of Triple Crown winner Miguel Cabrera, but that wasn't enough for one of his teammates. Reliever Octavio Dotel says Cabrera is not a leader in the clubhouse. Dotel prodded the 2012 MVP to call a meeting multiple times during the playoffs, and Cabrera declined. "You have to step up and say something," Dotel told Yahoo! Sports. "Miggy's...
LAKELAND, Fla. There were many who did not expect to see Tigers shortstop Jhonny Peralta back in Detroit after he batted .239 with 13 home runs and 63 RBI in 2012. The club could live with his limited defensive range as long as he was productive with the bat, but his second-half offensive swoon greatly diminished his value. Even when Tigers general manager Dave Dombrowski opted...
Rick Porcello will not have to wait long to begin making his case for the Detroit Tigers' No. 5 starter role. Porcello will start the Tigers' Grapefruit League opener on Friday against the Atlanta Braves. The rotation for the first three games, courtesy of MLive's Chris Iott: Rick Porcello scheduled to start Friday for the Tigers at the Braves. Anibal Sanchez on Saturday....
LAKELAND, Fla. Although locating a hard and lively fastball is the ticket the majors, the slider often determines how successful a pitcher becomes and if he stays at that level. The slider put Max Scherzer over the top, and it's the pitch Rick Porcello needs to command consistently in order to become a rotation mainstay. The slider provides Al Alburquerque the opportunity...
LAKELAND, Florida ---- The Detroit Tigers are just days away from opening up the 2013 Spring Training season. On Friday, the Tigers will face the Atlanta Braves to officially start Grapefruit League play. The Tigers have spent the past few days getting back into the swing of things (pun intended). Here are a few notes from sunny Florida: According to Jim Leyland, Brennan Boesch...
The post Justin Verlander has figured out the Meteor in Russia appeared first on THEHUSKER.COM.
LAKELAND, Fla. -- Austin Jackson had a season to savor in 2012. He bounced back from a subpar sophomore performance to light up the American League once again. Jackson hit .300, scored 103 runs and had 29 doubles, 10 triples, 16 homers and a career-high 66 RBIs. The fleet center fielder came close to garnering both All-Star and Gold Glove recognition. Detroit Tigers manager Jim...
Meme GeneratorName Your Meme (required)Top Text (required)Bottom Text (required)Text Size01234567891011121314151617181920212223242526272829303132333435363738394041424344454647484950515253545556575859606162636465666768697071727374757677787980818283848586878889909192939495969798991001011021031041051061071081091101111121131141151161171181191201211221231241251261271281291301311321331341351361371381391...
LAKELAND, Fla. Justin Verlander turns 30 on Wednesday, but it's just another birthday to the Tigers ace. I dont care about stuff like that, Verlander said. It doesnt really matter to me. However, there's something related to turning 30 that did interest Verlander. He's won 124 games at that relatively early age and aspires to be enshrined in Cooperstown someday. ...
MLB News

Delivered to your inbox

You'll also receive Yardbarker's daily Top 10, featuring the best sports stories from around the web. Customize your newsletter to get articles on your favorite sports and teams. And the best part? It's free!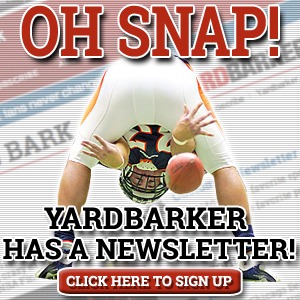 Latest Rumors
The Backyard

Today's Best Stuff

For Bloggers

Join the Yardbarker Network for more promotion, traffic, and money.

Company Info

Help

What is Yardbarker?

Yardbarker is the largest network of sports blogs and pro athlete blogs on the web. This site is the hub of the Yardbarker Network, where our editors and algorithms curate the best sports content from our network and beyond.