Found July 17, 2013 on Obstructed View OLD:
As a Cubs fan (ostensibly – why would you read this otherwise?), you really haven't had many reasons to cheer this year. Arguably, the most exciting good thing is that the one the Cubs' tradeable pieces didn't get hurt long enough to be traded (Jake Arrieta, hello! I wish it was 2009 so I could be excited). We've seen Starlin Castro go from "young budding star" to "young, fairly cost-controlled average SS" to "well, he could rebound, right?" to "holy ****, is that Jeff Blauser in Starlin Castro's uniform?" Shark's season has been up and down (though the peripherals are still there). Matt Garza has been great so far, but the return for him is going to underwhelming and you should brace yourself for that fact right now. One thing I don't get, though, is the imagined struggles of Anthony Rizzo. People have chattered about his regression and poor year so far, but I'm not seeing it. Sure, his .241 average is not exactly desirable. However, his 44 point drop in BA basically matches his 43 point drop in BABIP. I'm not all that worried or interested in Rizzo's batting average, to be perfectly honest. I'm much more interested in his on base percentage and his power numbers. His OBP has fallen this year, but only slightly (.342 to .328). His SLG is also 22 points lower (.463 to .441), but that's a function of his reduced BABIP: his ISO this year is actually up to .201 from .178.  Peripheral-wise, Rizzo has made some gains this year. His walk rate has climbed from 7.3% to 10.4% (and in the minors, his rate was always from the 9% to 12% range), while his strikeout rate climbed modestly to 17.9% (it was ~22% in the minors). His batted-ball statistics do tell a story of slight regression, with an additional 7.2% flyballs this year eating into the more productive types of contact. Lastly, PITCH f/x tells us that Rizzo is swinging much less often (down to 45.7% from 50.5% – he went from well above average to right at it). This is very consistent with an increased number of walks. His contact numbers haven't regressed meaningfully, so he's extending at bats by not swinging at balls (and, of course, striking out slightly more often by not swinging at some strikes). When he does swing, he's still fouling it off or putting in play – those balls just aren't really falling in for hits.  Rizzo was projected this year to hit somewhere around .267/.343/.484. He's currently sitting at .241/.328/.441. If his BABIP was .297 (what it was projected – he's currently at .267 which could be his true talent level, who knows?), he'd be somewhere like .272/.354/.473. I know that's not how it works, but I'm just floating it out there. Rizzo is in his age-23 season. Post-integration, 55 players have been 23 and played at least 80 games at 1st. In that group, Rizzo is 37th in OPS+ – tied with Eric Hosmer (also 23 this year). There are some good players below him (Mark Teixiera, Chris Davis), and some bad ones above him (Ike Davis, Ike Davis). True, Rizzo isn't Eddie Murray. However, we aren't paying him to be Eddie Murray. We're paying him to be pretty young and pretty good. Right now, he's both, and he's going to get better.       Or, he could turn into Starlin Castro, and Cubs fans will start to wonder if Julio Zuleta got a hold of Rizzo's uniform. The post Anthony Rizzo: Not a disappointment appeared first on Obstructed View.
Original Story:
http://www.obstructedview.net/getting...
THE BACKYARD
BEST OF MAXIM
RELATED ARTICLES
Javier Baez As the Chicago Cubs continue to trade away key players from their major league roster, the team looks to rebuild the franchise through the minor leagues. Since the big league club is on hiatus for the All-Star break, let's go down to the farm to check in on some of the organization's best young prospects. Iowa Cubs (Triple-A, Pacific Coast League, 48-50) 2009 First...
Let's talk about a possible Jeff Samardzija extension for a bit.  ​Jeff Samardzija has been mentioned in some trade rumors though I find it unlikely he'll be traded. He's in his first year of arbitration this season and has two more before he can file for free agency after the 2015 season. The Cubs have a few options: Give him a contract extension Go through arbitration...
Daytona Cubs 3 @ Charlotte Stone Crabs 4 (11 innings) Chadd Krist had the best daym, probably, with two singles and two walks. Ben Carhart and Dustin Geiger each added a double; Geiger also had two singles. Pin-Chieh Chen was 2-4 with a triple. That was every hit.  Yao-Lin Wang took the bump and was an out away from a QS. He went 5.2 innings but allowed only 2 runs. Austin...
Law came out with his earlier today and now it's John Sickels of Minor League Ball's turn. Below are the top Cubs prospects.  14. Javier Baez 18. Albert Almora 23. Jorge Soler 57. Arismendy Alcantara His list does not include 2013 draftees.  The post John Sickels' 2013 midseason top 75 prospects appeared first on Obstructed View.
The Chicago Cubs have told starting pitcher Matt Garza that he will likely be traded after talks between the two sides over a contract extension broke down. Garza is considered one of the top pitchers available via trade this summer and Chicago's asking price is reportedly very high. According to Jim Bowden, there is an 80 percent chance that Garza will be traded before his next...
The Chicago Cubs appear to have serious suitors as the race to acquire Matt Garza continues. While no deal appears likely within the next 24-48 hours, it does look likely that Garza has pitched his last game in a Cubs uniform. It appears that the Texas Rangers and the Arizona Diamondbacks are in the lead in the Matt Garza race, with the Red Sox right behind them. There is...
It is very likely that the Cubs deal Matt Garza, but we don't know where he'll land. The teams interested in Garza are the Dodgers, Diamondbacks, Rangers, Red Sox, Blue Jays, Cardinals, Pirates, Indians and others, but it appears that the AL teams are in the lead in the Garza race and by a wide margain, according to this report from Tom Loxas of Cubs Now: Would be...
So the Twitter-verse exploded Thursday night with numerous reports that the Rangers and Cubs were nearing a deal to send Matt Garza to Texas for up to 3 prospects. Names were even bandied about that included the likes of Luke Jackson, C.J. Edwards and a position player that varied between Mike Olt, Luis Sardinas or Jorge Alfaro. When it came to getting some of the Rangers top 20...
23-year-old Junior Lake will be added to Chicago's 25-man roster and OF Brian Bogusevic will be placed on the DL before the Cubs open a three-game series at Colorado on Friday.
According to Ken Rosenthal, the Cubs and Rangers are getting closer to an agreement on Matt Garza. One official tells Ken Rosenthal of FOX Sports that the Cubs and Rangers are "getting closer" on a Garza trade (Twitter link). Rosenthal adds that third base prospect Mike Olt is "possibly" in play, but the two sides are discussing prospects from multiple levels. Olt's stock...
The Texas Rangers tried to acquire right-hander Matt Garza from the Chicago Cubs a year ago, but an injury to Garza prevented the deal from happening. Well, the Rangers are trying again. The Rangers and Cubs have had extensive talks on Garza and discussed the framework of a trade, but other teams remain involved in the talks, according to major-league sources. One of those teams...
Our look at potential trade targets of Ruben Amaro Jr. and the Phillies continues with a pair of Chicago Cubs: Nate Schierholtz and Carlos Villanueva. Schierholtz, whom the Phillies non-tendered over the winter after acquiring last July as part of the Hunter Pence trade, has had the best first-half of his career after finally getting to play every day. Schierholtz has hit .269...
MLB News

Delivered to your inbox

You'll also receive Yardbarker's daily Top 10, featuring the best sports stories from around the web. Customize your newsletter to get articles on your favorite sports and teams. And the best part? It's free!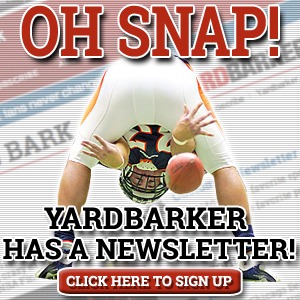 Latest Rumors
The Backyard

Today's Best Stuff

For Bloggers

Join the Yardbarker Network for more promotion, traffic, and money.

Company Info

Help

What is Yardbarker?

Yardbarker is the largest network of sports blogs and pro athlete blogs on the web. This site is the hub of the Yardbarker Network, where our editors and algorithms curate the best sports content from our network and beyond.