Found July 10, 2012 on Fox Sports Wisconsin:
PLAYERS:
Norichika Aoki
,
Ryan Braun
,
Jonathan Lucroy
,
Corey Hart
,
Jose Altuve
,
Andrew McCutchen
,
Joey Votto
,
Michael Fiers
,
Zack Greinke
,
Shaun Marcum
,
Aroldis Chapman
,
James McDonald
,
Johnny Cueto
,
Ryan Vogelsong
TEAMS:
Milwaukee Brewers
,
Houston Astros
,
Pittsburgh Pirates
,
Cincinnati Reds
,
San Francisco Giants
It's not exactly the way most would have assumed the NL Central would play out, but when the All-Star break arrived, last year's title-winning Brewers were eight games back and the eternally struggling Pirates stood alone in front. Of course, there's plenty of time left in the season, and even last year, Pittsburgh threatened to push the division contenders before falling by the wayside. But as it stands at the halfway point, the NL Central has been, more or less, turned upside down. There will be plenty of NL Central action to start the second half of the season the Brewers alone play Cincinnati, St. Louis, and Pittsburgh in the first two weeks after the All-Star break, and soon we'll have a better idea of who's a contender and who's a pretender in a division where no team has been able to pull away. But for now, let's take a second to recognize the NL Central's best of the best of the first half of 2012. BREWERS BREAKOUT PLAYER OF THE HALF-YEAR: RF Norichika Aoki Nobody would've expected Aoki's transition to American baseball to have gone as smoothly as it has this season, and his quick ascension to a starting job in right field is a testament to the potential the Japanese slap hitter brings to the table. Other than Ryan Braun and Jonathan Lucroy, Aoki has been the Brewers most valuable player, according to wins above replacement statistics, and with a 15-game hitting streak heading into the All-Star break, he has only seemingly scratched the surface of what he can do. Aoki already is batting .301, and he's even shown a slight penchant for power hitting in the last month or so. With Corey Hart at first base, the rookie Aoki looks like he'll have an outfield spot for years to come. NL CENTRAL BREAKOUT PLAYER OF THE HALF-YEAR: 2B Jose Altuve, Houston The majority of the contributors in this season's NL Central race are already established, as Braun, Pittsburgh's Andrew McCutchen, and Cincinnati's Joey Votto have clearly shown they are a cut above the rest. But quietly, for a young team now reeling at the bottom of the division, Altuve has been far and away their best player. With one of the top batting averages in the NL at .303, Altuve has been as consistent as it gets on such a young roster, and at 22, he's shown enough that the Astros will build around him at second base. Altuve leads the team in total bases, batting average, on-base percentage and doubles and is second in stolen bases and OPS. BREWERS BREAKOUT PITCHER OF THE HALF-YEAR: Michael Fiers Not only was Fiers not on the major league roster when the season started, but he was barely considered one of the Brewers organization's top five pitching prospects. He's promptly proven those doubters wrong and has, at times, looked like Milwaukee's best pitcher in the first half of the season. He leads all starters in ERA (2.31), walks per nine innings (1.7), strikeouts per walk (5.56) and home runs per nine innings (0.4). Fiers' stuff is far from dominant, but no one on the team except for maybe ace Zack Greinke has shown an affinity for deception like Fiers. It's unclear whether Fiers will have a spot in the rotation when Shaun Marcum comes back healthy, but it's hard to imagine that he won't given his performance. NL CENTRAL BREAKOUT PITCHER OF THE HALF-YEAR: Aroldis Chapman, Cincinnati Plenty of pitchers could fill this spot, but none of them is as dominant when at his best. Who knows why it took so long for the Reds to make Chapman their closer, but since he's been in that role he's been nearly unstoppable aside from a brief string of command issues. With a microscopic 1.83 ERA and 0.737 WHIP, Chapman hasn't allowed more than two hits in an outing this season. But one number -- 16.25 strikeouts per nine innings is the most eye-popping and leads all of major league baseball. BREWERS PITCHER OF THE HALF-YEAR: Zack Greinke As impressive as Fiers and the rest of the rotation has been, no one on the Brewers' staff has better stuff than Greinke. He was a bit off his game to end the first half of the season, but that doesn't change how valuable the Brewers' ace is to their rotation and the team as a whole. Still one of the top 10 strikeout pitchers in baseball, Greinke has made batters miss all season long. And if you can ignore three of his more hard-luck performances, Greinke's ERA and WHIP would likely lead the team. Will Greinke last much longer in Milwaukee? That remains to be seen. But there's no doubt he's the Brewers' best pitcher and will be the rest of the season if he remains a Brewer. NL CENTRAL PITCHER OF THE HALF-YEAR: James McDonald, Pittsburgh Greinke, Chapman, Cincinnati's Johnny Cueto and St. Louis' Lance Lynn would each be a good choice. But as the ace for the NL Central-leading Pirates, McDonald has proven to be the best pitcher in the division so far this season. McDonald has the second-lowest ERA of any NL starter (2.37), trailing only San Francisco's Ryan Vogelsong, and his WHIP (0.97) is the third-lowest in the league. Not normally known as a strikeout pitcher, McDonald has ranked in the top 10 (just below Greinke) in strikeouts in the NL, as well. His stuff isn't quite as good as the rest of the division's aces, but no one has had better results. BREWERS MVP OF THE HALF-YEAR: LF Ryan BraunWho else? Somehow, Braun has managed to better his NL MVP numbers of last season through half of 2012, tallying an NL-leading 24 home runs with 61 RBI. He's starting his fifth straight All-Star Game, and as the Brewers' only representative this season he is far and away the team's best player. He's proven already in 2012 that his offseason controversy won't cause him to skip a beat, and in the process, he may even convince some of his doubters that he's deserving of a second straight NL MVP award. At the very least, he's been the Brewers' MVP, and without him, Milwaukee would have fallen out of the division race a long time ago. NL CENTRAL MVP OF THE HALF-YEAR: CF Andrew McCutchen, PittsburghSince June 1, McCutchen is batting over .400, and his 162-game average in that span would give him one of the best statistical seasons of all time (.401 average, 48 home runs, 167 RBI). With a batting average almost 100 points higher than his career average, McCutchen has shown more than ever before that he's a five-tool player who should rank among baseball's elite for years to come. He leads major league baseball in batting average and ranks second in hits, slugging percentage and OPS. Arguments could be made for Braun or Votto, but for now, McCutchen isn't just the NL Central MVP; he's been the best player in the entire National League. Follow Ryan Kartje on Twitter.
Original Story:
http://www.foxsportswisconsin.com/07/...
THE BACKYARD
BEST OF MAXIM
RELATED ARTICLES
LET'S MAKE A DEAL
If the Brewers decide to make Zack Greinke available before the trade deadline, the Angels might be one of the teams interested.
MILWAUKEE Norichika Aoki could feel his muscles aching, day after day, as the middle of June wore on during his rookie season in America. He was tired -- there was no disputing that -- but for the first time in his career, he didn't know what to do about it. Aoki had been one of the most consistent players in Japan before signing with the Milwaukee Brewers in the offseason...
Milwaukee Brewers left fielder Ryan Braun had been voted to start in four straight All-Star games playing in three of them but it took a fifth straight nomination for Braun to tally his first hit. With a 0-for-7 history with three strikeouts in past All-Star games, Braun came to the plate in the top of the first inning on Tuesday against Detroit ace Justin Verlander looking to...
The future of right handed pitcher Zack Greinke is still unknown. The Brewers would like to keep him long-term, but if they're unable to sign him to a multi-year contract and if the Brewers become seller, they will probably deal him. Yesterday, we learned that the Angels, Rangers, Orioles and Braves are among the teams interested in Greinke, and according to Jon Heyman of CBSSports...
STOP THE PRESSES!  According to Jon Heyman of CBS Sports, the Angels fully intend to make a serious bid.  Seriously, for serious. That is what the report says, anyway.  The problem with the report is that it ignores some of the basic limitations of the Angels organziation which make this rumor a bit difficult to swallow. The report is at least half right in that I am sure the...
With the Milwaukee Brewers and Philadelphia Phillies 6.0 and 10.0 games out, respectively, of the second wild-card spot in the National League, it's probable that one or both teams will trade their front-line, free-agent-to-be starters — i.e. Zack Greinke and Cole Hamels — before the July 31st trade deadline. "What might either be worth in terms of a trade?" is a question...
Here is my look at the Brewers 25-man Roster Power Rankings…it got really hard after 11 (that's what she said) ***NOTE:  The number in parenthesis is change from last week*** #1: OF Ryan Braun (-) – 7-hits, 2-homers, and 6-RBI this week keeps Braun on top of the list #2: SP Zack Greinke (-) – Loved the ejection…though with a normally calm Greinke, is frustration setting...
The July 11th, 2012 edition of daily news for the Los Angeles ...
The July 12th, 2012 edition of daily news for the Los Angeles ...
The first half of the Milwaukee Brewers' 2012 season was loaded with uncertainty. Injuries reigned supreme in April and May. Slumps forced the offense to further adjust, as big-time contributors struggled to get their bats going. Uncertainty was the only thing the Brewers could rely on as the once-vaunted back end of the bullpen fell down in June. And now, with the All-Star...
Jon Heyman of CBSSports.com says scouts of six contending teams were watching the Brewers starting pitcher Zack Greinke face the Astros (Saturday), but they didn't get to see much since Greinke was ejected two batters into the game.   The six teams that were listed as having a scout present was the Orioles, Rangers, Braves, Diamondbacks, Blue Jays and the San Francisco Giants...
The All-Star Break is upon us, and until game action starts up again on Friday, we're going to do a brief season in review of the 2012 MLB season thusfar. Our staff has voted on a variety of awards, and we're going to roll them out over the next four days. The National League's Cy Young race is dominated by one pitcher, with a host of others filling out the rest...
MLB News

Delivered to your inbox

You'll also receive Yardbarker's daily Top 10, featuring the best sports stories from around the web. Customize your newsletter to get articles on your favorite sports and teams. And the best part? It's free!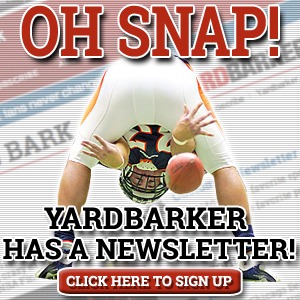 Latest Rumors
The Backyard

Today's Best Stuff

For Bloggers

Join the Yardbarker Network for more promotion, traffic, and money.

Company Info

Help

What is Yardbarker?

Yardbarker is the largest network of sports blogs and pro athlete blogs on the web. This site is the hub of the Yardbarker Network, where our editors and algorithms curate the best sports content from our network and beyond.