Found October 25, 2011 on MetsOnline:
Click below to see Adam Rubin of ESPN New York explain the Mets bullpen situation:
Here's an excerpt from an article that Rubin wrote, which you can check out here:
"If Reyes leaves because of a superior offer elsewhere, which is the more likely scenario, additional dollars are freed up to allocate to pitching.

The Mets want to keep the payroll in the $100 million to $110 million range in 2012, Alderson has acknowledged.

The bullpen, which lacked the hard middle-inning throwers that other teams employed, desperately can use reinforcements. Mets relievers combined for a 4.33 ERA and .267 opponent batting average this past season, both ranked 15th in the National League. The Houston Astros were the only team to finish worse, with a 4.49 reliever ERA and .269 opponent batting average.

'Of course the bullpen was a big disappointment — overall and certainly the last two months of the season,' Alderson said in the Mets' clubhouse at Citi Field the day after the regular-season finale. 'So I think a lot of our success or failure next year is going to be a function of pitching, regardless of who's playing for us. Now that doesn't mean we're going to go spending all of our money on pitching and not try to sign Jose. But I think our fate lies more on the pitching side than anything else.'

Manny Acosta, who had a solid finish to the season, as well as Pedro Beato, Tim Byrdak, D.J. Carrasco, Daniel Herrera, Josh Stinson and Parnell remain under the Mets' control. But having those seven relievers break camp with the Mets after next spring training is a remote proposition.

In fact, as few as two of those pitchers — Byrdak and Parnell — may be on the 2012 Opening Day roster."
Rubin is right. Whether or not the Mets resign Jose Reyes, they will allocate the majority of their remaining budget to fuel a good bullpen. The bullpen is an area in which the Mets have been pretty weak in the last couple of years and spending money there should definitely help.
We don't want Mr. Parnell pitching any ninth innings, do we?
Tweet
Original Story:
http://metsonline.com/articlevideo-bu...
THE BACKYARD
BEST OF MAXIM
RELATED ARTICLES
The guys over at Mets Police found an article written by Bridgeton, NJ Mayor Albert B. Kelley, which basically explains how Jose Reyes embodies the problems of our youth, which, by the way, is complete BS. Read my opinion on the subject at the bottom of this post. Here is an excerpt from the article on NJ.com: "…Whatever it is, I think we need to challenge our young people to...
1970 TOPPS WORLD SERIES CELEBRATION The 1970 Topps NL playoff and World Series cards are a joy to behold. There are 10 cards covering the Mets 1969 sweep of the Braves and their five-game victory over the Orioles. And there is barely a discouraging word in the lot, but for Don Buford's homer leading off game 1 of the World Series, a 4-1 victory for the Orioles. The run of cards...
According to Adam Rubin of ESPN New York, Dale Thayer, who was removed from the 40-man roster last week, has elected to become a free agent. Thayer, who will be 31 in December, went 0-3 with a 3.48 ERA in 11 appearances for the Mets this season. In 54 relief appearances for Triple-A Buffalo, Thayer went 4-3 with a 2.66 ERA, walking 15 batters and allowing 54 hits while striking out...
Rob from Long Island sent in an e-mail saying: "This may seem a little far fetched and probably unpopular, but what are your thoughts on the Mets offering Johan Santana to the Yankees? I'm not sure what he'd bring in return, but I know they would be willing to part with Jesus Montero and a pitching prospect in return for top-end pitching. Would that be enough? I know Johan...
I was born on January 10th, 1988. Just about 14 months or so after the Mets won the World Series and to this date, the last one won by the team since then. I became a Mets fan in 1999 and havent looked back, taking the good and the bad, hoping the team can finally win a world championship. I have never seen one of my teams win a championship, ever. I dont count the 1994 Rangers,...
...It's a fair ball. It gets by Buckner! Rounding third is Knight...The Mets will win the ballgame...They win! They win!"~ The Late, Great Bob Murphy ~ Is it really 25 years? Yes it is. Twenty five years ago tonight was possibly the greatest comeback in World Series history. Two down, no one on, the Mets trailing by two, down three games to two.Who out there (who was alive...
There's no question. You cannot beat the '86 Mets. The Yankees teams I played on were great teams with great personalities, but they were good guys. The '86 Mets would've been drilling those guys; I just know how our pitching staff was: hit this guy, hit that guy. And those were the kind of guys we were. We were mad, we wanted them to get outside themselves. That's the...
ST. LOUIS (AP) -- Bruce Hurst was in his room at the Grand Hyatt in New York when he got the call exactly 25 years ago. Because of a rainout, Boston Red Sox manager John McNamara was switching to him as his starter for Game 7 of the World Series against the New York Mets.
MLB News

Delivered to your inbox

You'll also receive Yardbarker's daily Top 10, featuring the best sports stories from around the web. Customize your newsletter to get articles on your favorite sports and teams. And the best part? It's free!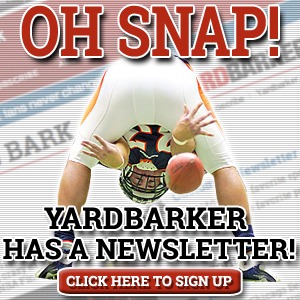 Latest Rumors
Best of Yardbarker

Today's Best Stuff

For Bloggers

Join the Yardbarker Network for more promotion, traffic, and money.

Company Info

Help

What is Yardbarker?

Yardbarker is the largest network of sports blogs and pro athlete blogs on the web. This site is the hub of the Yardbarker Network, where our editors and algorithms curate the best sports content from our network and beyond.