Found October 02, 2012 on Fox Sports:
PLAYERS:
Billy Beane
,
Nick Swisher
,
Bob Melvin
,
Buck Showalter
,
Gio Gonzalez
,
Trevor Cahill
,
Yu Darvish
,
Albert Pujols
,
CJ Wilson
,
Jarrod Parker
,
Ryan Cook
,
Derek Norris
,
Josh Reddick
,
Kurt Suzuki
,
George Kottaras
,
Jonny Gomes
,
Brandon Moss
,
A.J. Griffin
TEAMS:
Texas Rangers
,
Oakland Athletics
,
New York Yankees
,
Washington Nationals
,
Arizona Diamondbacks
,
Los Angeles Angels
,
Tampa Bay Rays
How do you like your vindication? Is eliminating a team with about three times your payroll good enough? How about overtaking the two-time defending American League champions, a team with more than twice your payroll? The Los Angeles Angels are vanquished. The Texas Rangers could be next. Oakland Athletics general manager Billy Beane is back in the postseason, back after many of his critics thought he had lost his touch, become disengaged, or both. His $55 million team, at this moment, is a pure reflection of the personality that author Michael Lewis described in "Moneyball" when talking about Beane's selection of Nick Swisher with the first of seven high picks in the 2002 draft: "Billy is now on his feet. He's got Swisher in the bag: who else can he get? There's a new thrust about him, an unabridged expression on his face. He was a bond trader, who had made a killing in the morning and entered the afternoon free of fear. Feeling greedy." Look out, Rangers: Those are your 2012 Oakland A's. The Rangers, mind you, need to win only one of the final two games in Oakland to clinch the AL West title. Alas, the Rangers have been on cruise control for much of the season, and now they're Microsoft trapped in a room with 25 hotshot techies, all out for blood. The Athletics' 4-3 victory Monday night not only clinched a wild-card berth, but also moved them within one game of Texas. A win Tuesday night would create a winner-take-all game for the AL West title Wednesday. All this, after Beane traded two of his best three starting pitchers and his closer last offseason. Shocked the industry by signing an unheralded Cuban defector for $36 million. Collected others' spare parts, tossed them at his patient, resourceful manager and said, "Here. Go play." Of course, it isn't that simple, it isn't a narrative as clean as the book "Moneyball", or a plot as Hollywood as the movie. For one thing, Beane doesn't work alone; his braintrust includes assistant GM David Forst, director of player personnel Billy Owens, farm director Keith Lieppman and scouting director Eric Kubota. The Athletics' success starts with their players, many of whom are more talented than people perceived. And you can be damned sure it includes manager Bob Melvin, who currently is using four platoons and five rookie starting pitchers - and in perhaps his biggest accomplishment, managing with the respect of his notoriously fickle GM. As Susan Slusser wrote Tuesday in the San Francisco Chronicle, "Oakland's third baseman is a catcher, the first baseman is an outfielder, the former shortstop is at second base and the top left-hander in the bullpen was a first baseman until last fall." Remember how the A's were supposed to be doomed by their taxing schedule down the stretch, including a 10-game road trip to New York, Detroit and Texas? Well, they've gone 13-8 in this run, with all but four of the games coming against contenders. So here they are, back in the postseason for the first time since 2006 with the second-lowest payroll in the majors. Melvin should be the AL Manager of the Year if the Orioles' Buck Showalter isn't. Beane should be the runaway Executive of the Year. The balloting for the executive's award - and there is only one, not one for each league - is conducted among two execs from each team. A few may still harbor resentment toward Beane for "Moneyball" - you don't see Brad Pitt playing Terry Ryan - but many are his disciples. Oh, Beane will face competition - from the Reds' Walt Jocketty, the Orioles' Dan Duquette and especially the Nationals' Mike Rizzo, among others. But no other team's ascent has been as dramatic or as unlikely as the Athletics'. Indeed, many fans, media and rival executives groaned when Beane traded left-hander Gio Gonzalez, right-hander Trevor Cahill and closer Andrew Bailey in the offseason, believing that the A's again were engaging in unnecessary churn. This time, though, the circumstances were different - the Rangers were adding right-hander Yu Darvish, and the Angels were spending on first baseman Albert Pujols and left-hander C.J. Wilson. Beane calculated that it was the right moment to step back, particularly with the A's pointing toward a new ballpark in San Jose. And even then, he vowed privately that the team would be younger, cheaper and better. As it turned out, each of Beane's trades proved a resounding success - right-hander Jarrod Parker and reliever Ryan Cook came for Cahill, right-hander Tommy Milone and catcher Derek Norris for Gonzalez, right fielder Josh Reddick for Bailey. The Athletics' stunning signing of Cuban outfielder Yoenis Cespedes, meanwhile, proved an even bigger hit. The move seemed curious at the time - Cespedes agreed to a four-year deal through 2015, and the move to San Jose, if it ever happens, won't occur before '16. Beane, though, knew that no major league free agent that talented would come to Oakland; such players have been rejecting him for years. The A's also had a higher opinion of Cespedes than many in the industry. They projected that he would hit .260 to .270 with 25 home runs. He's batting .290 with 23 homers. One thing worth noting: The Athletics - like their low-revenue, bad-ballpark cousins, the Tampa Bay Rays - can take chances that other franchises can't. A team need not worry about alienating its fan base when there isn't much of a fan base to alienate. Still, not many GMs would trade a veteran catcher in the middle of a pennant race, particularly when that catcher, Kurt Suzuki, was helping stabilize a young staff. Beane did it, to the chagrin of some in his own clubhouse. The move created a platoon of Norris and George Kottaras, and Kottaras, in particular, is more of an offensive threat than the light-hitting Suzuki. The pitching staff does not seem to have suffered, and the A's escaped Suzuki's $6.45 million salary for next season. Say hello to the oddest playoff team you'll ever see. The entire collection celebrated on the field Monday night - Cespedes, the youngsters acquired in trades last offseason, the unheralded free agents such as designated hitter Jonny Gomes and first baseman Brandon Moss, the homegrown pitchers such as A.J. Griffin (13th round) and Daniel Straily (24th). Someone held up a sign that read, "We were supposed to lose 100!" Beane, in an e-mail, called it, "My most enjoyable moment." How do you like your vindication? The A's have not fully answered that question - yet.
Original Story:
http://msn.foxsports.com/mlb/story/bi...
THE BACKYARD
BEST OF MAXIM
RELATED ARTICLES
What a day, my wife is now in labor!#playoffbaby — Pat Neshek (@PatNeshek) October 2, 2012 Oakland Athletics reliever Pat Neshek was probably a bundle of nerves and going through a multitude of emotions on Monday. Not only did the A's clinch a playoff berth for the first time since 2006 with a 4-3 win [...]
What started as a dream week for Oakland A's relief pitcher Pat Neshek turned tragic after his baby son died 23 hours after being born on Tuesday.
I'm not sure what desperation smells like...but I'm fairly certain it reeks of Axe body spray and looks like this.That's right, gang. Our good friend Jose Canseco is back on the Twitters and this time, he's asking WWE for a job.Sure, the wrestling outfit is known for giving embattled pros second and, even, third chances at legitimacy (both Pete Rose and Mike Tyson...
A's pitcher Brandon McCarthy has shown he knows how to joke about his scary head injury. His teammates are now joining in the fun. When Oakland clinched its playoff berth, A's players took to celebrating -- but not before making sure McCarthy was protected. McCarthy, who was hit in the head by a line drive early last month and had to have surgery to treat a fractured skull...
Oakland turned to Travis Blackley to stay in the AL West race, and the journeyman left-hander pushed the A's into a tie with the Texas Rangers with one game remaining. Blackley's outstanding outing was fitting. Expectations were low, after two starts in which he had not made it past the second inning, but he came through, which sums up Oakland's astonishing season....
OAKLAND, Calif. (AP) -- Coco Crisp's latest clutch hit helped put Oakland back in the playoffs for the first time in six years, and the Athletics beat the first-place Texas Rangers 4-3 on Monday night to remain in contention for a division crown. Crisp had a go-ahead RBI double in the fifth as Oakland (92-68) pulled within one game of Texas (93-67) in the AL West race with two...
OAKLAND -- Baseball's most improbable story of 2012 is complete: The Oakland Athletics are champions of the American League West. Written off by the experts following an offseason in which young stars were again traded, the A's faced a 13-game deficit as late as June 30 before stealing the division title from Texas, beating the Rangers 12-5 Wednesday. "The bottom...
Coco Crisp's latest clutch hit helped put Oakland back in the playoffs for the first time in six years, and the Athletics beat the first-place Texas Rangers 4-3 on Monday night to remain in contention for a division crown. Crisp had a go-ahead RBI double in the fifth as Oakland (92-68) pulled within one game of Texas (93-67) in the AL West race with two to go and moved into...
A few weeks ago, I advocated for a wild card play-in game strategy that involved beginning the game with a reliever and relying heavily on a team's bullpen to get them through. In that scenario, we used the Atlanta Braves as the example of how it could work. Well, we're not yet to the wild card play-in game, but with Texas and Oakland going head to head for the AL West title...
Grant Balfour Is His Own Action Figure 10) If this was the last week of Josh Hamilton's time in Texas, he really isn't leaving cloaked in glory9) Grant Balfour looked like he was going to run through a wall to close this game8) There were over 1,000 people in the building for standing room only tickets, proving yet again that when it comes to drawing a crowd, winning baseball...
Remember when the Texas Rangers were running away with everything and were on course to be the the Greatest Team in the History of Whatever? Well, this afternoon the As might just take the 2012 American League West title from them. Certainly the biggest factor in the Oakland's success this year was the incredibly boring Moneyball movie (if only they had used the alternate script...
(Eds: With AP Photos.) By TIM DAHLBERG AP Sports Columnist Forget the movie about these Oakland A's. Already been done and, besides, Brad Pitt has moved on to other things. No one would believe this anyway, even if it came from a Hollywood script. The events that unfolded on a sun-splashed afternoon Wednesday in Oakland should never have happened - they shouldn't have had...
MLB News

Delivered to your inbox

You'll also receive Yardbarker's daily Top 10, featuring the best sports stories from around the web. Customize your newsletter to get articles on your favorite sports and teams. And the best part? It's free!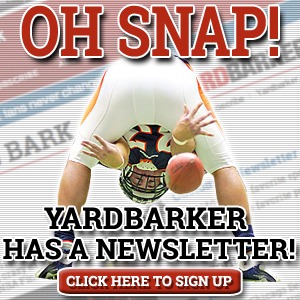 Latest Rumors
The Backyard

Today's Best Stuff

For Bloggers

Join the Yardbarker Network for more promotion, traffic, and money.

Company Info

Help

What is Yardbarker?

Yardbarker is the largest network of sports blogs and pro athlete blogs on the web. This site is the hub of the Yardbarker Network, where our editors and algorithms curate the best sports content from our network and beyond.