As No. 2 gets retired, Derek Jeter remains one of a kind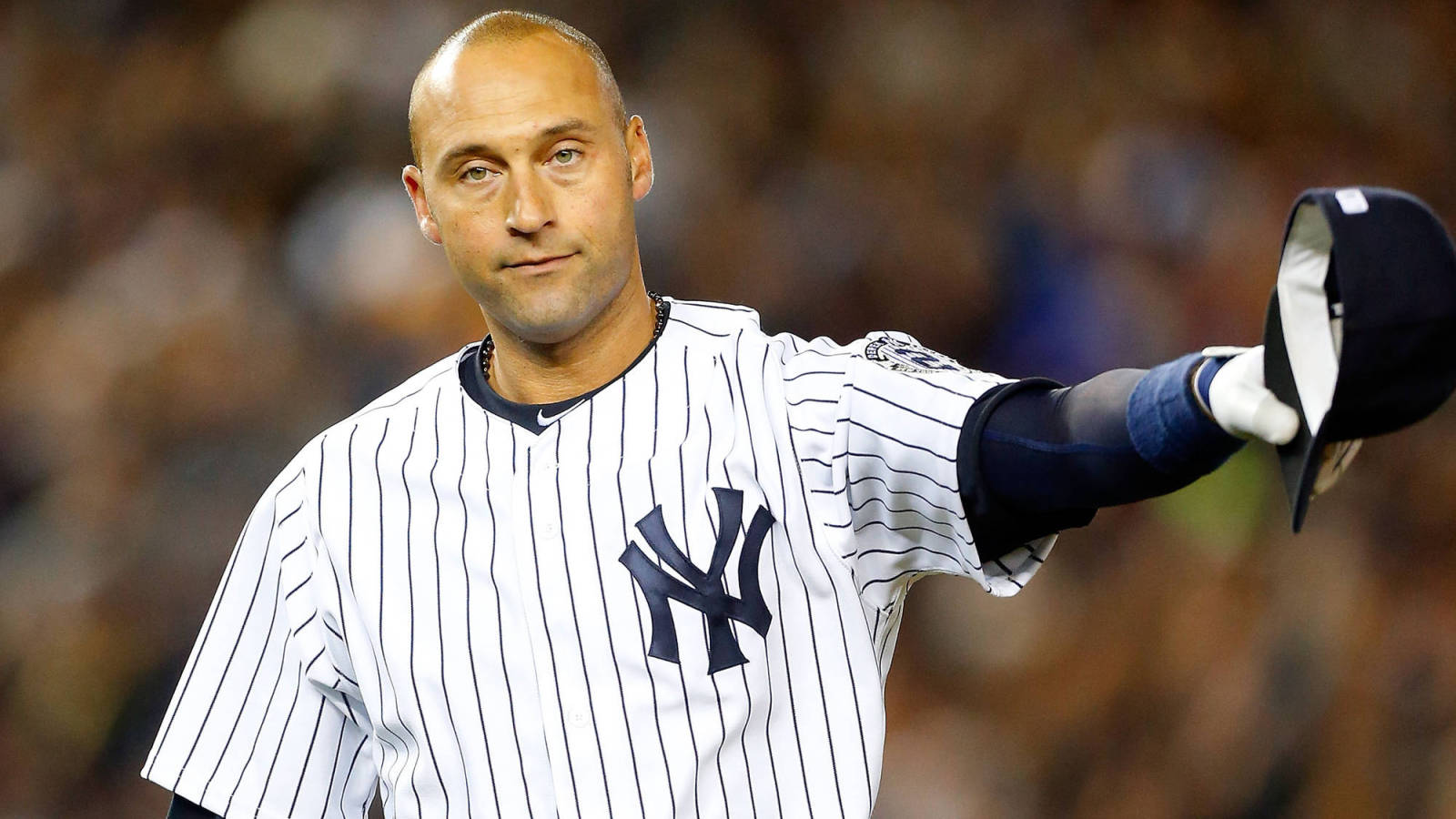 Derek Jeter's No. 2 jersey will join other Yankees greats in retirement with the franchise.
Jim McIsaac/Getty Images
This weekend, the New York Yankees will retire their 22nd number in club history when they add Derek Jeter's No. 2 to the greatest collection of franchise stars in sports history. As the recently retired Yankee prepares to get his due in the house that he built, it is a prime time to assess exactly why he remains the biggest name in the sport despite not putting on a pair of cleats in more than two years.
Jeter was the most influential player in the sport during his career thanks in large part to pulling the Yankees out of a prolonged (by their standards) lull and lifting them to five championships over his two decades in the Bronx. Along the way, Jeter became the most complete New York athlete in the last half century, the unchallenged face of a superstar organization in the biggest market in the world who never shied away from the demands of what being the top Yankee really means.
Beyond it all, he was the absolute right man in the right place at the right time. There may have been no better fit for an athlete to apply his craft than Jeter in New York since Magic Johnson ushered in Showtime for the Lakers in Tinseltown. There was no better marriage between city, sport and player than Jeter and New York. No one else could have become what he became — not Alex Rodriguez, Nomar Garciaparra or any of his other contemporaries, nor anyone who has followed since. Some may not believe in destiny, but if there is such a thing, Jeter's reign in the Bronx stands as proof of it.
However, when one looks out among the names and numbers he will join this weekend, it is still understandably hard to decide exactly where he fits in among the other Yankee icons. In this era of "Mount Rushmores," when rankings far too often are given credence in determining a player's value, Jeter runs the risk of being far too undervalued. Babe Ruth, Lou Gehrig, Joe DiMaggio and Mickey Mantle remain American icons long after their deaths, while Yogi Berra remains the quintessential everyman and greatest winner in the sport's history. These men have undeniable legacies that have helped to not only define what the Yankees are, but also the story of team sports in American history. While that is quite an impressive legacy to be so close to, the truth about Jeter is that he accomplished his very comparable legacy in far more complicated times.
The heroes of yesteryear were insulated and protected by the press. Their exploits on the field made them appear larger than life in a fashion that is now reserved for comic book summer blockbuster movies. At the same time, their transgressions where often tucked away and made to disappear, as they were heroes to be revered, not made to look human in any way. Their pinstripes were their capes, their bats their swords and shields — more myth than man in many ways, or so we were told.
Fast-forward to the contemporary times in which Jeter crafted his legend, both on and off the field. Athletes are targets of a relentless paparazzi who are out to conceal nothing and create what can sell. Yet during this time, there appeared to be a shining knight in the Bronx: a tall, handsome and accomplished spokesman whose name turned ears as easily has his visage turned eyes. In an era when baseball was going through its toughest and most controversial times as a sport, Jeter sat as the target that could not be hit by that relentless press, all the while continuing to elude any credible dispute from sportswriters all the same.
What's so special about Jeter is that he walked the line between DiMaggio and Berra with the savoir faire of Frank Sinatra. A mystery in many regards, Jeter became Teflon by his steadfast performance within the walls of Yankee Stadium. Few athletes were more feared in the big moment than the Captain was, as he made fall baseball his own personal Hall of Fame.
He was maybe the most unique New York superstar of all time. He created headlines but never fell victim to them. He would drive the Yankees' successes to the front page of the USA Today sports section, while becoming a mainstay of the gossip columns of the New York Daily News himself. The New York tabloids chronicled whichever choice starlet of the moment he had been seen with last, though they never were able to nail him with much controversy. While his now famous "dating diamond" continued to grow, so did his trophy case. The 3,465 hits piled up, the 14 All-Star Games continued to roll in, new stadiums were built and so was his legend.
In a way, that is Jeter's greatest mark left on the game: an insurmountable and well-rounded legacy. Younger fans in their Yankees hats and T-shirts wanted to be him, but so did his peers who brushed shoulders with him about town. He was the everyman in a way that we never think of them to be. He was what every person aspired to be, while at the same time being what people came out to both the ballpark and the nightclub to be around.
The elegant and regal leader of the world's most popular team, he fit in just as easily on the cover of GQ as he did on Sports Illustrated. He was a tense, unmatched competitor with an eye and awareness to be so much more.
No, Derek Jeter most certainly is not the Babe, Iron Horse, Yankee Clipper or Mick. He is also not Yogi, or Mo, or Mr. October. It is about more than just the numbers when it comes to greatness in the Bronx; it is about enduring impact. He was never even the best singular player in the game throughout an entire season. His nickname, the Captain, is more than just a role; it speaks to exactly why he easily stands shoulder-to-shoulder with those legends that preceded him. No player was more when it matters most in the history of the game while simultaneously representing more for the game's image at once than Jeter. If the ever-popular concept of wins above replacement had a visage, it would be Jeter's.
So, pardon the fact if he is not singularly "greater" than all other Yankees before him. He was too busy being the most diverse superstar the game has ever known.
MORE FROM YARDBARKER:
QUIZ: Name every captain in New York Yankees history
There have been 15 captains in the history of the New York Yankees. The tradition began in 1903, although there is some historical speculation and controversy surrounding that. In 1939 following the death of a captain, manager Joe McCarthy declared there would never be another captain of the Yankees. Owner George Steinbrenner brought the tradition back in 1976. Currently, the position is vacant. Can you name all 15 of the Yankee captains?
Clue: Position/Tenure as captain/Years active
MORE FROM YARDBARKER
Yankees News

Delivered to your inbox

You'll also receive Yardbarker's daily Top 10, featuring the best sports stories from around the web. Customize your newsletter to get articles on your favorite sports and teams. And the best part? It's free!